This article first appeared in Personal Wealth, The Edge Malaysia Weekly, on March 4, 2019 - March 10, 2019.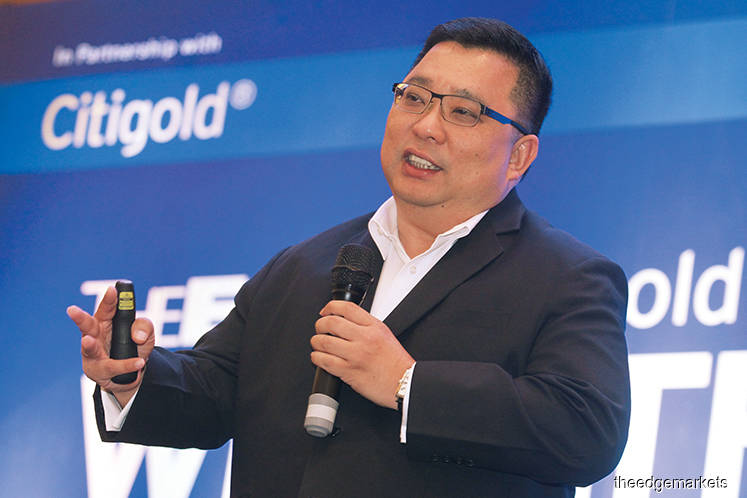 Investors do not come to Asia for the markets' maturity, but rather because they believe in the region's growth story. So, if you want to look out for a sustained stock market revival, look closely at earnings expectations. > Teng
The Malaysian equity market is not expected to perform as well as its counterparts in the region this year. This is due to a lacklustre outlook for corporate earnings, said Affin Hwang Asset Management Bhd managing director Teng Chee Wai at The Edge-Citigold Wealth Forum 2019.
In his presentation entitled "Headwinds and tailwinds: Riding the turbulence", Teng told a packed ballroom that the sentiment is driven by what he sees as tepid corporate earnings for the year. "Before the 14th general election last May, the market projected earnings growth of about 8%. This year's earnings growth expectation is hovering between 5% and 6%, subject to further revision."
This is an issue because investors are drawn to emerging markets for their vibrant economies, young populations and booming consumption, all of which should be reflected in earnings expectations. "Investors do not come to Asia for the markets' maturity, but rather because they believe in the region's growth story. So, if you want to look out for a sustained stock market revival, look closely at earnings expectations," said Teng.
On the state of the economy, he said the local market is overly dominated by politics. "There are more important issues that need to be addressed. In addition, we have some leaders who lack experience in government, at a time when the citizens are expecting a complete national transformation. Nonetheless, I think we need to keep faith in the new government because the alternative [does not bear thinking about]."
Thus far, he agrees with some of the initiatives of the new government, chief among which is the paring down of the national debt. "The country cannot go on borrowing money to fund short-term economic activity. All that does is add more debt to the system," said Teng.
"In fact, when the new government came in and cut spending, our economy began to slow down in the third quarter of last year. This tells you the extent of which the previous government's spending dominated the market. The economy was functioning on debt for a long time, with the private sector being absent for many years."
To this point, he stressed the need to bring the private sector back into the economy. He told the audience that it would be the most effective way to kick-start the economy and create real business activity. "It is good to have foreign investors who invest in our capital markets. But really, what we need is foreign direct investments by people and businesses. We need to see increased trade diversion from China landing on our shores.
"In short, we need productive investments that will create jobs and pay wages. Investments like these catalyse construction activities because there will be a need to build factories and production lines. Once we attract these kinds of investments, our trade lines will start moving once more."
He also advised investors to be particularly mindful of global geopolitical risks. One key risk is the complex political and geographical interrelationships that criss-cross the South China Sea. A 3.5 million sq km swath of ocean, it is the most important trade route between the East and West. The area has become increasingly fraught in recent years as multiple Southeast Asian nations, Malaysia included, locked horns with China over disputed territorial waters and various rocky outcrops.
"The US knows this [the strategic value of the South China Sea]. So does China. Although the previous US administration tolerated it, we simply do not know how President Donald Trump will react," said Teng.
In May last year, it was reported that China had installed anti-ship cruise missiles and surface-to-air missile systems on some of its outposts in the hotly contested Spratly Islands. The White House warned the Chinese that it would not accept an ongoing military build-up in the region, over which six countries — including China — claim sovereignty.
More recently, foreign press reported last month that two US warships had sailed near the disputed islands. An anonymous US official told Singapore's Channel News Asia that two guided-missile destroyers sailed within 12 nautical miles of Mischief Reef, which forms part of the Spratly Islands. The move earned a rebuke from Beijing, which came at a time of increasing tensions between the world's two biggest economies.
"If they [parties to the dispute] do not know how to handle these tensions and disputes, well, the outcomes will play out very close to home for us," said Teng.
His advice to investors is to diversify their investments. "There is still a lot of risk out there and we are now very late in the cycle. So, when you invest, make sure you allocate your assets wisely. Do not make huge bets on any one asset class as that is a recipe for disaster in the current investment climate."