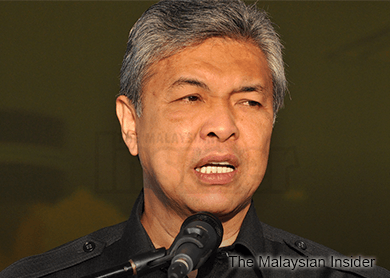 (Dec 3): Action was taken against The Edge's publications by suspending its publishing permit for three months because it printed articles that could threaten peace and order in the country, Datuk Seri Ahmad Zahid Hamidi said in a written parliamentary reply.
The home minister also said the legal case involving the publication was still pending in the courts.
Zahid was responding to a question by Datuk Zainudin Ismail (BN-Jelebu) who asked what action was taken against website Sarawak Report, The Edge and The Wall Street Journal for publishing articles that were untrue using illegal sources.
The minister, however, did not mention any action against WSJ and Sarawak Report.
"The Home Ministry had suspended the permit of The Edge for three months from July 27 as it was found to contain undesirable articles, such as those that could threaten public order, security and could confuse the public or potentially threaten public interest or national interest.
"However, the case is ongoing in the appeals court," Zahid, who is also the deputy prime minister, said in his reply.
Zainudin had also asked about action taken against those who were mentioned in Swiss national Xavier Andre Justo's confession, who were said to be involved in the purchase of stolen information related to 1MDB.
To this, Zahid said the police had investigation the matter under the Penal Code based on a police report dated July 18 but could not reveal further details.
"We do not intend to reveal any information about this for fear that it could disrupt ongoing investigations," he added.
On Sept 21, High Court judge Datuk Asmabi Mohamad revoked the home minister's decision to suspend The Edge Weekly and The Edge Financial Daily for three months from July 27.
The judge, in allowing the judicial review by the publisher, said the ministry had breached Section 7(1) of the Printing Presses and Publications Act 1984.
She said the home minister was "in doubt" whether The Edge had published its articles by relying on allegedly unverified information on online news portals, especially The Sarawak Report.
In October, the  High Court dismissed the Home Ministry's application to stop The Edge Weekly and The Edge Financial Daily from resuming publication, pending the outcome of its appeal. – The Malaysian Insider