This article first appeared in Enterprise, The Edge Malaysia Weekly, on July 16, 2018 - July 22, 2018.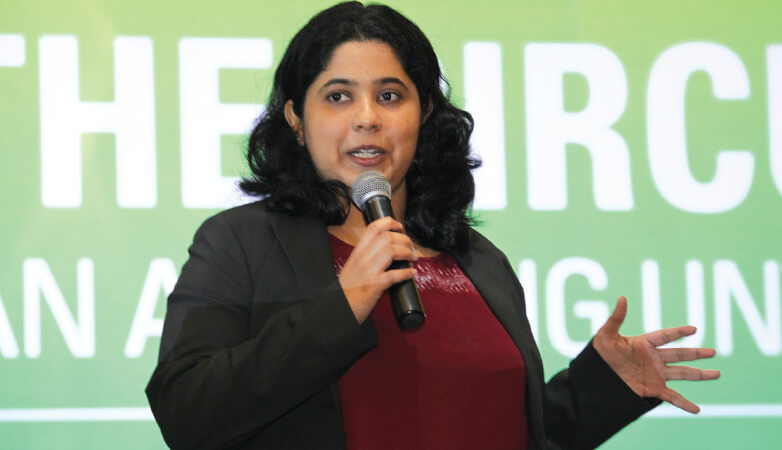 The "take, make and dispose" extractive industrial model no longer makes sense as manufacturers continue to depend on finite resources, says Pavithra Mohanraj, founder of Mumbai-based Infinitive Research and Advisory.
If we continue on this path, the demand for virgin materials is expected to reach 130 billion tonnes 2040 from 50 billion tonnes just four years ago, she points out.
"But we do not have that kind of resources and we cannot materialise them out of thin air. We are placing a huge demand on resources and an enormous amount of demand on energy. This system essentially leads to a lot of losses — in other words, close to 80% of the US$3.2 trillion of the consumer goods industry is lost annually," says Pavithra, who provided the overview at The Edge SME Forum 2018.
She works with businesses to help them transition to a circular model of business and provides thought leadership on the circular economy in India.
Pavithra points out that every percentage of increase in gross domestic product is accompanied a 0.4% increase in the use of resources. "Even with all the innovation, 2050, we will still be overusing resources to the tune of about 40 billion tonnes, which we just do not have."
She says that continuing on the linear economic path will result in the depletion of virgin materials and consequently, impact energy generation and usage. "This system will just not function in the long run. Essentially, we need an economic system in which we can continue to have economic growth without depending on the use of these resources."  
On the other hand, the circular economy model makes resources flow in loops, says Pavithra. According to the Ellen MacArthur Foundation, the circular economy is a regenerative system in which input resources and waste, emissions and energy leakages are minimised slowing, closing and narrowing energy and material loops.
"With the circular economy, we are saying that the entire economy has to work like a natural ecosystem," says Pavithra, adding that the circular model builds economic, natural and social capital.
What is crucial to implementing the circular economy model is the systems thinking approach, she says. "For example, when we look at sustainability to address the energy crisis, we resort to using solar panels. Solar is great because this form of energy is renewable. But the materials that you use to make solar panels are not infinitely available.
"So, the circular economy makes us think not just about the output but also the materials that are used to make the product. It is a very holistic systems approach to the entire resources problem."
It is becoming a pressing issue now as emerging markets are blocking waste shipped from developed markets, says Pavithra. "We have seen China banning the import of 28 kinds of plastic waste. This is putting recycling systems in the US and the UK under huge pressure. They basically have piles of plastic waste because they cannot ship it off to China anymore and they do not have the capabilities to deal with the plastic waste."
If executed effectively, the circular economic model will be a US$4.5 trillion opportunity 2050, she says. According to her, in the long run, with the circular economy model in place, industries will be able to mitigate the risks of commodity price volatility.
"While a lot of the resources are available, the commodity price fluctuations have been incredibly high since the turn of the decade. So, circularity helps to address price volatility. It also clearly brings down waste generation, reducing the impact on the environment," says Pavithra.
But the circular economy not only saves on resources; it also creates jobs. "For example, in France, once the circular model is in place, the government will look at creating more jobs. It is said that it will be able to create 300,000 jobs in the country alone," she says.
Earlier this year, France introduced its circular economy road map, "Feuille de route pour l'économie circulaire", aiming to recycle 100% of plastic waste 2025. The road map calls for broad efforts from all stakeholders — including consumers, local governments, businesses and the state — to secure a successful energy transition system and to conclude France's linear "produce, consume, discard" model.
Pavithra says this adoption is a "huge driver of innovation", as seen in the collaboration between Novelis Inc and Jaguar Land Rover. The automotive giant had engaged Novelis — a global leader in aluminium rolling and recycling — to create a new alloy called RivAlloy, which is made of aluminium scrap castings that were previously discarded.
"The partnership does not only reduce the amount of aluminium sent to landfills but also paves the way for the creation of a value chain that includes a post-consumer loop, a post-industrial loop, the end-of-vehicle-life loop and material stewardship across the entire value chain," says Pavithra.