This article first appeared in Enterprise, The Edge Malaysia Weekly, on - January 07, 1970.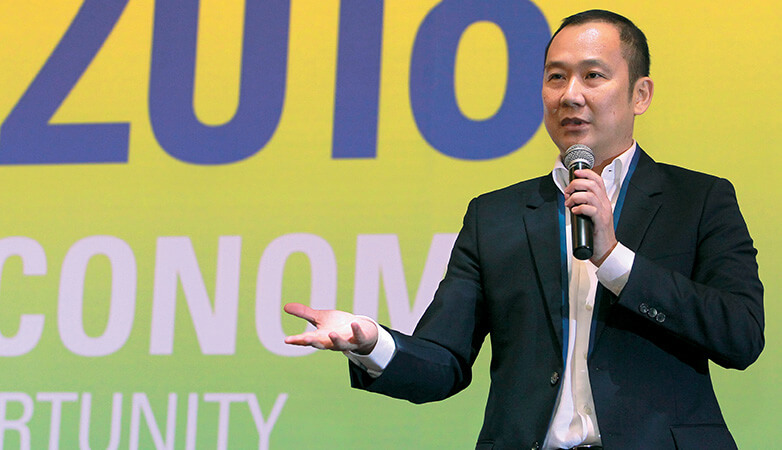 Seah Kian Hoe, founder and CEO of Heng Hiap Industries Sdn Bhd, has long been familiar with the recycling industry. When he was young, he followed his father from house to house to collect scrap that could be recycled. In 2002, he got into the plastics recycling industry himself, this time using circular economy concepts to improve the system.
That was because he noticed that the recycling landscape in the region was fragmented, with the various operators working independently of each another at every stage of recycling, from the collection of used plastic to the synthesis of resins.
"The first problem is that there are too many layers [of operators] without standards to comply with. Second, there is non-value-adding logistics as the material goes from Kuala Lumpur to Taiping to Melaka before finally ending up in Kuantan. All this adds cost and creates more pollution," says Seah.
"Problem number three is the worst. The operators are not communicating with each other. So, as the material flows from one operator to another, the cost goes up while the quality and consistency come down."
He was speaking about his own company's experience of turning waste into wealth at recent The Edge SME Forum 2018.
To address these problems, Seah integrated all the processes under one roof and created technology to convert plastic scrap into high-value plastic material, which he calls smart plastics. The company has more than 600 formulas for its smart plastic products, which are customised for its customers.
"For example, we created an antibacterial material for a fast food chain, which used it to create egg trays. Our material forms a thin-fold membrane on top of the egg trays to kill bacteria so it eliminates contamination from farm to the chain," says Seah.
"We also have biodegradable plastic. We induce protein inside the plastic so that if it goes to a landfill, the localised bacteria will eat into the protein, crack the molecular structure and convert the plastic into CO2 and H2O."
His factory performs three types of recycling. One is mechanical recycling, which generates 3,500 tonnes of recycled plastic a month. The second is thermal recycling, which is part of Seah's smart factory strategy to reduce the use of resources, such as electricity, in the recycling process.
"For thermal recycling, we look at the structure of the plastic scrap and say, 'I wonder what is the calorific value trapped in it.' So, we create coal out of plastic and it has three times more calorific value than the mineral coal we dig up. And the best part of it is that we can control all the nasty contaminants such as sulphur, phosphorus, carbon, ash and water," says Seah.
The third type of recycling is chemical recycling. This process breaks down plastic scrap into carbon, hydrogen and oxygen, which are then turned into diesel in Seah's factory in Johor Baru. The diesel is then used to power the factory.
"Today, we generate 262kW per sq m per year and use 248kW per sq m per year, which gives us an excess of 14.77kW per sq m per year," says Seah.
Through these processes, he has created a closed loop system where plastic scrap becomes high-value products and no resources are wasted in the process. This helps address the global problem of plastic waste, which is polluting waterways and endangering both animal and human health.
"We need to extend the lifecycle of the product. Once it becomes a continuous life cycle, it becomes a currency, and the plastic pollution we are facing now becomes a plastic bank, also known as the circular economy," says Seah.
This concept can be practised other industries as well. Companies should think about how they can extract value from their waste products and support these kinds of projects.
"Talk about green electricity, talk about how a bank can support more renewable energy projects. Hospitals generate a lot of clinical waste. Rather than letting it go to a landfill, you can create power from something like that and get effective utilisation of whatever that is left," says Seah.
Heng Hiap Industries currently employs 120 workers and 70% of its products are exported. Seah hopes that more people can benefit from the technology his company has created.
"With that closed loop system, we try to stretch that forward. Can we do it at a state, country or regional level? The integrated recycling technology innovation that we have is not one that we will keep in our own backyard. It is something that belongs to the public and we need to share it. We need to work with our fellow recyclers and combine our resources so we can make a positive impact faster," he says.