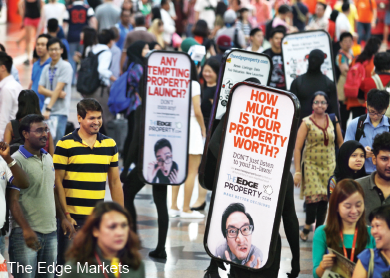 REPRESENTATIVES of some of the biggest names in the property industry gathered at the JW Marriott Kuala Lumpur on May 7 for the keenly awaited official launch of theedgeproperty.com, the free one-stop property portal by The Edge Media Group.
About 250 people filled the grand ballroom during the launch. They included the portal's 10 launch partners, namely Gamuda Land, IJM Land Bhd, IOI Properties Group Bhd, Mah Sing Group Bhd, MKH Bhd, Sime Darby Property Bhd, S P Setia Bhd, Sunway Bhd, Tropicana Corp Bhd and UEM Sunrise Bhd.
"Theedgeproperty.com will democratise and level the playing field by creating transparency in the dissemination of information that is most relevant to decision-making. It will help every property buyer and seller make better decisions," said The Edge Media Group publisher and CEO Ho Kay Tat in his welcome speech.
He added that the portal, is a "one-stop centre for anything and everything on property" in Malaysia and is accessible via a web browser as well as iOS and Android mobile apps.
"Today, we are taking a quantum leap forward by launching a property portal that offers news, data, analytics and tools that are currently not available on any property portal in Malaysia, and it is for free," said Ho.
Among the special features of theedgeproperty.com are: The Edge Fair Value, an algorithm-generated indicative value based on the most recent real transacted prices; advance analytics by area and property type on price per square foot, absolute price, historical price and transaction volume; advance analytics based on projects — sale transactions, asking rental, surrounding amenities and comparison with nearby projects; a hot-spot tracker that tells user what is trending; proprietary news, research and feng shui consultation; and free property listings.
"As a media organisation, it is our responsibilty to promote social and economic inclusion. Part of our job is to level the playing field for the public, which means we have to democratise information, data, analytics and tools. [It is] also about educating the investing public," said The Edge Media Group executive chairman Datuk Tong Kooi Ong during his presentation on the portal.
And, theedgeproperty.com is a comprehensive, agnostic, inclusive and free platform, he stressed. "You will find the portal is a comprehensive, free site to use anywhere, which includes listing information, tools, news and research reports. It is agnostic as it is a channel platform that is open to all in the industry, such as real estate agents, developers and banks. We are inclusive because we serve all stakeholders in the industry without replacing anyone, but instead, we aim to add value to all the industry players."
Tong added that the portal is designed not only to cater for property buyers, but also all industry stakeholders.
"With theedgeproperty.com, we want to help agents to secure more deals, and at the same time lower their cost by giving listings for free and provide the most information possible so they can spend less time per potential client. We will also build a back-end system for agents to track and manage listings, clients and transactions. For developers, we believe the platform will be able to target your customers a lot better and be able to drive sales. For banks, mortgages and other financial products can be targeted by locations, product types and values," Tong explained.
One of the attendees, Tago (M) Sdn Bhd marketing manager Farah Alhabshi, who is a frequent user of the portal, concurred with Tong. "I started using it as a news portal to keep myself updated on industry news and slowly, I discovered more tools and information on the portal."
Another attendee, real estate agent Christy Chan Man Yee, believes the portal could draw not only those who want to read the news, but also potential buyers of Malaysian properties. "This portal is indeed a comprehensive one; it could draw almost everyone in, which I think would push agent sales," she said.
Apart from that, Ho said there will be a series of activities in several high-traffic locations in the Klang Valley to promote the site. For three consecutive days after the launch,
theedgeproperty.com cruisers roamed the streets in areas such as Pusat Bandar Damansara, Bangsar, KL Sentral, Bukit Bintang, Hartamas, Subang, Sunway, Bandar Utama, KLCC and Setia Alam.
The campaign featured four human billboards and six models wearing 3D model house caps while giving out out balloons and the new weekly property pull-out — The Edge Property that will come free with The Edge Financial Daily every Friday.
"The concept of the ground activation campaign is to get the word out on the launch of the portal and the  new property pull-out. We want to empower our readers and users of the website to make better decisions when it comes to investing in property," said The Edge Communication Sdn Bhd managing director Au Foong Yee at KL Sentral, one of the stops of the campaign.
Three major roadshows and carnivals will take place in the second half of the year — July 22 to 26 at The Curve in Selangor, August 7 to 9 at Penang's Gurney Paragon Mall and Oct 9 to 11 at Johor Baru City Square, Johor.
"We will have an exciting contest coming up, which will be revealed soon to create more buzz," added Ho.
According to Ho, an additional 200,000 copies of the first edition of The Edge Property (May 8) had been printed and would be distributed in the Klang Valley, Penang and Johor Baru. Thereafter, on top of those that will be distributed with The Edge Financial Daily, 40,000 copies of the pull-out would be printed every Friday for this dedicated distribution.
The pull-out will complement the contents of theedgeproperty.com and vice versa. The Edge Property is not only for people in the industry, but also for those who are interested in real estate, as it will feature a mix of industry and home improvement news and tips.
"With theedgeproperty.com, The Edge Property pull-out in The Edge Financial Daily and the City & Country pull-out in the The Edge Weekly, we will have complete coverage of the sector, so you don't need to go anywhere else!" Ho noted.
Meanwhile, The Edge Singapore will launch its property portal and pull-out on May 15. There will be a series of events and experience zones set up to educate users and create awareness at Ngee Ann City Civic Plaza on July 25 and 26.
This article first appeared in The Edge Malaysia Weekly, on May 11 - 17, 2015.