This article first appeared in City & Country, The Edge Malaysia Weekly, on July 13, 2020 - July 19, 2020.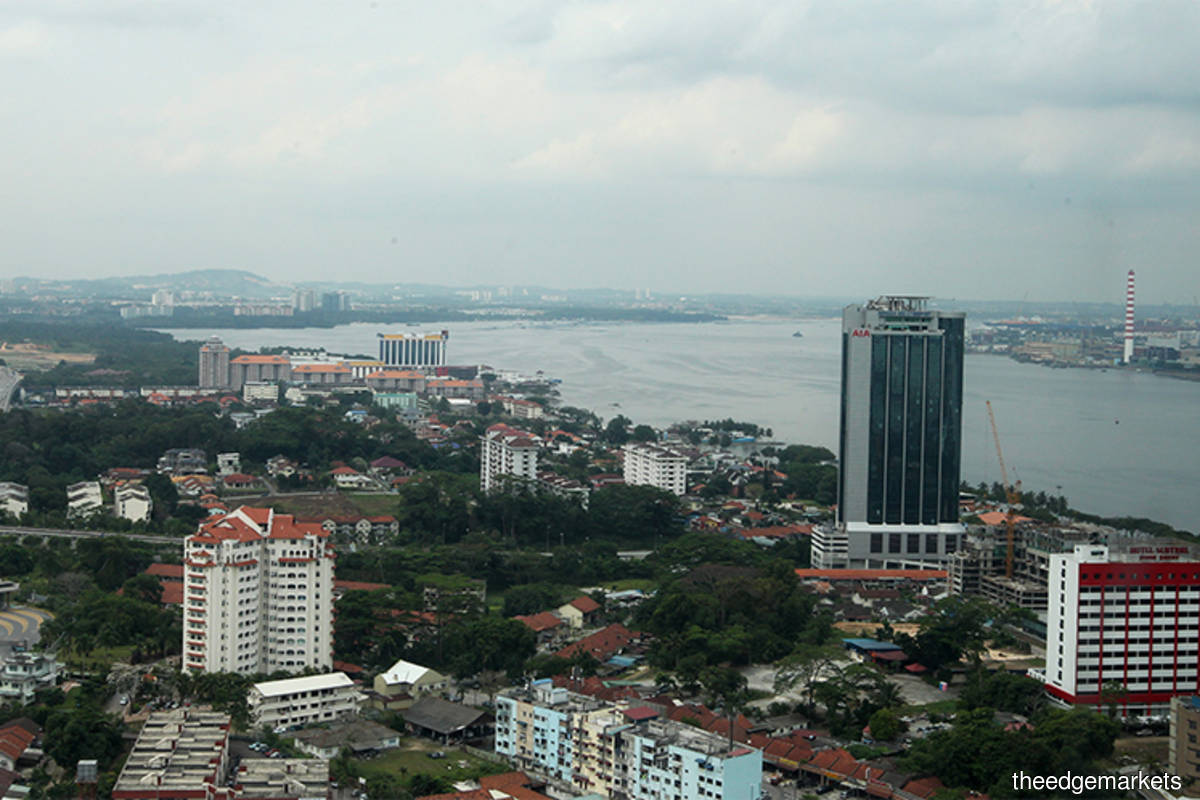 The Johor Baru property market was stagnant in the first quarter of the year against a backdrop of uncertainty wrought by the Covid-19 crisis, low oil prices and domestic factors.
"The Covid-19 outbreak dominated 1Q2020. The abrupt change of government in Malaysia and the drastic plunge in oil price paled in comparison with the adverse impact caused by Covid-19," says KGVI International Property Consultants (Johor) Sdn Bhd executive director Samuel Tan, in presenting The Edge-KGV International Property Consultants Johor Baru Property Monitor 1Q2020.
"More detrimental to the economy is perhaps the confidence level of investors and consumers. Whether corporations or individuals, most will adopt a wait-and-see stance before committing to a new investment. This fear factor affects business decisions and intensifies the vicious cycle of procrastination," he says.
During 1Q2020, the Johor Baru property market was lacklustre, with a total transaction volume of 3,646 units and transaction value of about RM2.18 billion, says Tan.
"Compared with the immediate preceding quarter, 4Q2019, the transaction volume was on a downward trend across sectors. At 3,646 units, the total transaction volume dropped about 20.5% quarter on quarter (q-o-q) from 4Q2019 and registered a decrease of 13.2% year on year (y-o-y) from 1Q2019.
"Similarly, the transaction value was mostly on a downward trend across sectors. At RM2.18 billion, the total transaction value dropped about 13.0% q-o-q from 4Q2019 and registered a decrease of 17.0% y-o-y from 1Q2019."
Covid-19 and other factors
Tan says the Covid-19 crisis affected all sectors. Tourism, transport, hospitality, retail and food and beverage were the first sectors to be directly hit, followed by manufacturing. He says the property sector will not be spared as most people will hold off their decision to purchase big-ticket items and undertake discretionary spending.
"Nevertheless, even in the worst-case scenario, we must recognise that Covid-19 would most likely be transient in nature. It will pass. Once the vaccine is found or natural immunity is built up over time, the infections will be brought under control and the world will gradually heal itself. Economic and social activities will go back to normal progressively.
"Similarly, the property sector will recover. It could, in fact, be a golden opportunity for one to get his dream home at a value-for-money price during this period. However, most people will be too fearful to commit to any big and long-term spending right now, given the uncertainty.
"Our advice to those who have been sourcing for a house for owner-occupation is to keep abreast of the market trends and do some serious homework. This period could be the best time to buy when one looks back in a few years' time," Tan says.
He says another important factor is the political uncertainty in Malaysia currently. "All will be watching how the new government alliance and cabinet line-up perform. As this is not a government with a dominant party, everything will be closely scrutinised to see if the government can effectively lead the nation by setting direction, formulating policy and carrying out the implementation.
"In particular, the public will assess how the government handles the Covid-19 crisis. This crucial period offers the new government the best opportunity to win over the hearts of the people. There will be huge challenges, both economically and socially. Everyone is affected. It is therefore important for the government to address issues in a holistic manner. The uncertainty adds on to Malaysia's political risk. Corporations will price in a higher risk premium. This is going to affect future projects and investments.
"The property sector will not be spared. The best case is for the new government to cast aside political differences and quickly implement a policy to stimulate the economy. It is crucial to act quickly to boost the economy and reduce the damage done. In fact, a stable and effective government is more critical compared with a transitory black swan event like Covid-19," he states.
Tan stresses that attention should be given to Iskandar Malaysia (IM). "IM has not been reaching its optimum potential all these years despite the effort and promotion since its inception. Apart from the property sector that experienced a boom in 2012 to 2014, other sectors like manufacturing, tourism, education and medical have yet to reach their full potential.
"Given IM's strategic location, excellent accessibility, the [country's] established English legal system, relatively lower operation cost, the country being relatively free from natural disasters and many other inherent strengths, IM has so much to offer if the government and private sector work hand in hand in crafting and implementing good policies and action plans. We just tend to take all these inherent strengths for granted," he adds.
Tan says other factors that are impacting the Johor market include the US-China trade war, volatile stock market and oil price, and low interest rates.
"Even with the trade war truce after the conclusion of the Phase 1 agreement between the US and China, the supposedly tougher Phase 2 negotiations are still in the air. World trade will remain tense as long as the two biggest economies in the world cannot reach an amicable resolution. Oil price (Brent crude) has also hit a low of about US$20 per barrel and should remain low for a prolonged period in view of low demand as a result of stalled production worldwide.
"In anticipation of the tough economic conditions, the US Federal Reserve revised the interest rate downwards twice in a span of about two weeks by 0.5 and one percentage point respectively to just 0% to 0.25%. The world's stock markets were mostly in free fall amid the slew of bad news and remained extremely volatile," he elaborates.
Outlook for coming quarter
Tan says Malaysia's GDP growth for 2019 was 4.3%, with the figure for the final quarter hitting 3.6%, the lowest level since the Asian financial crisis a decade ago.
"In view of this, Bank Negara Malaysia has revised the Overnight Policy Rate by 0.25ppt to 2.5% [it was reduced further to 2.0% in 2Q2020]. In addition, the government also dished out two stimulus packages totalling RM250 billion to boost the economy.
"Global stock markets have plunged to multi-year lows and are likely to remain extremely volatile thereafter. Many indexes have been revisiting decade-low levels since the global financial crisis in 2008.
"Both global and national economies are undergoing rough patches at the moment. Our government should use our limited resources to stimulate the economy in a sustainable manner. It should help companies, especially small and medium enterprises (SMEs) tide them over during this crisis and survive. As the SME sector employs the most workers and contributes a significant percentage to our economy, it is important to ensure their survival so as to protect jobs. One-off cash assistance for individuals may help in the interim but it is equally important to save the companies," asserts Tan.
He adds that the government should capitalise on this lull period to pump-prime the economy by fast-tracking some of the high-impact, high-spin-off projects such as the Rail Transit System and the High-Speed Rail.
"It is an opportune time for the authorities to take a hard look at our economic structure, our cost base and all the policies in a holistic manner. The only way to stay ahead of the competitive curve is to be pro-business, pro-investment, open and innovative in encouraging new technologies, approaches and methods, and to adopt a fair and meritocratic system.
"If we still stick to our old way of doing things and politicking, the vicious cycle will keep repeating itself, and we will lose out not just in the property sector but also in the economy across the board," Tan says.
He stresses that there will be changes and trends ahead. "This is a critical moment. Never in our wildest imagination would we have been able to foresee what we are going through now. Covid-19 practically freezes time and halts the world. It will be a defining point for the nation, corporation and individual in this turbulent period.
"In Malaysia, we are facing multi-pronged challenges across all areas: health, economy, political continuity and social stability. It would not be far-fetched to treat this episode as a test of resilience, discipline and innovation. Our life perspective and way of doing things will change after the whole saga.
"New trends will emerge. The use of e-commerce, tele-conferencing and contactless devices will be even more widely adopted and become a new way of life for business and social circles.
"After the months-long lockdown, many companies realise working from home, or off-site working, is feasible. Many companies will be more receptive to and start adopting "work from home" or "multi-locale" modes," he says.
Tan says future residential properties would have to incorporate practical designs and features that allow their occupiers to work at home. Corporations may scale down their office space while the demand for huge shopping malls will drop as many businesses intensify their e-commerce and delivery services. Logistics will become increasingly important.
Supply and overhang in Johor Baru
According to The Edge-KGV International Property Consultants Johor Baru Property Monitor 1Q2020, in terms of existing supply, there were a total of 467,293 residential properties in the district of Johor Baru during the review period.
Terraced houses made up 44.1% of the total stock. This was followed by high-rise residential properties (inclusive of condominiums /apartments and serviced apartments), which comprised 25.7% of the total existing supply. Other properties such as semi-detached, detached, cluster and town houses formed about 8% of the total stock, Tan says.
There is an incoming supply of 55,463 units that are plan approved and under construction. Of this, 14,897 units or 26.9% are terraced houses. The incoming supply of condominiums/apartments and serviced apartments is 32,149 units (58%) and has already surpassed that of terraced houses, he adds.
According to the monitor, as at 1Q2020, there were a total of 115,122 units categorised under planned supply (plan approved but for which construction has yet to commence). Similarly, condominiums/apartments and serviced apartments formed the bulk of the planned supply.
"There are a total of 73,690 units of condominiums/apartments and serviced apartments. This is about 64.0% of the total planned supply.
"From the statistics, it is noted that high-rise residences such as condominiums and serviced apartments have overtaken the conventional terraced houses in future supply. There are a total of about 106,000 high-rise residences in the pipeline over the next three years. Nevertheless, in view of the weak market sentiment, some of the projects may not proceed if construction has not commenced yet," he adds.
In terms of the overhang situation, there were a total of 36,123 units of unsold residential properties at various stages of construction that had been launched for more than nine months as at 1Q2020.
"The bulk of the unsold units are high-rise properties. They constitute a total of 30,109 units, or 83.4%. This is followed by terraced houses, for which there are 3,818 unsold launched units, or 10.6%. The remainder of about 6% is other landed housing types," says Tan. "However, we must read the high unsold units or overhang from a proper perspective. Johor has always been at the top of the list in terms of overhang units."
Apart from the oversupply of high-rise developments, another major contributor to this overhang is the high bumiputera quota of 40% in Johor, according to Tan. "In addition, there has been feedback from developers that our bumi release mechanism has been very slow."
New launches in 1Q2020
There was little change in price trends and rents in Johor Baru during the quarter in review.
In East Ledang, the prices of 2-storey terraced and semi-detached units dropped marginally from RM900,000 and RM1.6 million, to RM850,000 and RM1.5 million respectively. The prices of other samples in the basket remained unchanged.
The Covid-19 outbreak and other uncertainties impacted the property market in 1Q2020 but there is normally a time lag for the effect to be reflected in terms of price drops. As such, Tan expects the prices to be under further pressure in the quarters ahead.
Meanwhile, rents were stagnant during the quarter. "Yields for 2-storey terraced and semi-detached units dropped marginally correspondingly," he says.
According to the monitor, there were two new landed property launches in 1Q2020.
"The first project is Senadi Hills at Iskandar Puteri. There were 112 units of 2-storey terraced houses that were open for registration. We were told that the developer received a booking rate of about 50%. The typical unit size is about 1,400 sq ft, and prices started from RM734,000.
"The second project is Presint Wijaya at Taman Ungku Tun Aminah in the Skudai area. There were a total of 88 units of landed properties for sale — 56 units of 2-storey terraced and 32 units of cluster houses. Of these, 95% of the terraced houses were sold while about 70% of the cluster houses were sold. The size of a typical terraced house is about 1,300 sq ft and that of a typical cluster house is between 2,240 and 2,400 sq ft," Tan explains.
Both achieved commendable sale rates even though they were launched during the Movement Control Order, probably because demand for such landed houses remains resilient, he concludes.