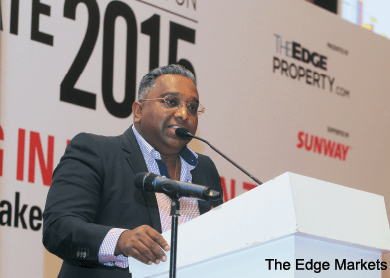 PREDICTIONS of a slowdown in the property market last year proved to be right, said Zerin Properties CEO Previndran Singhe. However, expectations that people would rush to buy properties before the implementation of the Goods and Services Tax (GST) did not happen.
Growth in the property market was slower year on year at 0.8% by volume and 7% in value, backed by the country's strong gross domestic product (GDP) numbers and employment rate, Previndran told participants at The Edge Investment Forum on Real Estate 2015, held on April 25.
Speaking on "Market Outlook — What to Expect in 2015", Previndran said there were 384,000 property transactions in 2014 and RM163 billion worth of properties were transacted. "Selangor and Johor saw the highest transactions at 25% and 16% respectively. There was an overall increase in residential transactions while the retail and office markets performed slightly better."
Properties in the primary market were affected by the introduction of Bank Negara Malaysia's responsible lending guidelines in 2013, he said. "Kuala Lumpur saw 520 transactions in the primary market while Penang recorded 684 in 2013, although these markets saw a quick rebound in 2014 despite the cooling measures as people got a grip on the guidelines and cooling measures and more properties were launched."
But while these measures, including an increase in the Real Property Gains Tax (RPGT) and abolition of the developers' interest bearing scheme (DIBS) muted demand, it did not stop property values from rising. "The volume of total property transactions dropped in KL and Selangor, but property values did not. Instead, values increased. This indicates higher capital growth in these two locations and scarcity of land in preferred locations," Previndran noted.
Some areas in Kuala Lumpur and Selangor had a great year last year. Locations such as Bangsar and Taman Tun Dr Ismail saw prices for condominiums and landed properties rising.
"A 1-storey terraced house in Bangsar saw 85% price growth over five years, which translates into 17% growth per annum. In TTDI, a 2-storey terraced house rose 51% over five years, or about 10% per annum.
"As for condos, Menara Bangsar saw a 60% price growth over five years for an annual growth of 12% while Vista Kiara grew 48% over five years. There aren't enough properties in the market and not enough entry-level properties so people go for the next level, which are condos," he noted.
Previndran saw upward movements in rental rates in some locations, while condo rental rates remained soft throughout the year. "We saw some upward trend in landed properties. Gross yield for landed properties ranged between 2% and 2.5%, and condos, 3% to 7%."
In KL, the property market was stable in 2014. "There were strong increases in commercial property values and volume, showing a trend of investors moving into the commercial market," he said.
"A report by an analyst predicted that the KL office market would crash but it didn't. Instead, there was an increase in occupancy from 82% to 84.9%. The net take-up rate in the whole of Malaysia increased by 100% from four million sq ft to eight million sq ft last year. All states have secured more than 80% occupancy, and 18 office buildings transacted," Previndran noted.
"KL office space saw good take-up of more than three million sq ft for investment-grade buildings in good locations, [with those in] close proximity to transit hubs very much in demand, fetching higher rents. Occupancy improved from 80% to 83% last year."
"The jump in development land sales last year also indicates that developers are landbanking and becoming accustomed to the high psf prices."
Previndran added that land transactions have increased, with prices hitting record highs in early transactions this year. It took some time for developers to understand that the end-market has begun to accept the high price psf, he noted.
Selangor continued to be the most active state, with the biggest volume of transacted properties. "[This is due to] strong economic growth, massive spillover from KL and continuous high migration rate in the residential sub-sector. Popular locations such as Petaling Jaya, Subang Jaya and Shah Alam showed at least a 16% price increase for terraced homes last year. Locations bordering KL saw a massive increase in property prices of up to 21%."
Furthermore, while there was talk of too many condos, Previndran said that there isn't enough supply at a certain price range, causing prices to be pushed upwards, especially those near educational institutions and MRT and LRT lines.
The commercial market in Selangor was stable last year, but Previndran said the spillover of KL's office demand will see a more vibrant office market in the state this year.
Penang and Johor reported increased volume and values, with stable demand throughout the year, indicating strong economic growth and high migration rates.
"Penang saw another stable year with a good increase in transactions and marginal increase in values. The residential sub-sector was strong. Prices registered a stable trend. The limited supply of landed homes saw prices increase 20% y-o-y, especially in Timur Laut and Barat Daya district. Houses located near the second bridge also experienced capital appreciation."
In Seberang Prai, commercial properties in Bandar Putra Bertam also recorded capital gains. Condos recorded significant price growth in Penang, especially those near the industrial areas of Bayan Lepas and Bukit Jambul.
While the Penang office market is limited as people like the old shophouses, the occupancy rate for office space in Penang rose to 82% from 80%.
Meanwhile, Johor's market was steaming ahead, with 90% growth in volume and 47% rise in value of transactions. The residential sub-sector accounted for 66.5% of total transactions.
"Prices of residential properties were stable across the board. The Johor Baru East Coast Highway and Johor Baru Eastern Dispersal Link Expressway will be value creators for properties near and along the new infrastructure," said Previndran. "We saw a double-digit increase in prices for houses in Kulaijaya with the completion of the new shopping mall,  AEON Kulaijaya, and better accessibility. Rental rates for terraced houses grew by double digits due to infrastructure such as the new highway."
Previndran said there is an interesting development in the hospitality sector. Investors who would typically invest in retail space are also now looking at opportunities in the hospitality sector in the form of hotel suites, such as The Ruma in KLCC, Angsana by Banyan Tree in Penang, and selected hotel suites in some developments within Iskandar Malaysia.
"I do see retail investors taking up units and these developments have done well with good take-up rates. We see it as investment-grade property in the future. The market did very well last year, especially in three to five star markets, with the top performers being Putrajaya, Selangor, KL, Penang, Johor and Sabah."
Previndran added that Johor's hospitality market has been vibrant for the past two years, with new hotels such as Renaissance Hotel and Banyan Tree coming up, which is a "refreshing change because Johor's hospitality market has been dull for the past years".
The start of 2015 was rather mixed for the property market, with volume falling 4% and value dropping by 3% in the first quarter. The office space, however, saw good take-ups and occupancy rates.
Previndran was neutral to positive on the outlook for this year and sees the market normalising in the second half. "We see the market normalising as market sentiment adapts to the recently implemented 6% GST," he said. "We also think the market will normalise with good global performance, Malaysia's positive gross domestic product, low unemployment rate, progression of the Economic Transformation Programme projects and multiple effect from large infrastructure projects like improvements of public transport and new highways."
He said 2016/2017 will witness the full recovery of the property market with increased transactions and take-up rates.
This year, the key focus will be the secondary market, which has stayed stable. Prices will remain flat or continue to increase.
"The property market will continue to be resilient. Semi-detached and terraced houses within gated schemes in good locations will see an increase in demand and prices, while high-rise condominiums will be stable throughout the year despite talk of a large supply in the near future," he said.
 The primary property market will see more launches in the coming quarters as developers bid to capture pent-up demand in the past quarters.
The transaction volume of properties between RM200,000 and RM500,000 grew 12% in 2014, he said.
However, Bank Negara Malaysia's strict lending guidelines have been hard on the lower income group, with the volume of transactions of properties below RM200,000 falling 40% year on year. Previndran notes that the market for properties priced above RM500,000 is active, with 20% growth in transactions per annum.
Properties that are close to the upcoming MRT stations and LRT extensions will be the next hot properties investors should be looking at, he said.
Meanwhile, he is cautious about the Johor market, with the big projects by China developers. He favours Puteri Harbour in Medini, which enjoys certain tax exemptions.
As for Penang, properties on the island will see a stable year. Prices for both high-rise condos and landed homes may scale record highs.
Perak was the third most active state in terms of property transactions last year, after Selangor and Johor.
Said Previndran: "In terms of pre-war shops, I think Ipoh is going through some F&B evolution and that will be increase demand for pre-war shops in the future. I think Taiping is an undiscovered jewel but the government does not seem to be proud of the heritage that it offers."
Meanwhile, the industrial market in Selangor is facing a shortage of supply especially in good locations that have good accessibility. "Many don't realise that when industrial products are developed, garbage collection is not part of the responsibility. There is a trend of gated industrial facilities, which is good, but accessibility is key. There isn't enough supply in Selangor and it's a good market to look into," he said.
This article first appeared in City & Country, The Edge Malaysia Weekly, on May 4 - 10, 2015.