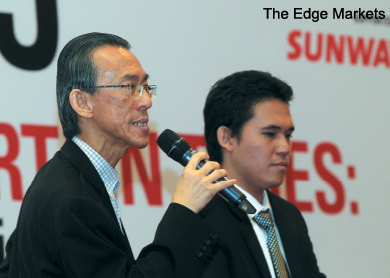 AS a country progresses and the cities become too expensive to live in, many choose to live on the outskirts where houses are still relatively affordable and still near enough to travel to work. When people start moving to the fringes, further developments such as transport infrastructure will follow, and properties in these locations will soon see their values increase.
To find out which areas offer the best capital appreciation, who better to ask than mapmaker Ho Chin Soon, chairman of Ho Chin Soon Research Sdn Bhd, who has from time to time advised property investors to "follow the infrastructure" to locate property hot spots.
Chin Soon and Ishmael Ho, CEO of Ho Chin Soon Research, revealed some potential hot spots in Penang, Greater Kuala Lumpur and Iskandar Malaysia following infrastructure developments in their presentation, "Property Hot Spots — Heating Up or Cooling Down?" at The Edge Investment Forum on Real Estate 2015, held on April 25.
Penang
In Penang, Ishmael pointed out that the state has included in the development pipeline its first LRT project and a cable car system called Sky Cab, as well as the Eco Marina development by Eco World Development Group Bhd in Batu Kawan.
"With the upcoming infrastructure and property development in the mainland, it is very interesting to see in years to come how the prices will compare between landed properties on the mainland and high-rise properties on the island in terms of capital appreciation," said Ishmael.
The Sky Cab and the LRT are part of the solution to ease the state's transport concerns. The RM4.5 billion LRT project will connect Komtar and the Penang International Airport with a 17.5km elevated stretch, while the 3km Sky Cab, will link Butterworth with George Town.
Chief Minister Lim Guan Eng said the Sky Cab is an additional project to the RM2 billion Penang Sentral transport hub that Penang Sentral Sdn Bhd (PSSB) is currently carrying out in Butterworth, The Edge Financial Daily reported on April 16. PSSB is a joint venture between Malaysian Resources Corp Bhd (MRCB) and Pelaburan Hartanah Bhd.
The Sky Cab is expected to be completed by 2018, and the LRT within five to six years.
Iskandar Malaysia
The proposed Singapore-Johor Rapid Transit System (RTS) that will link Johor Baru and Singapore will help ease congestion at the Causeway and cut travel time, making properties in Iskandar more attractive to Singaporean buyers.
At the forum, Chin Soon singled out three possible locations for the RTS stations — Tanjung Puteri, Bukit Chagar and JB Sentral.
"I think early next month, the two prime ministers may announce the high speed rail (HSR) stops for Singapore and Malaysia," he said. He added that the Sultan of Johor has said that the future and potential lies in Johor because Singaporeans, and not just the Chinese, will be buying homes in the state, given that homes across the Causeway are already beyond the reach of ordinary Singaporeans.
Chin Soon speculates that the RTS locations may be announced at the Malaysia-Singapore Leaders' Retreat in Singapore, scheduled for May 5.
Before that, a study on the congestion at the Causeway is expected to be completed and the findings presented to Prime Minister Datuk Seri Najib Razak and Singaporean Premier Lee Hsien Loong for discussion.
According to Chin Soon, one of the three locations is where the Thomson-East Coast Line from Singapore will connect to. He notes that the Singapore-Johor RTS is likely to offer an interchange station at Woodlands North MRT, which is now under construction and expected to be completed in 2019.
"One way to understand the potential of Iskandar Malaysia is to be more location-specific and product-specific," Ishmael said. One way to measure the potential of the place is whether the traveling time required to get to work for those living in Johor and working in Singapore can measure up to the travelling time of those who live and work in Singapore, he added.
He asked for a quick show of hands from those who travel daily to work under 30 minutes, and joked that those who raised their hands are probably owners of businesses, adding that business owners prefer to stay near their businesses.
"If you're the boss, your house will probably be nearby as you won't want to travel more than 20 minutes to get to work," he said.
According to Ishmael, the longest average travelling time for Singaporeans is 53 minutes, based on statistics. He said that if the travelling time from Iskandar Malaysia to Singapore is similar to that of a Singaporean to commute to work, then it would make sense for those who work in Singapore to live in Iskandar Malaysia.
"If you can stay in Iskandar Malaysia and travel to work using the infrastructure in less than 53 minutes, that makes really good sense."
Meanwhile, Ishmael speculates that the Third Link will potentially connect Changi with a location within Flagship D of Iskandar Malaysia, and notes the progress of development in the Pengerang area in the eastern part of Johor. Petroliam Nasional Bhd (Petronas) recently awarded 11 major contracts for its Pengerang Integrated Complex in Johor.
Greater KL
In Greater KL, the realignment of the MRT Line 2 spells change for properties along the earlier alignment and those under the proposed new route.
"Previously, the alignment went past the Pandan area and skirted around the Cheras South area but not anymore. The northern part of the Line did not change much — it still goes to Kepong, Jinjang, Sentul, Hospital Kuala Lumpur, the KLCC areas such as Ampang Park, Platinum Park, Tun Razak Exchange (TRX) … and this is where it changes," said Ishmael.
"It has changed to service the HSR stations. So now it is to go to the Chan Sow Lin area and will cut across to Bandar Malaysia, which will have two stations — north and south — and the HSR is likely to be at the southern one."
On the issue of affordable housing, Ishmael noted that 857,000 people are reported to have registered for the PR1MA scheme.
"The figure is massive," he said. "Even if we start building, say, 250,000 houses each year, a lot of people will be disappointed," he opined.
Chin Soon notes that one of the issues the Gen Y are facing is affordability. "Possibly, everyone would want to buy a house next to or within easy walking distance to an MRT. Although most people would like that, it is an affordability issue as a lot of these properties have been priced upwards."
HSR to move people faster
Comparing Iskandar Malaysia with cities such as Shenzhen and Hong Kong, Ishmael said the key is how people travel, whether from one country to another, or from their homes to work.
"In China, it is a daily routine for people to travel using HSR, and at Shenzhen North Station you can find plenty of food and beverage outlets as well as shopping complexes. At Shanghai Railway Station, there are hotels, shopping complexes and offices outside the station," said Chin Soon.
He highlighted the population catchment potential in areas where HSR stations will be located, starting with Greater KL at eight million, Seremban at 700,000, Melaka-Ayer Keroh at 600,000, Muar-Pagoh at 300,000, Batu Pahat-Kluang (Ayer Hitam) at 700,000, Gerbang, Nusajaya-Iskandar Malaysia at 1.8 million and Singapore at 5.5 million.
He also highlighted the seven locations for the HSR, starting with the first station at Sg Besi/Bandar Malaysia, Putrajaya Sentral for station 2, Seremban (Labu Estate) for station 3, Ayer Keroh in Melaka for station 4, Muar for station 5, Batu Pahat (Ayer Hitam) for station 6, and Gerbang, Nusajaya for station 7. He noted that IOI Corp Bhd has approximately 1,000 acres of land in Ayer Keroh, Melaka, and that station 5 in Muar is possibly between Bukit Pasir and Sungai Mati.
"If you stay in Sunway Iskandar, there is also an upgrade of the coastal highway. So you can drive to Singapore, and if you want to come back to KL, you can cross the highway, take the HSR at Gerbang, Nusajaya, and under an hour and 10 minutes, you will arrive at KL where a connecting MRT will connect you to your next destination," he explained.
Meanwhile, Chin Soon hopes that cross-border movement between Malaysia and Singapore can become more seamless with the RTS in place in time to come as the two regions are economically interlinked.
"In Hong Kong and Shenzhen, their HSRs can move over 200,000 people easily whereas we are struggling with 60,000 to 80,000. If we can overcome this with solutions such as the RTS, people can move faster," he concluded.
This article first appeared in City & Country, The Edge Malaysia Weekly, on May 4 - 10, 2015.