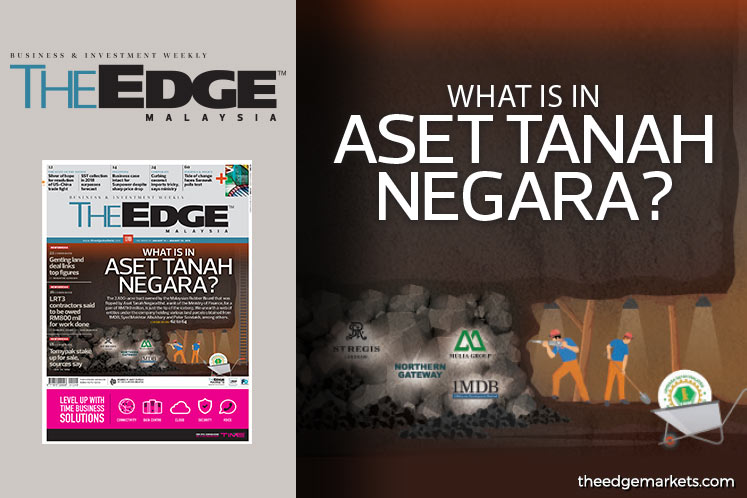 KUALA LUMPUR (Jan 12): The 2,800-acre tract owned by the Malaysian Rubber Board (MRB) that was flipped by Aset Tanah Negara Bhd, a unit of the Ministry of Finance, to the Employees Provident Fund (EPF) for a quick gain of RM780 million, is just the tip of the iceberg.
The cover story in the latest issue of The Edge unearth a web of entities under Aset Tanah holding various land parcels obtained from 1MDB, tycoon Tan Sri Syed Mokhtar Albukhary and Indonesian businessman Tan Sri Peter Sondakh, among others.
Incorporated in 2007 as National Content Development Corp Bhd, it changed its name to Aset Tanah in March 2011.
It is involved in the business of real estate and provides managerial, corporate, technical, professional, financial and internal auditing services  
According to the cover story, although Aset Tanah is owned by MOF and MRB and EPF are government statutory bodies, that transaction was not a simple case of the RM780 million going to the left pocket instead of the right pocket of the government.
"It is obvious that the MOF wanted Aset Tanah to pocket a gain of RM780 million instead of the entire RM2.28 billion going to MRB, whose use of the money would have been only for specific purposes allowed by the statutory act under which it was formed in 1996.
"MRB was set up through the merger of three other rubber industry bodies to be the guardian of the industry and to undertake programs to ensure the modernisation and sustainability of the industry. This means whatever funds it has cannot be used for any other purposes," senior editor Jose Barrock wrote.
By using Aset Tanah as the middle-man in the land transaction, it meant freeing RM780 million to be used by MOF for other purposes. 
To find out more on the various parcels of land held by Aset Tanah, get a copy of The Edge.
Save by subscribing to us for your print and/or digital copy.
P/S: The Edge is also available on Apple's AppStore and Androids' Google Play.