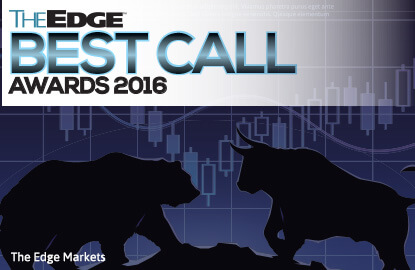 This article first appeared in
Capital, The Edge Malaysia Weekly
, on December 19 - 25, 2016.
STOCK picking continues to be tough, with the bellwether FBM KLCI and the broader FBM Emas Index set to close 2016 at a third straight yearly loss this year — a contrast to the Dow Jones  Industrial Average, which is charting new all-time highs. Sure, with Brent crude oil prices staying above US$50 a barrel, the local bellwether indices might have a chance to beat end-2015's 1,692.51-point and 11,793-point closes respectively the coming fortnight.
So far, though, the indices only managed to stay above their respective end-2015 level for two months this year. Even the FBM Small Cap Index, which ended 6% higher year on year in 2015, was down 9.1% year to date as at Dec 13.
The tough environment, notwithstanding, a number of equity analysts tracking Malaysian stocks managed to find a number of money-making picks for clients. Some analysts stuck their neck out by making a "sell" recommendation or a contrarian "buy" that showed prescience.
The 10 winners in the 11th edition of The Edge's Best Call Awards 2016 were selected from 86 recommendations for 75 stocks received. While the number of nominations was smaller than last year's 139 submissions for 102 stocks, we received submissions from 14 research houses this year. This was despite the absence of two research houses, which are usual participants but underwent significant personnel movements this year.
Most nominations still came from heads of research and the analysts themselves. We even received nominations from a blogger and a retail investor, detailing how they made money from picking their own stocks. We thank them for their interest, but regret to say that we are not able to independently measure and verify them the same way we do calls made by licensed equity analysts that are nominated.
Like last year, we made allowances for calls made in 2015 that proved right this year, provided that the same analyst did not first cause clients to lose money, thus negating gains when proven right more than a year on.
The results are our best-effort attempt to recognise good fundamental stock analysis and its importance in making investment decisions, largely based on submissions and publicly available data. Feedback on the methodology is welcomed at [email protected].
Like last year, we included several stock picks by Asia Analytica Sdn Bhd, or better known as InsiderAsia, which performed well in 2016. While InsiderAsia is not a part of The Edge Media Group, a decision was made to exclude it from the awards due to our working relations.
With that, here are this year's 10 winners in no particular order. Congratulations to the winners. To the good stock pickers who slipped under our radar, keep up the good work. Merry Christmas and a Happy New Year everyone!
RHB Research Institute Ng Sem Guan's call on Hong Leong Industries Bhd
Hong Leong Industries Bhd (HLI) is not among Tan Sri Quek Leng Chan's sexier equity holdings — up until about three years back. RHB Research Institute's Ng Sem Guan noticed the low-profile stock, though, and in a non-rated note in February 2014 highlighted it to clients — rightly calling HLI a "growing dragon" that is spurred by growth at its consumer (Yamaha motorcycle franchise in Malaysia and Vietnam) and industrial products divisions. HLI had then just spun off Hume Industries Bhd.
For this award, we only counted HLI's gains from Aug 3, 2015, when RHB initiated coverage with a "buy", with a RM7.22 target price when it fetched RM5.28. Incidentally, HLI was queried for unusual market activity (UMA) on Aug 3, 2015, after trading volume jumped significantly. The counter went on to reach RM9.93 on Nov 30, 2016. HLI paid 57 sen dividends in August 2015 (44 sen in 2016 alone), bringing total returns to over 80%.
RHB reiterated a "buy" on Nov 9 with a RM10.60 target price, noting that HLI continues to generate decent earnings from its Vietnam associate and higher industrial products exports. HLI's net cash position and cash-generation ability should allow it to pay out 50% of its earnings, implying a yield of over 4%, Ng said. Key downside risks include US dollar weakness dampening export sales.
Our records show UOB Kay Hian Research also upgraded HLI to a "buy", with a higher target price on Aug 3, 2015, although this is not reflected on Bloomberg. UOB cut HLI to "hold" on Aug 19 this year, with a RM8.40 target price, but HLI largely stayed above RM9 since.
RHB Research Institute Ng Sem Guan's call on Press Metal Bhd
Many might not realise that Press Metal is the largest integrated aluminium producer in Southeast Asia with a smelting capacity of 760,000 tonnes and extrusion capacity of 190,000 tonnes per annum. In fact, the company commands 1.5% of the global primary aluminium capacity with costs in the first quartile of the global production cost curve, making it a cost-efficient producer.
So, when Press Metal's Phase II aluminium smelter in Samalaju resumed normal operations (post a quiet period after a fire incident in May 2015), RHB Research Institute's Ng Sem Guan on March 14 this year upgraded the stock from "neutral" (RM2.19 target price) to "buy" with a RM3.56 target price, implying a 40% upside potential back then. Press Metal became RHB's new "top pick" for the basic materials sector.
At the time, Press Metal fetched RM2.54 (adjusted to 90.71 sen for a two-for-one stock split and 40% bonus issue), but has appreciated 87.4% in the past 10 months and closed at RM1.70 on Dec 13. It is worth noting that Press Metal had in the past two years rewarded shareholders with dividend every quarter, up from twice a year before that.
At the time of writing, RHB still had a "buy" recommendation and RM2.25 target price, implying a 32% upside potential. Whether or not he will continue to be right, Bloomberg data ranks Ng's call ahead of the only other research house actively tracking Press Metal, namely Kenanga Research with a RM1.79 target price. Risks to Ng's forecast include lower aluminium prices and unexpected production disruptions.
Hong Leong Investment Bank Research Jeremy Goh's call on George Kent Malaysia Bhd
When initiating coverage on George Kent Malaysia Bhd with a "buy" call on Aug 2 this year, Hong Leong Investment Bank Research's Jeremy Goh told clients that the water metering-turn-engineering company had a RM5.1 billion engineering order book and "can no longer be ignored" as a formidable force in the engineering industry.
According to him, George Kent was an under-researched stock that was under-owned by institutional investors. Its engineering segment contributes 80% to its top line from just 23% seven years ago, owing to the "big break" in August 2012 when it secured the RM1.1 billion system works for the Ampang LRT extension (17.7km from Sri Petaling to Putra Heights) — its first rail-related job. In September 2015, the company's 50:50 joint venture with Malaysian Resources Corp Bhd (MRCB) beat five other consortiums to become the project delivery partner for the proposed LRT3 worth RM9 billion in September 2015.
With a 58% upside potential to Goh's RM3.23 target price, George Kent was the top small cap pick in the construction sector. If investors bought the stock at RM2.04 (adjusted to RM1.632 for a 25% bonus issue) on Aug 2, total returns over four-plus months would have been 81% as at Dec 13's RM2.96 close or 87% at its recent high of RM3.05 on Nov 22. A local fund manager, who also nominated this call for The Edge Best Call Awards 2016, said gains were "close to 60%" when the fund took profit.
At the time of writing, Goh was still the only analyst actively tracking George Kent, calling it a "key rail play with exposure to the LRT extension, LRT3 and MRT2" while also having solid financials and a sizeable net cash position. His RM3.77 target price implied a 27% upside potential at the time of writing.
Affin Hwang Capital Research Aaron Kee's call on Aemulus Holdings Bhd
Investors would have been spared a sharp 62.5% decline as Aemulus Holdings Bhd's shares plummeted to 16.5 sen on Dec 13 over 10 months from 44 sen on Feb 15, 2016, if they had sold the stock when Affin Hwang Capital Research's Aaron Kee downgraded the stock to "sell" and warned of non-delivery of earnings on dwindling orders and escalating operating costs.
The downgrade followed a surprise RM1.7 million core net loss amid a sharp 69% plunge in revenue for the first quarter of the financial year ended Sept 30, 2016 (FY2016). "Sales to all countries registered a significant decline … the trend is worrying, particularly for sales to Singapore given that it declined from RM8 million in 3QFY2015 to RM53,000 in 1QFY2016," Kee said, also taking note of how the bottom line was hit by RM3.7 million fixed administrative costs and the absence of other income.
"Given two consecutive quarters of earnings disappointment, we are concerned over earnings delivery going forward, especially amidst a sector cyclical slowdown," Kee said when cutting his target price to 34 sen from 56 sen on Feb 15.
The same day, CIMB Research kept an "add" recommendation while reducing its target price from 70 sen (Jan 27) to 60 sen (Feb 15). No other analyst actively tracks Aemulus, Bloomberg data showed at the time of writing. Kee currently has a 15 sen target price for Aemulus, which implies only a 9.1% downside from current levels while CIMB valued the stock at 22 sen as at Nov 20.
Affin Hwang Capital Research Kevin Low's call on KESM Industries Bhd
KESM Industries Bhd's shares had already gained 34% when Affin Hwang Capital Research's Kevin Low initiated coverage on the stock on Aug 15 this year with a "buy" and RM11 target price, implying a 58% upside potential then. According to Low, KESM was a good proxy for the stable and growing automotive semiconductor segment, going by growing demand for electronics for vehicles from safety to infotainment and autonomous vehicles.
KESM closed at RM6.95 on Aug 12. It then jumped 10.5% the day the report was released (Aug 15). Since then, the counter has reached as high as RM9.90 on Dec 6. At its RM9.70 close on Dec 13, KESM's total returns were nearly 40%.
Low reiterated his "buy" call and RM11 target price on Nov 25 after KESM reported a 61% year-on- year increase in core profit to RM9.6 million in the first quarter of the fiscal year ending July 31, 2017, on better-than-expected revenue and lower-than-expected tax rate. He expects revenue and earnings to further accelerate in the quarters ahead as KESM's expansion in the test business (micro controller units and sensors for automotive IDMs or ignition diagnostic monitors) filters through. Key downside risks include a loss of customers and a reduction in outsourcing opportunities as customers increase their in-house burn-in and test function, he said.
Other than a non-rated call from TA Securities on June 27 with a RM7.75 target price when the stock fetched RM4.96 apiece, no other analyst actively tracks KESM, Bloomberg data showed at the time of writing.
Inter-Pacific Research Brian Yeoh's call on JHM Consolidation Bhd
Even at its recent high of RM1.65 on Nov 28, ACE Market-listed JHM Consolidation Bhd's market capitalisation of RM204 million meant it is probably too small for most institutional funds. Even so, retail investors, for instance, would have benefited from the "buy" recommendation by Inter-Pacific Research's Brian Yeoh.
Closing at RM1.54 on Dec 13, the stock was up 47% over six months from when Yeoh initiated coverage on June 10 this year with a RM1.50 target price. While those gains paled when compared with the 231% that the stock gained from as little as 46.5 sen at end-2015, Yeoh has the only active coverage on the stock, Bloomberg data showed at the time of writing. The 47% gain easily beats the FBM ACE Index and Bursa Malaysia Technology Index that are down 26% and 14.5% year to date (as at Dec 13) respectively.
On Nov 25 this year, Yeoh reiterated his "buy" recommendation with a higher target price of RM2.12. The target price reflects 12 times earnings multiple, being a 20% discount to the 15 times multiple fetched by its peers due to its small market capitalisation. Notwithstanding slower automotive sales globally, JHM remains optimistic about prospects of the automotive lights market as LED continues to gain traction versus conventional lighting. The company, which is working towards an AS9100 certification to qualify as a manufacturer of international aerospace components, is also eyeing a main board transfer by 2018, Yeoh said. As it is, RM14.8 million earnings for the nine months ended Sept 30, 2016, already exceeds the RM6.5 million booked in FY2015, although its major customer contributing 77% to FY2015 sales is a risk.
BIMB Securities Nurzulaikha Azali's call on Econpile Holdings Bhd
Some investors might be surprised that civil engineering contractor Econpile Holdings Bhd had breached RM1 billion market capitalisation in late October this year when its stock price breached RM1.87 apiece and went on to touch RM2 intraday on Nov 1.
Closing at RM1.85 on Dec 13, the stock is still up 74.2% year to date. That still leaves a 9.2% upside potential to the RM2.02 target price ascribed by BIMB Securities' Nurzulaikha Azali on Nov 24.
If measured from when she upgraded the stock from "hold" to "buy" on Feb 13, 2015, however, total returns are 87% with 6.5 sen dividend per share paid in total over the period. At the time, Nurzulaikha noted Econpile's strong RM500 million outstanding order book and improved margins as reasons for the revised higher earnings projection and target price for the beneficiary of robust construction activities.
According to her latest Nov 24 note, Econpile's outstanding order book stood at RM850 million and will sustain earnings through FY2018. Order-book replenishment has also been strong, growing from RM350 million in the financial year ended June 30, 2014 (FY2014) to RM490 million in FY2015 and RM662 million in FY2016.
Bloomberg data shows Nurzulaikha to be the earliest among three analysts tracking the stock and her coverage as the one with the highest returns the past year. Her RM2.02 target price reflects 13 times projected FY2017 earnings.
UOB Kay Hian Research Vincent Khoo's and Fong Kah Yan's call on Heineken Malaysia Bhd
Brewer Heineken Malaysia Bhd, which has been paying dividends at least twice a year the past decade, has natural appeal as a defensive yield play in the low interest rate environment. So, when UOB Kay Hian Research's Vincent Khoo and Fong Kah Yan upgraded the company, formerly known as Guinness Anchor Bhd, to "buy" on Jan 20 this year following strong results in the second quarter ended Dec 31, 2015, consensus was a resounding "buy" for the well-tracked stock. Between Jan 20 and Dec 13, total dividend per share was 85 sen.
Heineken's share price ran 43.6% over seven months from RM12.75 (dividend adjusted) to as high as RM18.30 on Aug 16 before retracing 5.9% to RM17.22 on Sept 14 when Khoo and Fong downgraded their call to "hold", telling clients that further price appreciation would be limited for brewers amid flattish malt liquor market value, although yield remains attractive. Since then, Heineken has retraced another 3% and closed at RM16.70 on Dec 13.
This year is not the first time UOB's call on Heineken has showed prescience, according to Bloomberg, which ranks its call top among peers. Its "sell" call on June 17, 2013, for instance, was near the counter's peak of RM18.48 on June 20 that year. From there, the stock skidded 34.3% to RM12.15 on May 12, 2014, when UOB upgraded to "hold", and thereafter continued to largely trade sideways until the Jan 20 upgrade this year. There was a 7.8% upside potential to its RM18 target price from Dec 13's RM16.70 close.
AllianceDBS Research Cheah King Yoong's call on Padini Holdings Bhd
Investors who paid attention when AllianceDBS Research's Cheah King Yoong said Padini Holdings Bhd was "a fashion trend [that's] not to be missed" on Aug 11, 2015, would have seen their investment doubled the past 16 months. Dividends paid out during the period already totalled 16.5 sen per share.
Padini's management committed to pay out at least 10 sen dividend per share and Cheah rightly highlighted that what was a 7% yield at the time would cushion the impact should the company's earnings not improve after the fourth quarter of the financial year ended June 30, 2015 (FY2015).
"What if we are wrong? Given its strong cash generation and net cash position, we are comfortable that such [dividend] payout is sustainable over the next few years even if earnings growth remains sluggish," Cheah wrote in the Aug 11 note to tell clients Padini deserves a second look.
His upgrade to "buy" also happened when the stock fetched RM1.21 to RM1.23 apiece, near its two-year low of RM1.19 in mid-July last year. To be sure, Cheah was not the only one calling a "buy" on the fashion retailer, but his was the best among submissions received for Padini and is among the top three ranked by Bloomberg of 12 analysts tracking the stock.
Cheah had since Nov 28 downgraded the stock to "hold" following uninspiring 1QFY2017 earnings, telling clients that the stock had priced in its near-term growth prospects. Furthermore, the weak ringgit might continue to pressure profit margins. Closing at RM2.62 on Dec 13, the stock is down 0.6% since.
TA Securities Ooi Beng Hooi's call on Gadang Holdings Bhd
It's hard to get 40% share price gains in this market, let alone do so within three months. But that was what happened when TA Securities' Ooi Beng Hooi recommended Gadang Holdings Bhd as an "unearthed gem within the construction space" on July 19 this year.
Gadang was trading at seven times FY2016 and FY2017 earnings then and Ooi told clients that the company had RM739.5 million outstanding order book as at April this year, providing earnings visibility through May 2018. As Gadang's clients are known to be good paymasters, the chances of delay or non-payment from them are greatly reduced, Ooi said. At the time, Gadang was also looking at developing affordable homes, having acquired land in Semenyih.
Three months later on Oct 24, the share price had gained 41% before the company went on to make a bonus issue and two-to-one stock split in mid-November this year. Closing at 93 sen on Dec 13, Gadang's share price had skidded 11% from Nov 14's RM1.05 when Ooi last reiterated a "buy" with a RM1.44 target price. Nonetheless, the earlier 40% plus gains over three months allow room for the benefit of doubt and a special mention in this year's awards.
A special mention also goes to JF Apex Securities, which Bloomberg data show to have started coverage on Gadang earlier. Bloomberg also rates returns on the latter's call higher, but it was not submitted for consideration.