This article first appeared in City & Country, The Edge Malaysia Weekly, on August 31, 2020 - September 06, 2020.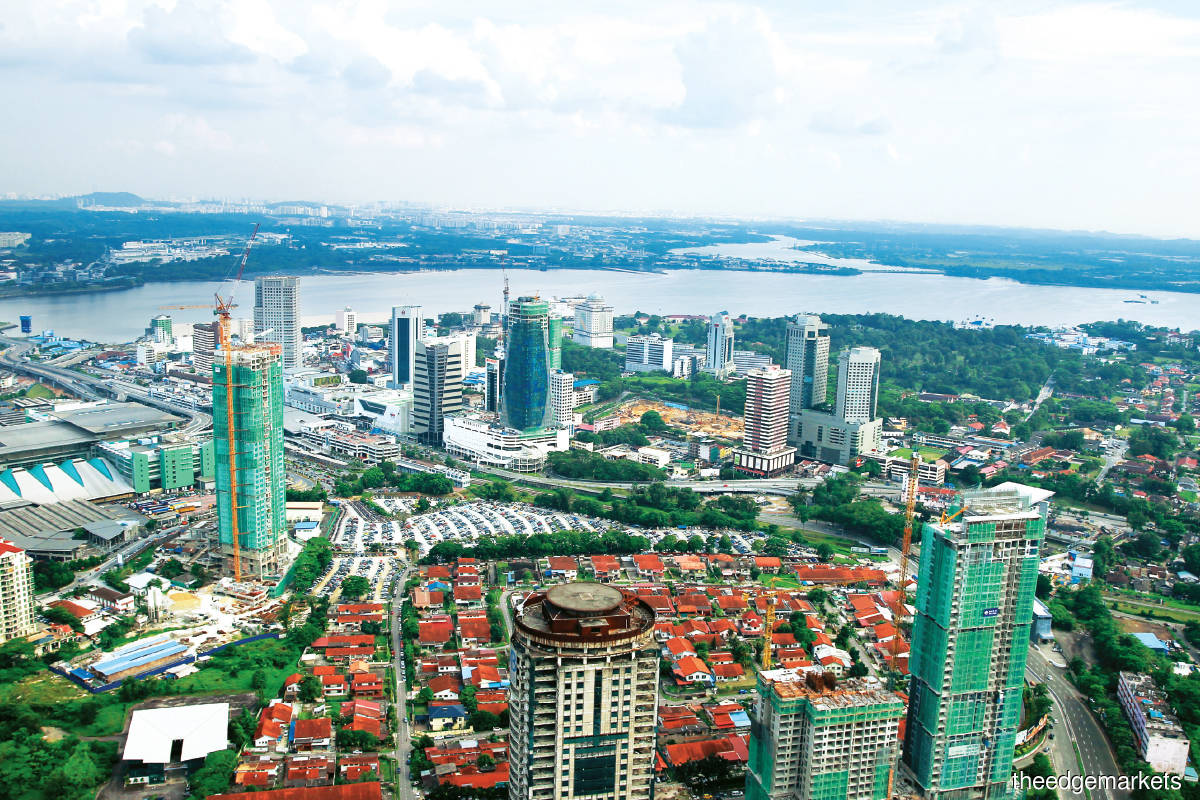 Lockdowns due to the Covid-19 pandemic have resulted in the consolidation of most markets, and the Johor property market is no exception. The market seems to have hardly moved in 2Q2020.
"The minimal change as shown could be due to limited transactional activities in 2Q2020 as a result of the Movement Control Order (MCO). We expect more price drops to be officially reflected in the coming quarters," says KGV International Property Consultant (Johor) executive director Samuel Tan in presenting the KGV International Property Consultants Johor Baru Property Monitor 2Q2020.
Tan believes there may be bright spots amid the gloom. "The decision to reactivate the rail transit system (RTS) between Malaysia and Singapore is a good example. The long-awaited RTS is expected to commence operations by 2026. The RTS not only lightens the travelling load from the causeway and facilitates better connectivity between the two countries, but also serves as a starting point for a better public transport system network within Johor Baru/Iskandar Malaysia. RTS will be a catalyst to boost the economy and property sector over the long term.
"We must remember all crises will end or taper off. The unprecedented Covid-19 pandemic is no exception. It will also be transient in nature no matter how infectious and deadly the disease.
"It is therefore time for us to build on our existing strengths, for example: an established legal system and administration with clear rules, regulations and guidelines, strategic location with proximity to Singapore, generally English-speaking business community, good infrastructure, good-quality residences, education, medical institutions, good food, greenery and so on. These are inherent advantages that are not easily replicated and we should capitalise on in attracting foreign investors.
"Over the long term, Malaysia can position itself as the destination for residents in countries like Hong Kong, Singapore, Japan, South Korea, Indonesia and the Middle East as the second home, retirement home, medical hub, education centre and recreation or holiday getaway. These are some catalytic developments we have been promoting. Both the authorities and private sector should collaborate to attract more investments to Iskandar Malaysia.
"The second quarter of 2020 registered a gross domestic product contraction of 17.1 %, the lowest point registered since 1998. This year's GDP growth is expected to register a growth range of -0.5% to 2%. The quarter was severely hit, as almost all economic activities halted, following the enforcement of the MCO [from March 18 to May 3] and Conditional MCO [from May 4 to June 9]. Malaysia is now under the Recovery MCO phase [from June 10 to Aug 31], and most sectors have reopened with strict standard operating procedures (SOPs)," asserts Tan.
"In view of the severity of the impact of the Covid-19 pandemic, the government promptly dished out four stimulus packages totalling RM290 billion to sustain and kick-start the economy. To help tide individuals and companies over this difficult period, the government, apart from dishing out funds to individuals and companies directly, imposed a loan moratorium, allowing all to defer their loan instalments till Sept 18.
"Further extension of the loan moratorium on a case-by-case basis will be considered. In addition, the overnight policy rate (OPR) has been revised four times since early this year from 3% to 1.75% currently. This is a total rate reduction of 125 basis points. All these measures help pump liquidity into the economy."
Still, all of this can only serve as stopgap measures to cushion the effects of the outbreak, according to Tan. "To have a sustainable recovery, global trade and consumer spending must recover. Moving forward, all must embrace the new norm to survive this challenge."
Changes in the Johor market
The Johor property market will witness a few changes and needs to embrace them in keeping with the current landscape. One is the increased cost of operations and business.
Tan says, "Local enterprises will face difficulty in hiring foreign workers and incur higher business cost as a result of travel restrictions and global chain disruptions respectively. The construction sector, which traditionally relies a lot on foreign workers, will be severely hit. It will need to expedite the mechanisation and automation of the construction process. This is likely to be a structural issue, and the earlier our construction industry adopts this, the better for the industry."
Tan also highlights the reduced number of overseas property investors. "With the restricted inbound and outbound travels, potential investors will not be able to travel overseas in the short to medium term. Travelling will not be as easy or 'no-frills' compared with the pre-Covid 19 era, and will be contained to those areas considered essential in the medium term for the next two to three years. As a result of inbound capital including property investment, the associated spin-off effects to the economy (that is, spending on furniture, car, shopping, entertainment, F&B and so on) will consequently be affected as well. Developers need to reposition their products, especially those targeting foreign investors," says Tan.
Work from home (WFH) has also become an important change. "As a result of Covid-19, employers and employees realise it is possible to adopt WFH with the help of today's technology. Trends such as workplace decentralisation, smaller office space, bigger home space and demand for internet connectivity as well as more greenery and recreational facilities at home are some likely structural long-term changes in the property market," Tan says.
There will also be reduced supply of some property types. "Supply of hotels and shopping centres will drop in the next few years, owing to a drastic decrease in the number of tourists and leisure shoppers. In fact, many hotels closed down during the MCO period. Shopping centres that rely on day trippers and weekend shoppers from Singapore will also be particularly affected," he says.
"The new supply of high-rise serviced apartments/apartments, especially those targeting the high-end and middle-high-end segments, should also decrease drastically in Iskandar Malaysia.
Tan reiterates that there will be more auctions. "Pay-cut and retrenchments will increase. Compounded by the end of the loan moratorium in September 2020, default cases will also increase. Those who over-geared will be especially vulnerable. Property auction cases or mortgagee sales will rise as a consequence."
Challenges
During the review period, the property market in Johor faced a few challenges. "The situation in the US as well as South American and European countries remains serious. Malaysia, though largely under control, still registered 9,267 cases, with 125 deaths as at Aug 24, 2020. Most sectors in the economy started to reopen gradually, albeit cautiously under RMCO.
"The US-China tension escalated from trade conflict to a wide-ranging diplomatic crisis that included an entangling of issues involving geopolitics, human rights and intellectual property rights. The conflict is likely to continue over a prolonged period. Disruption to global supply chains and a heightened political-cum-business risk environment further softened already-weak consumer sentiment."
In addressing the ongoing domestic political upheaval, Tan says: "Domestic politics remain uncertain, with the current government appearing to hold only a slim majority. The possibility of a snap election further unsettles the economy. The business community and investors do not like uncertainty. Many will put on hold key corporate decisions and major capital investments pending the resolution or at least clearer picture of the political environment. The trifecta mentioned above underpinned the pessimistic mood in 2Q2020," adds Tan.
New launches, price and rental trends in 2Q2020
According to the monitor, there were no new launches in 2Q2020. "Developers are [holding back] on the new launches in view of the MCO. Some have resorted to marketing the existing unsold units via the internet," says Tan.
In general, prices of residential units in Johor remain static. "Double-storey terraced houses in East Ledang and Taman Ponderosa dropped marginally from RM850,000 to RM800,000 and RM600,000 to RM580,000 respectively. The rest in the portfolio remained unchanged," he says.
Meanwhile, the rental market in the state stayed stagnant as well. "There were no changes registered in rental movement in 2Q2020. There was very little activity in the rental market. Similarly, we expect a downward trend to show up in the coming quarter. From anecdotal evidence, we noticed that there were already tenants requesting for rental reduction," he says.