This article first appeared in City & Country, The Edge Malaysia Weekly, on May 31, 2021 - June 06, 2021.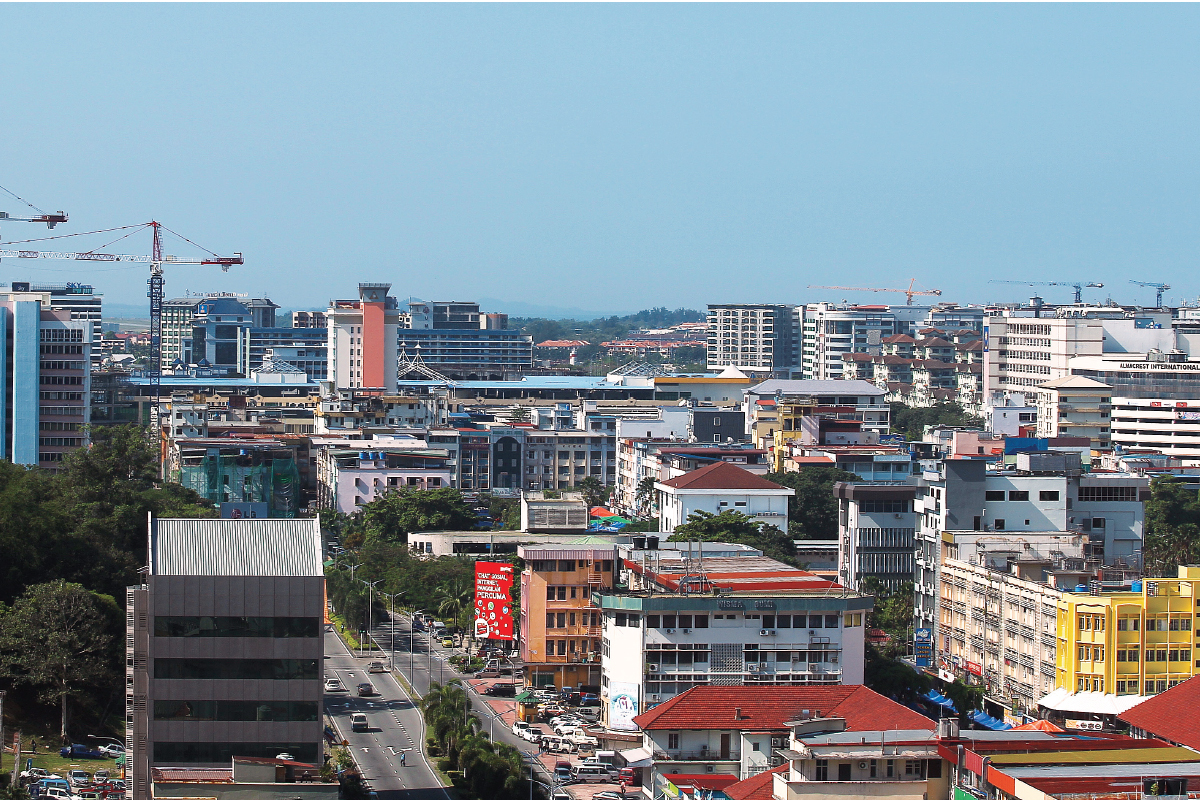 Last year was a challenging year for the Kota Kinabalu housing market, and the quarter under review shows no significant change.
In 2020, Sabah's residential property market saw 3,984 transactions worth RM1.41 billion. This represented a 21.85% drop in volume and a 26.28% fall in value.
In 2021, the residential market is still soft and property players remain cautious because of the unpredictability of the Covid-19 situation.
"Optimism in the market is expected to return later this year, backed by the government's mobilisation of the Covid-19 vaccines," says Rahim & Co regional manager (Sabah) Max Sylver Sintia in presenting the Kota Kinabalu Housing Property Monitor 1Q2021.
"However, as medical professionals have reiterated, the vaccines are not a silver bullet, and will not cure all the ills faced by the property market.
"Although the market is expected to see a slight recovery in the second half of 2021, pre-existing issues such as a lack of affordability, income levels and cost of living need to be dealt with effectively and holistically to ensure the sustainability of the local property market.
"Market confidence is expected to return [only] gradually in the later part of 2021 and into 2022, as buyers, financiers and developers are all still being cautious," he says.
As property activity in Kota Kinabalu stayed soft, there was also little new stock in the market owing to the lack of new launches as developers focused on selling unsold inventory.
"The modest sales performance was partly due to the sluggish property market and cautious buyers' sentiment," says Max.
"Nevertheless, many developers have adopted new marketing strategies by using digital marketing such as [through] the internet, mobile devices and social media to reach potential buyers."
Notable transactions and new developments
Despite the overall slow housing market, there were several significant transactions in the first quarter of 2021.
In January, the 3-storey NKE Building in Jalan Kacang Tanah, Kolombong, was sold for RM20 million. The office-cum-warehouse building with a land area of 1.86 acres was sold to Kesumaju Estate Sdn Bhd.
In March, the Sime Darby Auto Connexion car showrooms in Jalan Kolombong was sold to Universal Motor Sdn Bhd for RM35 million. The land with two main structures on it measures about 3.87 acres.
In February, there were three significant transactions. Two pieces of adjoining beachfront land in Tanjung Aru were sold for RM35 million, or RM478.83 psf, to Pekah Beach Resort Sdn Bhd. The combined land area is 1.687 acres and is located next to First Beach Tanjung Aru.
Another transaction was the sale of residential land measuring 1.15 acres at Signall Hill for RM9.02 million or about RM180.15 psf. The land, situated opposite The Pinnacle Signall Hill, was sold to Visaland Sdn Bhd.
The third was for a 0.88 acre piece of land in the VIP Lot residential area for RM6.1 million, or about RM158.74 psf.
"In the quarter under review, we saw the new residential development of Kinarut Ceria 2 Phase 2 in Kampung Mook, Kinarut, developed by U Properties Development Sdn Bhd, starting preliminary works," says Max.
"The 2-storey terraced house development, which is situated about 22km south of Kota Kinabalu city centre and is connected to the new Pan Borneo Highway, consists of 39 units priced from RM525,000, with a 5% allocated discount for bumiputera lots.
"The gross floor area for the intermediate units is about 1,619 sq ft while the corner units are slightly larger at 1,913 sq ft. The area where the development is located is midpoint between Kota Kinabalu city and Papar town. Phase 1 of Kinarut Ceria 2, which was launched at end-2019, was fully sold and is expected to be completed by 2H2021," he adds.
Max also highlights that, during the quarter under review, landed residential properties in the secondary market held steady despite downward pressure in 2020.
"Prices for landed houses were generally stable with positive price growth year on year recorded in the samples, albeit at a slower pace compared with previous years," he says.
"Prices of our high-rise condo samples declined y-o-y except for Bayshore Condominium and Radiant Tower, which remained unchanged.
"Rental for landed houses remained unchanged, while [that for] condominiums declined," adds Max.
Landed properties
For the 2-storey terraced houses in the monitor, the average growth recorded was 1.78% y-o-y compared with 4.06% for the same period in 2020, representing a drop of 2.28 percentage points (ppt).
"The highest y-o-y price growth was recorded at Ujana Kingfisher, with an increase of 2.59% to RM595,000," says Max.
"This was followed by Golden Hill Garden (2.42% to RM845,000), Taman Indah Permai (2.20% to RM465,000), Taman Sri Borneo (1.54% to RM660,000), Taman Jindo (1.53% to RM665,000), Luyang Perdana (1.33% to RM760,000) and Millenium Height (0.82% to RM615,000)."
Quarter on quarter, there was marginal price growth for houses in Taman Indah Permai (1.09%), Ujana Kingfisher (0.85%), Taman Jindo (0.76%) and Golden Hill Garden (0.6%). The others remained unchanged.
For the 1-storey terraced houses sampled, the average y-o-y price growth was 2.93%, down from 7.39% in the same period last year, a drop of 4.45ppt.
"The highest y-o-y price growth was at Taman Tuan Huat, with an increase of 4.60% to RM455,000, followed by Taman Nelly Ph 9 with 3.16% to RM490,000, and Taman Sri Kepayan with 1.04% to RM485,000," says Max.
"Q-o-q results show Taman Tuan Huat registering 1.11% growth, followed by Taman Nelly Ph 9 with 1.03% growth. Taman Sri Kepayan remained unchanged."
Rent for both property types remained stable. Yield performance, on the other hand, was not good.
For 2-storey terraced houses, the average gross yield fell 0.07% y-o-y to 3.67%. The highest yield was registered at Millenium Height with 3.90%, followed by Taman Indah Permai (3.87%), Taman Jindo (3.79%), Golden Hill Garden (3.69%), Ujana Kingfisher (3.53%), Luyang Perdana (3.47%) and Taman Sri Borneo (3.45%).
The average gross yield achieved by 1-storey terraced houses was 4.07%, down 0.12ppt from 4.19% in 1Q2020. The highest yield was registered at Taman Sri Kepayan with 4.33%, followed by Taman Tuan Huat (3.96%) and Taman Nelly Ph 9 (3.92%).
Condominiums
For high-rises, most showed a dip in prices. "The condominium prices registered an average decline of 3.81% y-o-y to RM524 psf from RM544 psf a year ago. Bayshore Condominium and Radiant Tower remained unchanged while the rest declined," says Max.
"The biggest dip was experienced at 1 Borneo Condominium, which dropped 7.3% to RM380 psf."
Other high rises that saw a decline were Likas Square (-7.1% to RM390 psf), Jesselton Condo (-4.9% to RM580 psf), Marina Court (-4.8% to RM600 psf), Alam Damai (-3.4% to RM570 psf) and The Peak Condominium (-3.0% to RM650 psf).
There were no changes in the q-o-q prices for the condominiums.
Meanwhile, rents for condos declined 12.55% y-o-y on average. Nevertheless, rents for Bayshore Condominium and Radiant Tower held steady, according to Max.
"The highest decline was recorded at The Peak Condominium, with rents falling 25.71% to RM2.00 psf/month," he says.
The other condos that showed declines include Alam Damai (-25% to RM1.64 psf/month), Marina Court (-16.3% to RM2.00 psf/month), Likas Square (-13.04% to RM1.48 psf/month), 1 Borneo Condominium (-11.11% to RM1.62 psf/month), and Jesselton Condo (-9.38% to RM1.93 psf/month).
Max notes that condos registered an average gross yield of 4.09%, down 0.42ppt from 4.52% a year ago.
The highest yield was recorded at 1 Borneo Condominium with 5.10%, followed by Likas Square (4.56%), Radiant Tower (4.33%), Jesselton Condo (4.00%), Marina Court (4.00%), The Peak Condominium (3.69%), Bayshore Condominium (3.61%) and Alam Damai (3.44%).