This article first appeared in City & Country, The Edge Malaysia Weekly, on September 7, 2020 - September 13, 2020.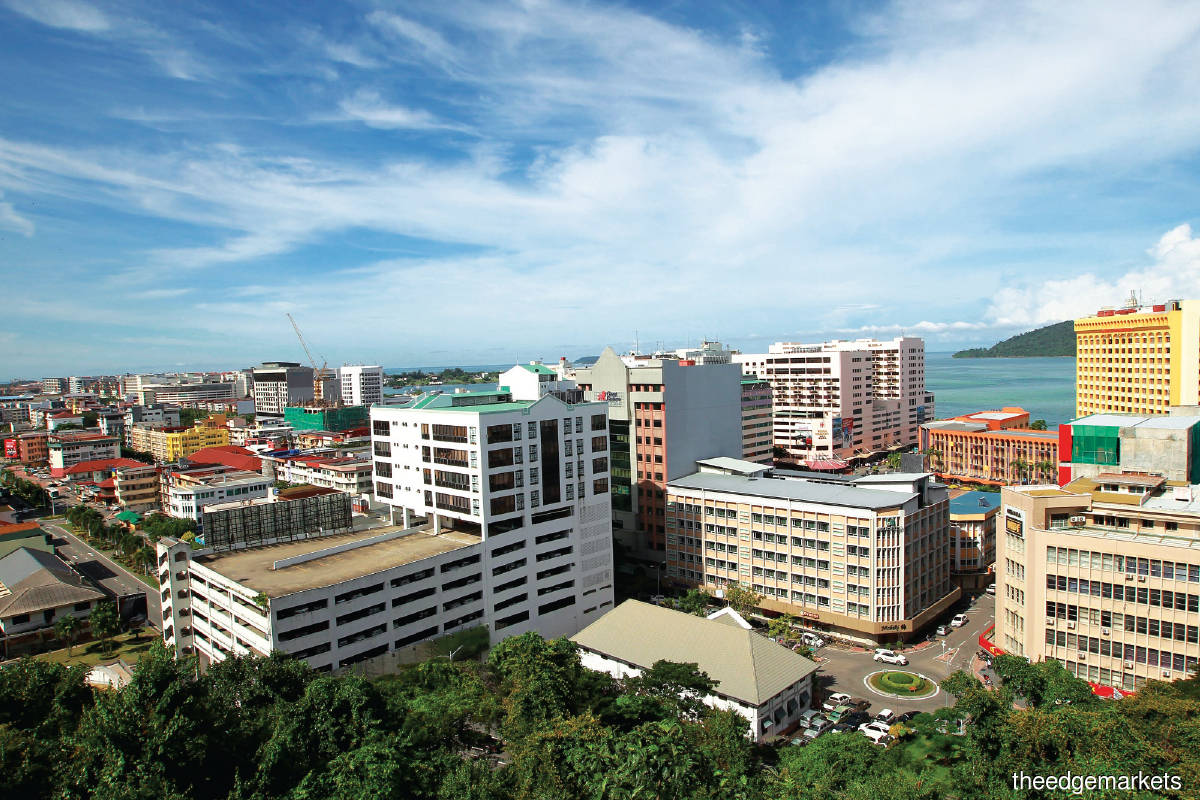 Landed properties in the Kota Kinabalu secondary market have held their value, thanks to limited supply and lack of new stock in or near the city centre. Moreover, the rental market may see an increase in supply as landlords of short-stay products try to look for long-stay tenants to tide them over this challenging period that is seeing a drop in tourist and visitor numbers. These observations were made by Rahim & Co branch manager (Kota Kinabalu) Max Sylver Sintia in presenting the 2Q2020 Kota Kinabalu Housing Property Monitor.
"While it is still too early to predict the economic cost of Covid-19 on the property market, the transaction volume and value of property in Sabah will inevitably decrease in 1H2020, although we do not expect the residential property sector to be as badly affected as the tourism sector," says Max. "In 1Q2020, the number of residential properties transacted in Sabah was 1,090 — a decline of 31.49% year on year compared with 1,591 transactions in 1Q2019. The value was RM379.88 million — a decline of 26.51% against RM516.91 million registered in 1Q2019."
He notes that the asking prices of high-rise residential properties in the secondary market have dropped, but some asking prices for landed properties in mature Kota Kinabalu residential areas such as Luyang, Damai, Jalan Lintas, Jalan Bundusan, Lido and Kepayan/Kobusak have increased.
"Prices of landed residential properties are considered more stable than those of high-rise properties. This is evidenced by the posi­tive and better growth rate of our landed property samples as opposed to the condominium samples [in the monitor]," he says.
"One of the factors contributing to the stable prices of landed residential properties in Kota Kinabalu is the limited supply of new landed properties situated in or close to the city centre. Landed residential properties, particularly terraced houses in mature residential areas, are observed to enjoy favourable take-up rates or strong demand despite the development's age and old design."
Meanwhile, Max notes that landlords with short-term rental lodging will look for long-term tenants during this dry period. But this increase in rental properties will only add more pressure and competitiveness to the market, he says.
"Tenants will have more options in the market and the bargaining power of house owners will be worse than before. Covid-19 might affect tenants' income; thus, they will be more sensitive to the rental rates," says Max.
According to data for the primary market, the number of transactions has been low, but this does not mean the sector has been quiet.
He says: "On the primary market, we observed that, although transactional activity has been lower, buyers are still purchasing residential products that are priced and positioned correctly, such as terraced houses situated in the city fringe, for example in the Lok Kawi and Kinarut areas priced within the range of RM350,000 to RM550,000.
"With buyers adopting 'a wait and see' approach, developers are also seen to be offering more attractive incentives and deals such as furnishing and fittings packages, rebates, discounts, freebies and lower booking fees to boost their sales."
Be it the primary or secondary market, Max believes this is a good time to look for a new home and he advises buyers to keep up with market trends and be aware of the latest asking prices.
"We anticipate that more properties will be put on sale at the end of 2H2020. Asking prices of residential property, especially condominiums, apartments and serviced apartments as well as SoHos (small offices/home offices), in the secondary market are expected to decline by 10% to 20% in the next few months … as the impact of Covid-19 continues to unfold, coupled with lacklustre economic conditions. This provides a bargain buying opportunity to potential buyers and investors to purchase such properties at reduced prices," says Max.
He cautions, however, that obtaining bank loans may be a challenge in a low interest rate environment.
"Besides, investors should anticipate a longer time to get their returns on investment, owing to lower rental rates and slower rental growth. Therefore, they will need to have strong holding power," he adds.
Meanwhile, a new project has been launched during the quarter under review, Max says. Yayasan Sabah Group signed a development agreement with Zillion Ventures Sdn Bhd to develop a commercial mixed-use development known as The Waterfront.
Max says: "Situated in the heart of Kota Kinabalu city and with an estimated gross development value of RM3.5 billion, the proposed development consists of four blocks of three- and five-star hotel towers, three blocks of serviced apartment towers, one block of hotel suites, a three-star 300-room hotel owned by Yayasan Sabah Group, a 3-storey shopping mall with a theme park, boardwalk esplanade and marina jetty for yacht/boat berthing."
Max says it is no surprise that Covid-19 and the current economic uncertainties have affected buyers' sentiment. But he believes that, with the government's help, the residential market will hold steady during this time.
"With the help of the government stimulus, we expect Kota Kinabalu's residential market to remain resilient, with strong demand from genuine homebuyers looking for properties with affordable pricing and features that meet their requirements for own-occupation. With more pressure on rental and prices of some of the residential properties, the current market would be favourable to long-term investors as opposed to short-term speculators," he says.
Two-storey terraced houses
The average year-on-year price growth for all houses in the sample was 3.28%, compared with 5.93% y-o-y in 2Q2019, and the quarter-on-quarter price growth average was 0.74%.
Houses in Luyang Perdana achieved the highest price growth y-o-y of 4.11%, to RM760,000. This was followed by Taman Sri Borneo (3.97%), Golden Hill Garden (3.75%), Ujana Kingfisher (3.54%), Millenium Height (3.36%), Taman Jindo (3.13%) and Taman Indah Permai (1.11%).
Houses in Ujana Kingfisher achieved 0.87% q-o-q growth to RM585,000, followed by Taman Sri Borneo (0.78%), Taman Jindo (0.77%) and Golden Hill Garden (0.61%).
There were no changes in rental rates for the houses in the sample and the average gross yield was down 0.12%, to 3.71%, from the average of 3.83% recorded in 2Q2019. The highest gross yield achieved was from Taman Indah Permai at 3.96%, followed by Millenium Height (3.9%), Taman Jindo (3.82%), Golden Hill Garden (3.76%), Ujana Kingfisher (3.59%), Taman Sri Borneo (3.48%) and Luyang Perdana (3.47%).
One-storey terraced houses
The average y-o-y price growth for 1-storey terraced houses was 6.47% in the second quarter of this year. Compared to 2Q2019 y-o-y results of 6.92%, this shows a marginal decline of 0.45%. The highest y-o-y growth recorded was in Taman Tuan Huat with 7.32% to RM440,000, followed by Taman Nelly Ph 9 (6.67%) and Taman Sri Kepayan (5.43%).
Q-o-q results showed an average of 1.08% growth. Taman Tuan Huat homes achieved 1.15% growth followed by Taman Nelly Ph 9 (1.05%) and Taman Sri Kepayan (1.04%).
Like its 2-storey cousin, there was no rental movement and the average yield recorded was 4.14%, down 0.27% from the 4.41% recorded in 2Q2019. The highest gross yield was achieved by Taman Sri Kepayan (4.33%), followed by Taman Tuan Huat (4.09%) and Taman Nelly Ph 9 (4%).
Condominiums
The average y-o-y price growth for condos was 1.34%, a drop of 1.89% from the 2Q2019 average of 2.93%. The highest y-o-y price growth was recorded by Likas Square, up 3.7% to RM420 psf. This was followed by Bayshore Condominium (2.9%), Marina Court (1.6%), The Peak Condominium (1.5%) and Radiant Tower (1%). There was no price growth recorded for Jesselton Condominium, Alam Damai and 1 Borneo Condominium. Likewise, there were no q-o-q price movements.
For rental rates, Max says three condos saw their rates drop: Jesselton Condominium (down 12.33% to RM2.13 psf per month), followed by Marina Court (down 8.82% to RM2.38 psf per month) and 1 Borneo Condominium (down 5.26% to RM1.82 psf per month). The rates for the rest remained unchanged.
Average yields achieved were 4.52%, down 0.23% from the average gross yield of 4.74% in 2Q2019, Max highlights.
The highest yield was registered by 1 Borneo Condominium with 5.32%, followed by Likas Square (4.87%), The Peak Condominium (4.82%), Marina Court (4.54%), Alam Damai (4.44%), Radiant Tower (4.33%), Jesselton Condominium (4.2%) and Bayshore Condominium (3.61%).