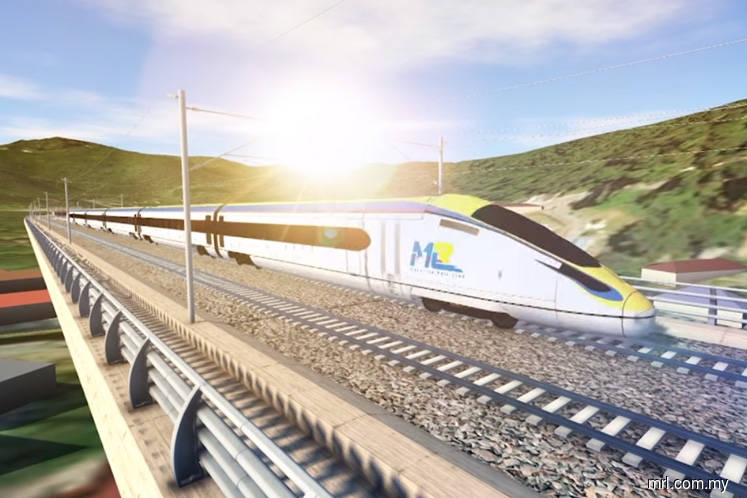 KUALA LUMPUR (Aug 15): The RM81 billion East Coast Rail Link (ECRL) would incur an annual operational expenditure (opex) of RM600 million to RM1 billion if the project is executed, said Finance Minister Lim Guan Eng.
The project, tasked to China Communications Construction Co (CCCC), has been suspended and is under review where the discussion with Chinese parties, after Council of Eminent Persons head Tun Daim Zainuddin's recent visit, is showing results.
"Although we have not reached a consensus on the discussion with China, (the gap in) the discussion between Daim, who went as a special envoy of Prime Minister Tun Dr Mahathir Mohamad, and Foreign Minister Wang Yi is narrowing. In any case, we must take cognisance of the liability of the project cost.
"Our intention of reducing the debt largely questions the viability and feasibility of the project because the opex is high. Let's not talk about the capital expenditure of the project when we can't even afford the opex which is between RM600 million and RM1 billion a year. This is a huge burden for Malaysia," he added.
Responding to an oral question by Maran MP Datuk Seri Dr Ismail Abdul Mutalib in Parliament, Lim said on July 3, following Attorney-General Tommy Thomas' advice, Ministry of Finance Inc's wholly-owned subsidiary Malaysia Rail Link Sdn Bhd (MRL), which handles the project, issued an immediate stop-work order to CCCC.
"We were forced to issue the suspension order so as to cut the cost borne by the government. If we had not done that, we would have to bear the rising cost. To date, MRL has paid RM19.68 billion, which is made up of RM10 billion deposit, and RM9.67 billion work done. This is a large sum," Lim said.
Hence, the need to review the project, he told Ipoh Timur MP Wong Kah Woh in parliament today in a reply to a supplementary question regarding the status of the review and discussion with China.
"It is a big issue. So is the need to review the project so that Malaysia is not burdened by this mega project that would incur a mega debt," he added.
Asked about some 2,000 low-skilled workers who have been laid-off due to the suspension order, Lim said the workers should seek compensation from CCCC as they were employed by the company.