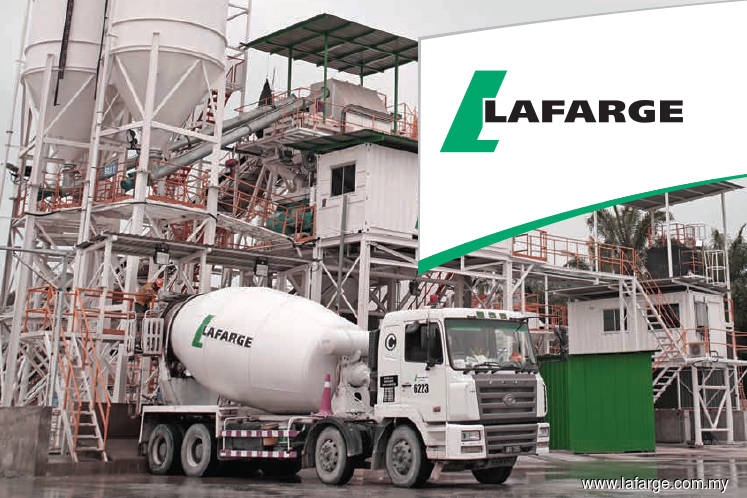 KUALA LUMPUR (March 8): Lafarge Malaysia Bhd is seen as a beneficiary of the East Coast Rail Link's (ECRL) potential revival because the cement manufacturer had earlier won contracts under the project, Affin Hwang Investment Bank Bhd said today.
Lafarge, which saw its shares surge as much as 30% yesterday to hit limit up, said it had no idea what might have caused the sudden price jump.
It said this in a filing in response to Bursa Malaysia's unusual market activity query yesterday, after Lafarge's shares climbed as much as 60 sen to RM2.60.
Affin Hwang analyst Loong Chee Wei wrote in a note today the ECRL project may be revived but at a lower cost than the initial value of RM55 billion.
"We understand that the government will likely decide after Prime Minister Tun Dr Mahathir Mohamad's visit to China in April. If the project is revived, HSS Engineers Bhd and Lafarge Malaysia, which had won contracts, will see earnings contributions as the works resume. Local contractors will also benefit if the requirement for higher local participation is increased from the initial 30% of works to be awarded by the main contractor, China Communications Construction Co Ltd.
"Contractors that were vying for ECRL subcontract works include IJM Corp Bhd and Gabungan AQRS Bhd given their established presence in the east coast of Peninsular Malaysia," Loong said.
Work on the ECRL has been suspended since July 2018. Reuters reported then that the China Communications Construction confirmed that it suspended all work on the project as Putrajaya sought to renegotiate the terms of the deal with China.
It was reported that China Communications Construction said on July 5, 2018 it halted all work at the request of project owner Malaysia Rail Link Sdn Bhd.
"Recently, the company has received a letter from Malaysia Rail Link Sdn Bhd, the employer, which requires an immediate suspension of the contract under the ECRL project until further instructions," China Communications Construction was quoted as saying in a filing with the Hong Kong bourse.