This article first appeared in Enterprise, The Edge Malaysia Weekly, on August 5, 2019 - August 11, 2019.
Click / Tap image to enlarge

Click / Tap image to enlarge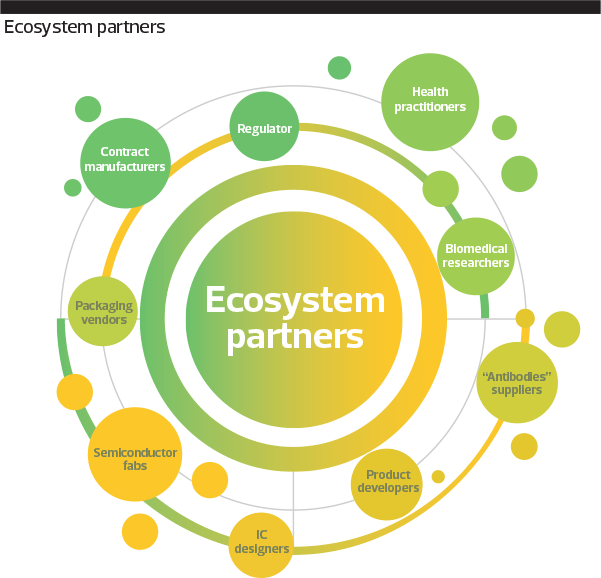 Last year, semiconductor wafer foundry SilTerra Malaysia Sdn Bhd organised the region's first Semiconductors in Life Sciences Symposium, an event that drew researchers and thought leaders from around the world. Only a few months earlier, it had announced its latest invention — the Piezoelectric Micromachined Ultrasound Transducer (PMUT) on the CMOS platform.
While this may not sound like much to industry outsiders, it sparked the interest of many local and foreign researchers working at the forefront of healthcare innovation, observes Tan Eng Tong, vice-president of strategic management at SilTerra. It has also opened up opportunities for Malaysian companies and researchers to be a part of the revolution.
"My view is that most of the electrical and electronic (E&E) companies in Malaysia started out by providing support services to multinational corporations (MNCs). Almost all of Penang is like that. When you are supporting MNCs, they tell you what to do and you do these well. Now, we have to do something by ourselves. That is what the country is about when we talk about Vision 2020," Tan tells Enterprise.
He was a keynote speaker at the recent 6th International Conference on Bio-Sensing Technology in Kuala Lumpur, at which leading researchers from more than 30 countries gathered to exchange ideas. He stressed the need to create an ecosystem involving various parties, from researchers and chip makers to product designers, to accelerate innovation.
"If we want to move towards that vision, we need to get people to start thinking more about real technology, as opposed to marketing someone else's. People need to build the capabilities themselves, instead of copying MNCs that did their own research and evaluation," says Tan.
Biosensors are the key components of many digital health tools, including wristbands or contact lenses that monitor blood pressure and glucose levels. It is the surface of the equipment that interacts with biological molecules and allows continuous physiological monitoring. The technology is also used in the food industry for quality control and Internet of Things (IoT) devices such as soil analysers that inform farmers of the exact level of fertilisers needed.
In the medical field, biosensors are being developed for rapid detection of diseases. These enable diagnoses to be made outside the lab. These also allow individuals to monitor their health independently and doctors to analyse the data remotely.
The pregnancy test and blood glucose meters are two early forms of biosensors. In the past, patients had to visit a doctor to confirm their pregnancy or monitor their glucose levels. But now, they can get instant results using a pregnancy test kit or blood glucose meter at home.
"The holy grail now is that for every disease, you can detect or monitor it this way — at home by yourself. That is what everyone is talking about," says Tan.
The wafer foundry — wholly-owned by Khazanah Nasional Bhd — provides its technology to several local and global partners working on these solutions. These include dental sensors and solutions for the detection of diseases, such as dengue, outside of the lab. They can also be built into next-generation point-of-care devices or within an IoT network.
"Now, because we have control over the design of the technology, we can adapt the basic chip design to your needs. What we need are people with creativity to see how they can use the technology in different applications. This is the level of innovation SilTerra is offering to the country," says Tan.
The company is eager to help local researchers turn their ideas into products and get companies to adopt this trend. But along this value chain, it only has expertise in wafer fabrication. To develop an ecosystem, it needs biomedical researchers, product developers, integrated circuit designers, packaging vendors, health practitioners and regulators, among others, to come on board.
"To create biosensors, we definitely need people with expertise in biosciences. We also need to partner people to design the final chip and package all this [to create an interface that can display the results]," says Arjun Kumar Kantimahanti, senior vice-president of technology development at SilTerra.
The biggest challenge now is to find the designers, says Tan. That was why SilTerra organised the symposium in Penang last year. "In Malaysia, we do have researchers in biosciences who are looking into these areas and who are interested in imaging. We have the technology, but the gap lies in converting the research ideas and technology into products," he adds.
For example, a researcher is able to use biosensors to detect the Ebola virus or dengue in the lab environment. But how can the technology reach those who are not in hospitals, especially those in rural areas?
In such a situation, SilTerra can offer its chip technology as a solution. Then, the researcher or company will see if it can turn a particular biological reaction (which detects the presence of a virus) into an electrical output that can be displayed on a phone or laptop in a form that a layperson can understand.
There are no lack of resources, says Tan, pointing to the more than 1,000 medical-related companies and three medical technology hubs in Malaysia. The country also has a developed supply chain for the E&E and medical technology industries.
Tan mentions Digital Health Malaysia — a collaboration between industry, academia and the government — as an example. Its members, who include doctors and entrepreneurs, are pushing for greater awareness of telemedicine (remote diagnosis and treatment of patients via technology platforms). They are also advocating regulatory changes and other incentives that can support companies that want to innovate in the medical technology field.
The right partners
One of SilTerra's global partners is imec, a Belgium-based R&D facility that focuses on nanoelectronic applications and the one that brought a life sciences project to the company. The end result was a DNA sequencing machine that was designed by imec and produced by US-based biotechnology company Pacific Biosciences. The chip was manufactured by SilTerra.
"imec has partnerships with several foundries and SilTerra is one that we have had some success with in transferring technology to upscale to volume manufacturing," Paru Deshpande, imec vice-president of life science technologies, tells Enterprise.
To build high-tech healthcare products, one needs partners who can develop the technology, understand the applications and bring the product to market while being fully compliant with regulations.
"It takes a long time to build that connection in the ecosystem because all the contributors speak very different languages. I think we underestimate how long it takes to understand the challenges each group faces and the perspectives they bring to the table," says Deshpande.
But the potential for the semiconductor industry and its partners to change the healthcare industry is huge, especially with the push for point-of-care solutions that bring healthcare beyond hospitals at a low cost.
"There are seven billion people in the world. When you think about providing technology for healthcare, you need a manufacturing platform that can handle billions of devices. The semiconductor manufacturing platform is one of the few that can do it with very sophisticated devices. If you leverage that technology, you can have an impact on the healthcare domain," says Deshpande.
Working with a mid-sized foundry such as SilTerra can be attractive for life sciences companies. That is because bigger foundries may reject these cases due to the small production sizes. Also, smaller foundries are more willing to adapt to the specific needs of a company.
"The needs in the healthcare domain, in terms of technology, are not easily met with conventional technology. You have to be willing to understand some of the specific needs because [chips for] healthcare products are not the same as those in mobile phones," says Deshpande.
Another SilTerra partner is Richard Luxton, a professor at the University of the West of England and director of the Institute of Bio-Sensing Technology. He is currently running proof-of-concept experiments using SilTerra's technology.
"SilTerra can make microelectromechanical systems-based transducers [the PMUT]. Not many people in the world can do that. Other researchers who do not have access to this technology use a simpler technology, such as paper-based solutions," says Luxton.
"The paper-based solutions are not very sensitive, but the PMUT's complex technology has a massive advantage on sensitivity. It can also do an array of tests and replicate measurements, which reassure you of the results. These [paper-based solutions] are cheap and can be disposed of, after one use, but the PMUT can do more sophisticated testing."
Many of these developments are still in the early stages and will boil down to their reproducibility, he adds. "Currently, a bunch of different technologies are competing for an application. It is how you take that measurement and integrate it into a package that is of value."
SilTerra's technologies
SilTerra Malaysia Sdn Bhd has two key technologies — the Piezoelectric Micromachined Ultrasound Transducer (PMUT) on CMOS platform and silicon nanowire-based photodetectors.
The PMUT generates ultrasound waves by using piezoelectricity, which is the electric charge that accumulates in certain solid materials as a result of applied mechanical stress. It then senses the echo for spatial detection. The PMUT chip is able to generate ultrasound at a nanoscale.
"If you put an array of such sensors together, it behaves like a digital camera with pixels. A camera has sensors that collect light and decode it into a picture, which is made up of those dots. Our ultrasound transducer is like that, except that it collects sound instead of light," says Tan Eng Tong, vice-president of strategic management at SilTerra.
"Another difference is that light cannot go through objects, but ultrasound waves do. When these bounce back [from an object], you get something like an X-ray machine [which can scan an object]."
This can be used in many applications. One of SilTerra's partners uses the technology to perform epidermal mapping of fingerprints. A normal camera may not be able to differentiate between a picture of a fingerprint and a real fingerprint, Tan explains.
"This 'sound camera' can penetrate the object and detect whether there is flesh or if there is nothing there. So, if you get a picture of a fingerprint but there is no finger there, should you still trust that input?" he says.
There are three areas in which the PMUT could be useful — healthcare, consumer products and industrial sensors. The latter could be useful in high-speed manufacturing environments that need to detect defective products.
"Right now, we are looking at two areas in healthcare — imaging for dentistry purposes and creating biosensors to detect local diseases such as dengue. We are already actively working on these applications and are looking to see if there are other applications we could work on," says Arjun Kumar Kantimahanti, senior vice-president of technology development at SilTerra.
The silicon nanowire-based photodetector, on the other hand, can be useful in biosciences for detection of diseases, DNA sequencing and small molecule detection. It could also be used for dental panorama and bone density measurements.
One of SilTerra's customers in South Korea is using this technology to develop ambient light and proximity sensors in mobile phones. Ambient light sensors are used when adjusting the screen brightness of mobile phones while proximity sensors turn off the phone's display when the device is placed close to the ear. Nowadays, full-screen phones do not have a notch at the top to fit these sensors, so designers may not know where to put these.
"The good thing about silicon nanowire is that it can do the same job as those sensors under the glass. It is light-based and penetrates the display. So, manufacturers can now put the sensors under the display and you will not even know that they are there," says Arjun.