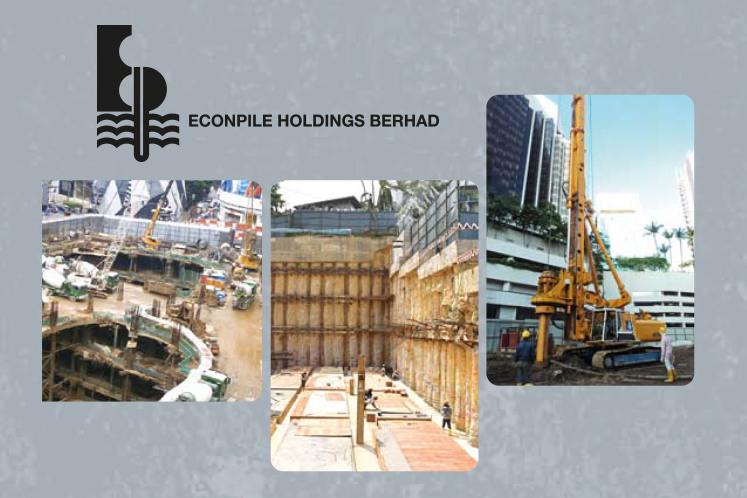 KUALA LUMPUR (March 14): Econpile Holdings Bhd is seeking RM80.1 million in progress claims from ASM Development (KL) Sdn Bhd as the project employer for a RM280 million mixed development for which 80% of work has been completed.
In a bourse filing today, the piling and foundation specialist said its wholly-owned subsidiary Econpile (M) Sdn Bhd (EMSB) had issued a Notice of Determination to ASM on March 13, for foundation and substructure works for a mixed development in Kuala Lumpur that includes seven blocks of serviced apartments.
Among the grounds for the determination of the contract, it said, was ASM's interference with or obstruction of the issuance of Interim Certificates in respect of EMSB's Progress Claims amounting to RM80.1 million.
Moreover, it added that ASM had failed to issue the relevant Interim Certificates within 30 days from the date of receipt of EMSB's progress claims, and to make payment within the period of Honouring Certificates.
"EMSB is seeking recovery for the value of the works done and services rendered via adjudication proceedings pursuant to Construction Industry Payment and Adjudication Act 2012," Econpile said, adding that EMSB's solicitors believe it stands a good chance of recovering the outstanding value of works.
The remaining works under the contract — awarded by ASM on Sept 26, 2016 — is approximately RM56 million.
Econpile's Board of Directors does not expect the contract's determination to have any material effect on the company's financial position, earnings per share and net assets per share for the financial year ending June 30, 2019.
Econpile closed one sen or 2.11% higher to 48.5 sen today, valuing the company at RM648.69 million. Over the past 12 months, the stock has lost nearly half its value.