This article first appeared in The Edge Financial Daily, on October 30, 2017.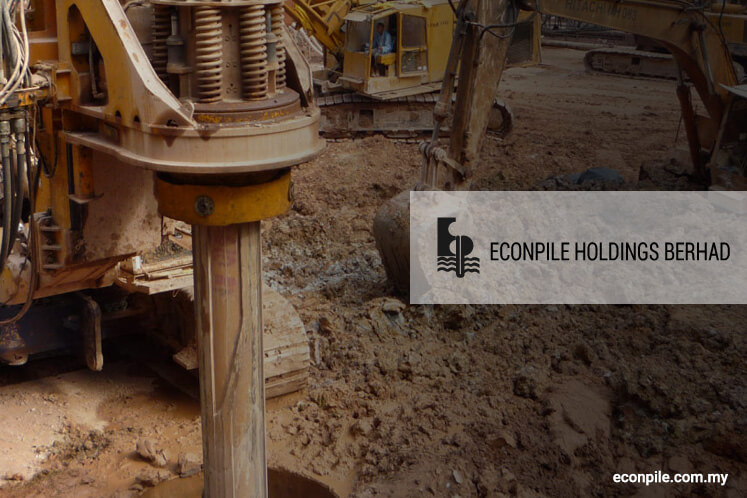 KUALA LUMPUR: When Econpile Holdings Bhd listed its shares at 54 sen apiece back in June 2015, few would expect its share price to rise near sixfold to its current level.
As it moves towards its third year as a listed company, some may ask whether the piling and substructure expert's share price has reached its peak — what with the softening property development market which, at one time, formed near 90% of the contract sum of its order book.
"It's a cycle," said Econpile executive director Raymond Pang in an interview with The Edge Financial Daily. "Transportation infrastructure is the market focus right now. When all these infrastructures are in place, it may again encourage property developments, particularly in areas surrounding the facilities," he said.
Currently, Pang said Econpile is prepared to reap the benefits of the booming infrastructure segment which, at one time, offered lower margins compared to property-related jobs. "We expect the margins to improve [in the infrastructure segment]," said Pang.
Why is it different now? He said in previous years, the bids for infrastructure projects such as rail works were priced too competitively.
"What was not taken into account were some unexpected hiccups during the construction process, particularly at older sites which lack digital master-plan layout," he said.
The intricacies of urban infrastructure developments, such as traffic diversion, and decade-old underground structures which were not mentioned in the records, slowed construction progress and dragged margins down to a single digit, such as in Econpile's substructure works for the mass rapid transit Sungai Buloh-Kajang line or MRT1.
"Now we know what to expect. Players have more experience in related projects, and newer tenders have been readjusted towards more realistic pricing," he added. "But on-site efficiency and logistics still pose a challenge."
To tackle the two, Pang said the company is slowly moving away from smaller-scale substructure contracts, having accumulated better capacity and experience to undertake larger-scale ones.
The company allocates an average RM20 million per year for capital expenditure to size up its fleet of machinery — together with research and development efforts — to improve their processes and equipment, and to provide training for employees.
Econpile has some of the largest and most advanced piling equipment in the country. They are kept in a seven-acre (2.83ha) workshop in Bukit Beruntung, Selangor, and are manned by some 120 mechanics — that's to a quarter of Econpile's 500-strong workforce.
"We have constantly improved our fleet size and technical capabilities to take on bigger jobs," said founder and group executive director The Cheng Eng.
"This year, we broke the record for the deepest pile works in Malaysia, 110m deep with 3m diameter at a high-rise site in Jalan Ampang," said The. "We also own one of the biggest drilling rigs in Asia by capacity, and there are just five [such] units in the world."
But with such a size, it means its fleet does better if it concentrates on one location without having to be moved too often, like it will have to be for small contracts. "That will save on logistics costs," he said.
Meanwhile, the company is looking to form strategic partnerships with main contractors to improve margins. Its repeat clients include property bigwigs like IOI Corp Bhd, Bandar Raya Development Bhd, S P Setia Bhd, Eco World Development Group Bhd and Selangor Dredging Bhd.
"By pairing up with strategic partners for a project, Econpile can focus on its strength, which is piling and substructure work, and we can count on our partners to use their talents in other parts of the construction.
"This way, we can avoid hiring subcontractors to reduce costs, and the partners can better sync the workflow of the overall construction to improve efficiency," said The.
"This is what it means to ride along with the wave and not be drowned by it. There is no point if you don't have the capabilities and strategies to cater to market demand when the time comes, and that time is now," Pang said.
Conservative after a bumper year
The pace of award of public infrastructure projects has been picking up, especially rail and road works. As a leading piling specialist, Econpile can target an array of them, such as the East Coast Rail Link (ECRL), Kuala Lumpur-Singapore High-Speed Rail, and the MRT3.
Interestingly, Econpile has guided analysts to an estimated RM600 million in order book replenishment in its financial year ending June 30, 2018 (FY18), about half the RM1.19 billion it secured in FY17.
To this, Pang said FY17 was a "bumper year" for Econpile, thanks to the RM570 million Damansara Pavilion Phase 1 contract awarded in the period — also the biggest contract for the company so far. "Without that, FY17 contract wins would normalise to RM620 million," he said.
Since June this year, Econpile has secured two new jobs — an RM18 million piling contract for Phase 2 of Damansara Pavilion, and another RM48 million contract from Malaysian Resources Corp Bhd — bringing its present order book to around RM1.2 billion, which will last the company for another two years.
While the contract sum is smaller compared with the contract size they typically tender to, Pang said the Phase 2 Damansara Pavilion job is the first of a series of substructure works from the entire project, which can accumulate to about RM200 million in total.
The company is also actively eyeing spillovers from the RM4 billion worth of light rail transit 3 (LRT3) contracts announced in early October. Note that one of its long-term clients, Gabungan AQRS Bhd, won the RM1.2 billion GS04 package to build guideways and three stations over a 4.2km stretch of the LRT3 alignment. According to Pang, substructure works typically comprise between 5% and 10% of the overall contract sum of a development project.
Econpile is among Macquarie Group's top picks as a potential beneficiary of the upcoming ECRL project. In a note dated Aug 10, the research house gave the stock an "outperform" call with a target price of RM3.50.
Other analysts, however, have mixed views towards the stock. In a note dated Oct 7, Malacca Securities had a "hold" call on the counter with a target price of RM3, which is 16 times its price-earnings ratio of 18.7 sen.
Similarly, AmBank Research in an Oct 9 note, maintained its "hold" call on Econpile, with a fair value of RM2.22 — which is 13 times its FY18 forecast earnings per share of 17.1 sen — arguing that its share price had already reflected its fundamentals.
To a question if the company's shares were overvalued, Pang said: "The market will set the benchmark for us. To us, we just focus on our margins, our growth, and how to reward our shareholders."
Meanwhile, the company paid a dividend of 4.5 sen per share for FY17, up from 3.5 sen a year ago. It is also undertaking a one-to-two share split, which will be followed by the issuance of bonus shares and bonus warrants on the basis of one for every four shares.
Econpile shares closed down one sen or 0.32% at RM3.15 last Friday, with a market capitalisation of RM1.69 billion. The stock has seen a total return of 67.49% over a one-year period.