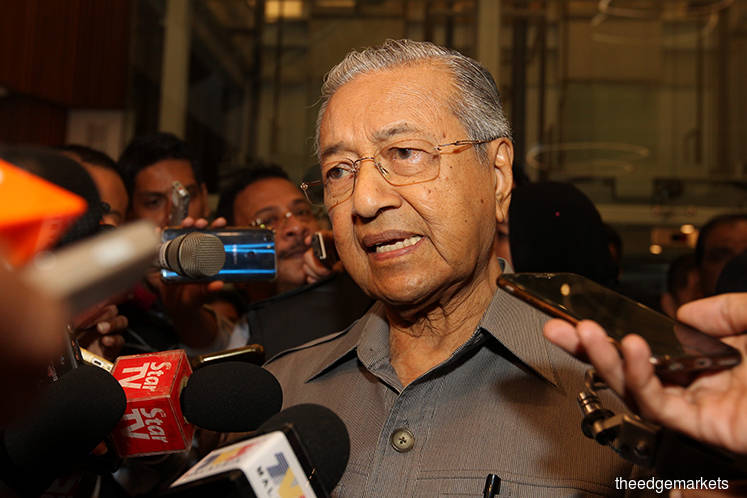 KUALA LUMPUR (Jan 10): Malaysia's economy is still growing at a good rate at this stage of development with various programmes well underway to further boost it, Prime Minister Tun Dr Mahathir Mohamad said today.
The people, however, must wait to see the full impact of the government's initiatives.
"Yes, there is an outflow of funds and the currency has been devalued. This is a function of the market."
 Malaysia according to him, still has the biggest savings with Bank Negara Malaysia's reserve stood very high at RM400 billion-plus.
Combined with other funds, such as Permodalan Nasional Bhd, Employees Provident Fund and some smaller funds, the total amount could be over RM1.5 trillion.
"Foreign assets are big. National Oil Company Petronas is doing well with more than (RM)100 billion income. It is 100 per cent government-owned," he said in his blog entry entitled: "Kerajaan Pakatan Harapan" here today.
Despite all these, Dr Mahathir acknowledged that the ringgit is depreciating.
"In many other countries, reserves of this size would guarantee the strength of the national currency. But the market apparently cannot believe this strength of the Malaysian finances and its currency.
"The fact is that the Malaysian economy and its currency are strong. The market and the detractors may not think so. But the Government has faith in its financial and economic policies. And so do foreign and local investors,"  said the Prime Minister.
Economist opined that the local note is eventually expected to strengthen further towards 4.00 versus the US dollar by year-end, despite negative headwinds and near-term volatility.
As at 3.46pm, the ringgit was quoted at 4.0790/0840.
The government said Dr Mahathir is leaving no stone unturned in re-engineering the economy.
"For the observers, it would seem that nothing is moving. Rome was not built in one day. When Malaysia was switching from an agro-based economy to an industrial economy, it also took time.
"But most of us could not remember and the young never saw the transition. Most were born when the transition was accomplished. It is difficult to imagine an agricultural Malaysia today."
The same will happen now. The transition will take time — perhaps two years or more from now.
"But believe me it will happen. Indeed in some ways, it is already happening. We are going paperless and soon there will be cashless. Digitalisation is already happening and Artificial Intelligence (AI) is contributing towards increasing speed of work and transaction."
Dr Mahathir said it is frustrating to wait, even for him.
"But wait we must. The machinery of Government has been cleansed and is rapidly adapting to the new ways of working. Even the Ministers are adjusting to being in the Government instead of the opposition."
"We don't steal money nor raise loans so as to have money for bribing people. We spend what we have. What we have is less money. We cannot afford to give free money to people. Our way is to increase or create jobs. But the people must be willing to take up the jobs or the business opportunities created," he said.
Read also:
Dr Mahathir is education minister for the time being — PMO