This article first appeared in The Edge Financial Daily, on September 26, 2019.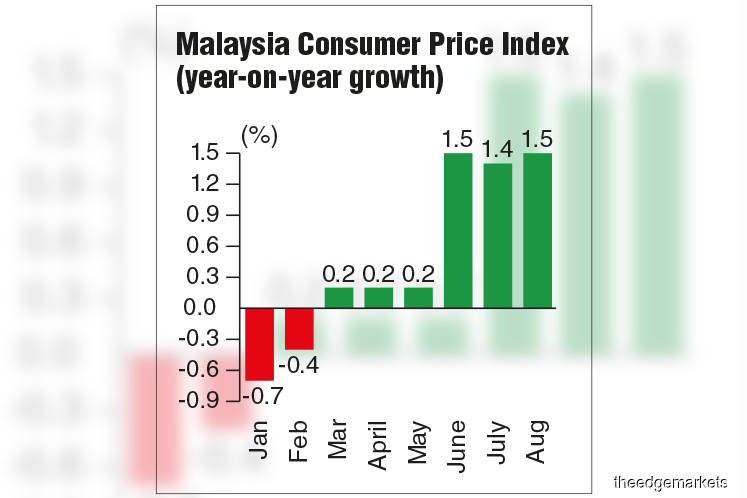 KUALA LUMPUR: Economists expect inflation to come in below 1% this year notwithstanding a 1.5% year-on-year rise in the August consumer price index (CPI).
Given that the prices remain under control, they expect Bank Negara Malaysia (BNM) to maintain interest rate at this juncture.
Although a slight uptick from July's 1.4% expansion, August marked the third consecutive month that the CPI — a main gauge of inflation — breached 1%.
August's CPI expansion was due to costlier items, including food and non-alcoholic beverages, tobacco, and household equipment, the statistics department said yesterday.
In the January-August period, headline inflation remained low, averaging 0.5%, but is expected to inch higher in the coming months as the favourable low base effects from last year's tax holiday will fully fade by September this year.
United Overseas Bank (M) Bhd's  (UOBM) senior economist Julia Goh and economist Loke Siew Ting forecast inflation will inch towards 2% in the coming months on the back of the government's implementation of a new targeted fuel subsidy scheme under which price caps on RON95 petrol and diesel will be lifted.
"We expect the inflation rate to remain at such levels in the coming months due to the withdrawal of goods and services tax coupled with the coming implementation of targeted petrol subsidy," AllianceDBS Research said.
But UOB and AllianceDBS Research have maintained their full-year inflation forecast at 0.8%, with UOB projecting a rise in the CPI to 2.5% next year.
MIDF Research has a slightly lower forecast of 0.6% for the year, as it expects inflationary pressure from fuel-related items to remain weak in line with its Brent crude oil price projection for 2019 of US$63 per barrel — the current price that Brent crude oil prices have stabilised to following a drone attack on Saudi oil facilities in mid September.
UOB has an oil price projection of US$60 (RM251.40) to US$70 per barrel for the remainder of the year.
Despite further signs of global growth weakness, the economists expect BNM to remain patient before making further rate adjustments.
"The impact from the overnight policy rate cut in May could take up to three to four quarters," said UOBM, adding that the coming Budget 2020 is expected to include expansionary measures to support the domestic economy.
This, in turn will lighten the pressure on BNM to pursue another rate cut this year, it added.
On anticipation that the core inflation rate and other major macroeconomic indicators would remain stable, MIDF Research sees no further change in BNM's monetary policy at this juncture.