This article first appeared in The Edge Financial Daily, on December 17, 2018.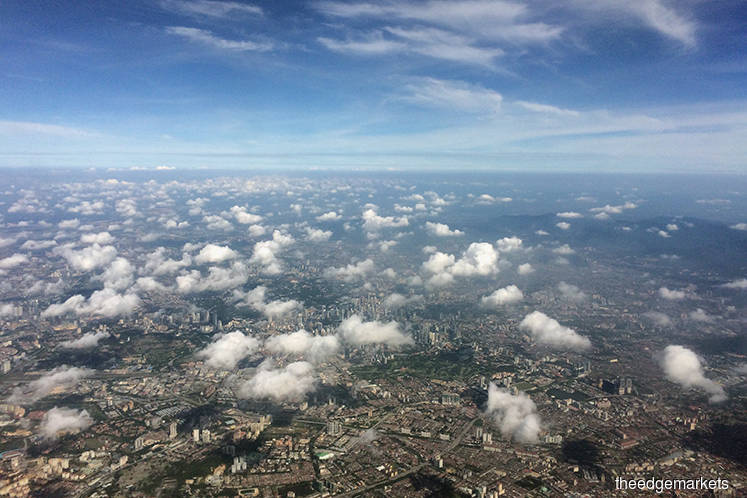 KUALA LUMPUR: Owing to external uncertainties, economists are cautious about Malaysia's economic outlook next year, with a consensus gross domestic product (GDP) growth forecast of 4.6% according to Bloomberg data, against the government's more optimistic 4.9%.
Economists contacted by The Edge Financial Daily see the ongoing trade tensions, monetary policy normalisation in the US, volatile commodity prices, geopolitical tensions, and policy uncertainties as downside risks to their GDP estimates.
As uncertainties surrounding the global trade talks will disrupt trade flows to the region, Affin Hwang Capital chief economist and head of research Alan Tan believes that export growth is likely to slow down in 2019, but noted that domestic demand will remain supportive of the economy.
This is because Budget 2019 measures such as the continuation of cash assistance, increase in national minimum wage, and several measures to ease the people's burden from the rising costs of living, will spur consumer spending.
"We remain positive that households will remain financially sound, supported by the country's steady household earnings, positive employment outlook and steady commodity prices," Tan told The Edge Financial Daily over the phone, adding that there are also "strong financial buffers to service debt obligations, supported by accommodative financing conditions going into 2019."
Moreover, private investment is also expected to be supported by ongoing infrastructure projects, whereby the government's decision to repay the tax refunds amounting to RM37 billion will support and benefit businesses, and possibly lead to some investment and expansion activities by the private sector.
Despite anticipating lower export figures, Tan highlighted the projected sharp increase in global semiconductor sales, rising from US$480 billion to US$490 billion according to a forecast for 2019.
"This means Malaysia will benefit and [that will] somewhat cushion the slowdown in other products," said Tan.
He also pointed that it is highly unlikely that the government will cut its development expenditure for 2019, as it would provide a buffer against a possible slowdown should the external environment remain unfavourable for export growth. Such spending also has a multiplier effect on the economy.
Tan expects GDP to grow 4.7% next year, from a forecast 4.8% this year.
RHB Research Institute economist Peck Boon Soon projects GDP growth of 4.6% for both this year and 2019 based on a number of factors. He expects the US to raise the tariff rate on US$200 billion (RM837.3 billion) worth of Chinese imports to 25% on Jan 1, 2019 from 10% currently, and for China to retaliate. The US Federal Reserve (US Fed) is also expected to pause monetary tightening in the second quarter of 2019 (2Q19). Meanwhile, there is limited room for the Malaysian government to increase spending to cushion the external impact.
"The truce in US-China trade war recently provides an upside risk. But we are in no hurry to change our projection given that the outcome remains uncertain," said Peck in an email reply.
With a GDP forecast of 4.9% for 2019, MIDF Research chief economist Dr Kamaruddin Mohd Nor said the domestic sector will continue as a primary driver for growth.
While the services sector will remain upbeat boosted by a stable labour market and positive wage growth, the manufacturing sector is expected to moderate in tandem with the slowdown in global growth while the construction sector is expected to grow marginally. The agriculture sector on the other hand is set to improve compared with its lacklustre performance this year.
US recession unlikely in 2019
Notwithstanding the slowdown in the US economy, economists do not expect a recession next year.
Tan explained in spite of monetary policy tightening in the US, other major central banks, such as the European Central Bank, Bank of Japan as well as the People's Bank of China, are maintaining an accommodative monetary policy to support economic growth.
"We are seeing not a concerted effort by all the major central banks to tighten monetary policy. Hence, in a way, we are seeing a divergence in terms of monetary policy, (and this) should not lead to some sort of recession in the US economy like some are painting," said Tan.
Assuming the trade war does not escalate, Tan expects the global economy to grow at 3.7% as projected by the International Monetary Fund (IMF).
Concurring with Tan, Peck says the risk of a recession in the US is "not high in 2019" as he believes the tax cut stimulus spending could still provide some support to growth next year although the impact is fading.
"And we believe the US Fed will likely be flexible in its policy tightening. Any sign of a slowdown in growth will likely prompt the US Fed to slow down the process of tightening. This will provide breathing space for the economy," said Peck.
Additionally, he highlighted that the risk, obviously, is if inflation declines and the US Fed is forced to raise rates more significantly despite weakness in the economy. In such a circumstance, the possibility of a recession is high.
He explained that a recession in the US, if it happens, will likely impact global growth quite badly as other economies are already seeing a slowdown in growth. This in turn will impact Malaysia's exports and GDP growth, given that there is limited room for the government to increase spending to cushion the impact.
Interest rate hikes
Economists believe the central bank will likely hold the overnight policy rate (OPR) at 3.25% throughout 2019 based on a number of factors. These include the US Fed raising the interest rate three times next year; a slowdown in global growth; and the possible further escalation in trade tensions.
"We think that the OPR policy rate at 3.25% is accommodative, and hence in order to support growth, Bank Negara Malaysia will likely leave the OPR unchanged throughout 2019," said Tan.
On the ringgit, most economists are projecting an appreciation against the US dollar by the end of 2019. Their ringgit forecast for end-2019 ranges from between 3.90 and 4.25.
"We believe that the US Fed interest rate hike cycle is really close to the high, where it's really close to the neutral rate of 3%, so we think that the US Fed will likely continue with the interest rate hike, but the aggressive interest rate hike cycle that we see in 2018 and 2017 will likely come to an end," said Tan, who has a ringgit forecast of 3.90 by end 2019.
He believes the capital flows will favour Malaysia next year, whereby the outflow will be limited and manageable from 2019 onwards. He sees the strengthening of the ringgit to be supported by a stable sovereign rating, and does not expect a downgrade by the three key ratings agencies.
On the other hand, in a UOB Quarterly Global Outlook 1Q19 dated Dec 7, UOB said that there is risk of further ringgit weakness beyond 4.20 against the US dollar, particularly if the weakening trend in yuan and other regional currencies resumes.
"Overall, we continue to expect modest US dollar strength against the ringgit. Our revised USD/MYR point forecasts are 4.23 by mid-2019 and 4.25 by end-2019," said UOB.
Despite the sudden plunge in Brent oil from a high of US$86.74 per barrel in October to current levels of about US$60 per barrel, there had been little pass-through to the ringgit.
Meanwhile, on oil prices next year, Tan's forecast is US$70 to US$75 barrel oil, with an average of US$73 per barrel, compared with the government's guidance of US$70 per barrel.
"We think that this range is achievable given the Opec cut in production of 1.2 million and where we may see this production cut being extended till the middle of next year," he said.