This article first appeared in Digital Edge, The Edge Malaysia Weekly, on April 19, 2021 - April 25, 2021.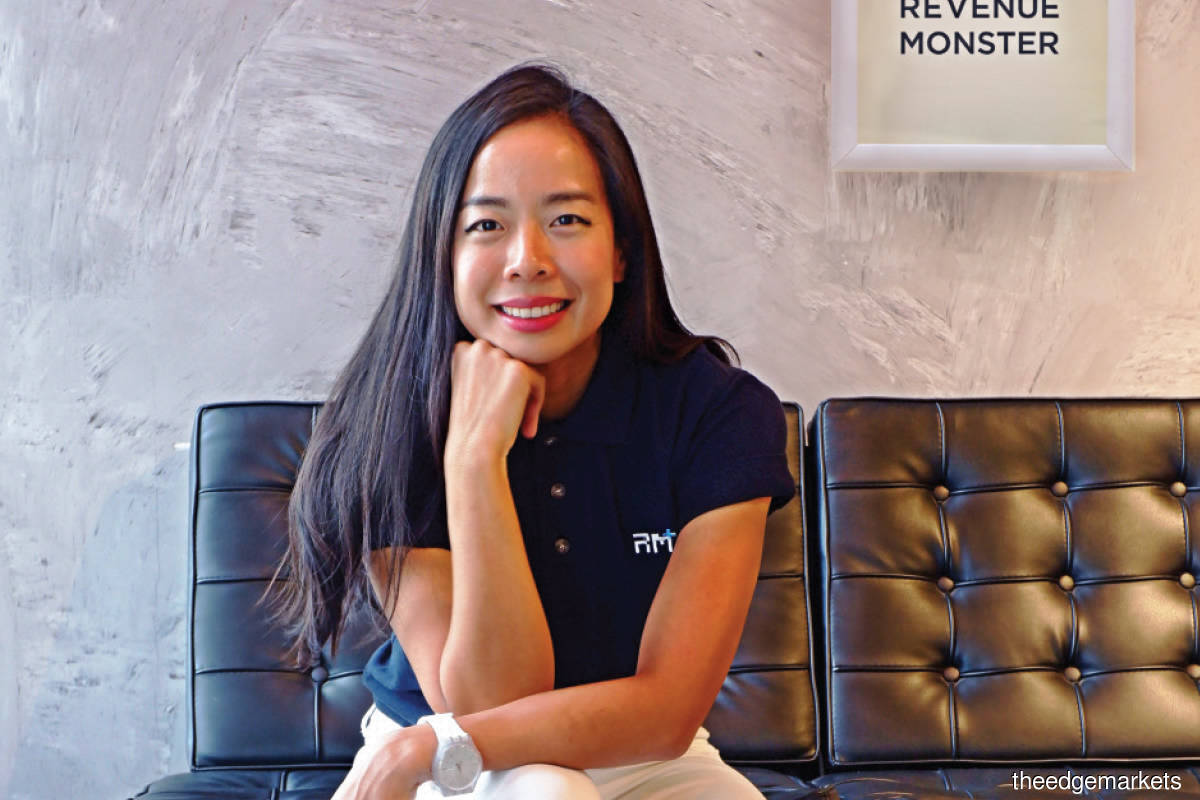 The pandemic has left many food and beverage (F&B)-related businesses in dire straits, with some even forced to close. As the virus has rendered dine-in experiences unsafe, many cafés and restaurants have been forced to expand their options to include contactless pick-up and deliveries for customers who still wish to enjoy their offerings. Yet many have complained of the cost of these options, especially that of popular delivery services. 
"It is essential for F&B businesses to pivot to a more omnichannel approach by having a platform [to reach their customers] without a hefty cost," says Amanda Chin (pictured), CEO of home-grown fintech company, Revenue Monster Sdn Bhd.
At the same time, offline to online transformation in the F&B sector is growing. A report by Google shows that the food delivery market in Southeast Asia is projected to increase to US$20 billion in 2025. Malaysia's market size will account for US$2 billion in the same year, according to data from digital media organisation Asean Post. 
F&B businesses that have been slow in responding to this trend change need to catch up. "We realised that we can no longer depend on an offline business. We need to build business tools that enable SMEs to transform digitally because, before the lockdown, they used to be dependent on that sole (dine-in) revenue stream," says Chin.
Revenue Monster aims to drive business digitalisation in small and medium enterprises with unified payment solutions. Its flagship product, à la carte, is an all-in-one business operations solution that provides businesses with online merchant portals that encompass in-store and online payment gateways, loyalty programmes and an in-app delivery service. 
The solution enables food ordering methods other than dine-in, according to Chin. "Now, there are additional [options]. We can do a pick-up, drive-thru or delivery, with all automatically integrated into the system."
In March, Revenue Monster launched an Alipay mini programme by integrating à la carte directly into the Alipay app. Alipay users can access, order and pay for food delivery services offered by Revenue Monster's F&B merchants. 
Why did Revenue Monster choose to build its platform on a foreign payment app like Alipay? Chin tells Digital Edge in an interview that the mainland Chinese market is largely untapped in Malaysia at the moment. However, businesses in Malaysia are expecting an influx of mainland Chinese tourists soon after the borders open following the vaccine rollouts. "Then we foresee that the platform will thrive."
In the partnership with Alipay, Revenue Monster's role is to curate F&B merchants — including local and Chinese vendors — that attract Chinese nationals currently residing in Malaysia. 
"With the Alipay mini programme, we hope to increase our merchant base whilst also bringing more value to more than 6,000 merchants on the Revenue Monster platform by extending their digital reach to new customer segments.
"Now, with à la carte, they can opt-in to the Alipay platform to sell their F&B services to Alipay consumers without paying hefty costs. Since there is an existing market in Malaysia for the Alipay app, it is very cost-effective, especially from the consumers' point of view," says Chin.
For Revenue Monster, the Alipay mini programme is just the first step in expanding into the F&B sector. Soon, it will collaborate with other partners, especially the trending payment apps in Malaysia. "We understand that we cannot be strong just by ourselves. We have to create synergistic partnerships." 
"And ultimately, the goal of these partnerships is to add value to the merchants without [having them] pay a hefty platform fee. It's the cheaper unit of economics to bring customers to this merchant on à la carte because it's already a ready customer platform, "says Chin. 
What makes Revenue Monster attractive to its partners is the interoperability of the à la carte solution. 
In this case, the application programming interfaces (APIs) of Revenue Monster's products are available for open access so that other systems can easily interact with them. Those systems include point-of-sale (POS) software that businesses usually use to manage transactions with their customers.
Currently partnering with Mr Speedy and GrabExpress for their last-mile delivery services, Revenue Monster plans to expand its modes of delivery. "Recently, we launched a car platform for merchants. For example, one who sells cakes can leverage the GrabExpress platform [to deliver cakes] by car," she says.
"Merchants can decide whether to use Grab, Mr Speedy or a new partner that will be coming on board soon without having to approach them. We are making it as user- or merchant-friendly as possible. "
Other than increasing its number of partnerships, Revenue Monster is also working on building more tools for merchants. "We also launched payment billing services because we saw the rise of social selling. People are now selling live on Facebook and Instagram. Payment links, I would say, are a part of our innovation in the past eight months whereby merchants now have no need to set up their own shops. Their shops can be just on Instagram or Facebook," Chin says. 
She observes that, in the past 12 months especially, businesses have started to focus on the importance of data. "They wish to capture consumer behaviours and understand their consumers better. They now realise they need to have a platform [to do this], whether it is an app or loyalty programme."
Chin recommends businesses that want to engage with their customers online to adopt the company's solutions. "It can be anyone who has a user base and wants to build and enhance their services, or one that [already] has an app. Or those with an existing loyalty programme. So, I think it's pretty much about anyone who wants the added value from the digital service for their platform."