This article first appeared in Digital Edge, The Edge Malaysia Weekly, on April 26, 2021 - May 02, 2021.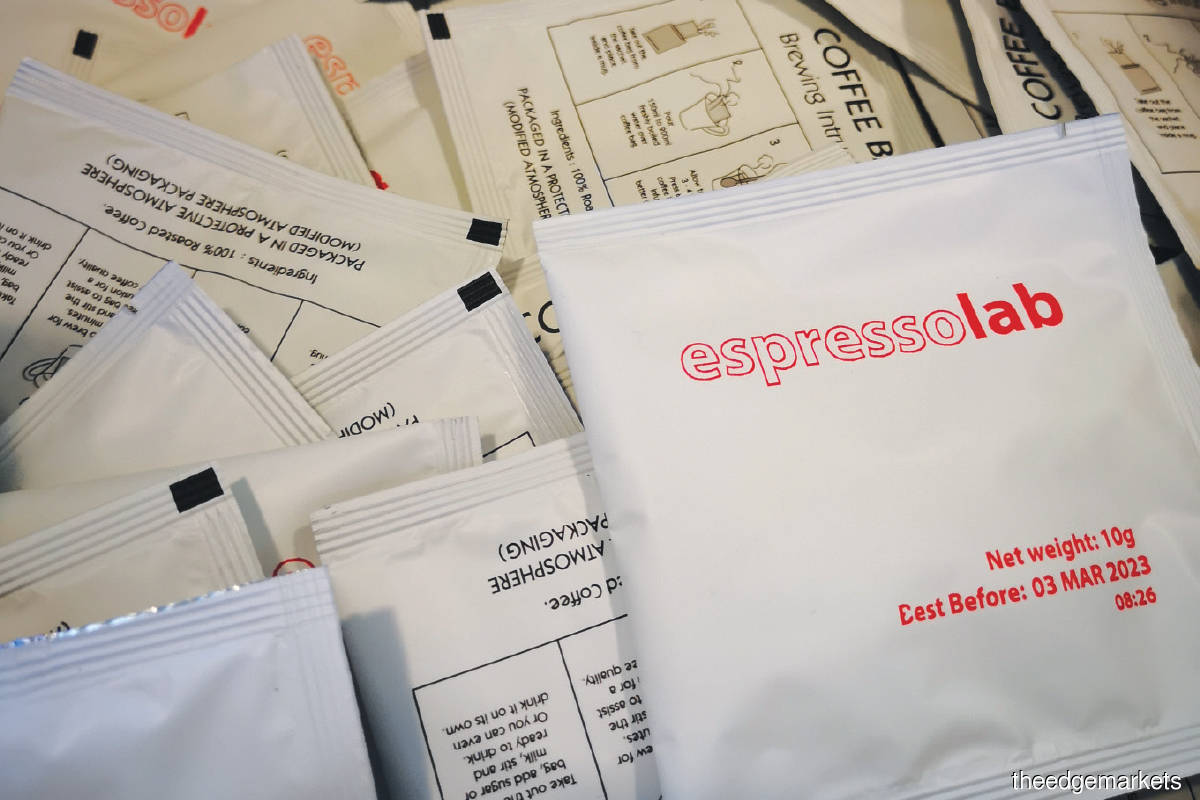 Joshua Liew was at the end of the road when he put out an appeal on his personal Facebook profile asking friends and acquaintances to purchase steeped coffee sachets to avoid having to pull down the shutters on his struggling chain of cafés.
The owner and co-founder of Espressolab Asia Pacific Sdn Bhd knew he would not be able to keep the business afloat for much longer after a second Movement Control Order (MCO) was enforced on Jan 13 to curb the soaring number of Covid-19 cases.
What Liew did not see coming was the outpouring of support that would follow. He received so many messages that he was not able to handle the orders that were coming through various networking channels.
That was when Kravve.co CEO Teh Yong Lin reached out to Liew, hoping to help the latter manage the orders, payments and delivery.
"Overnight, I received more than 830 messages [from people] wanting to purchase the coffee sachets. After the first 24 hours, I hardly kept a tab on the number of orders. That was when Yong Lin saw the post and proposed using Kravve's back-end solution to handle orders and payments.
"Kravve solved the headache of having to manually handle the sales process. At the height of the announcement, we were getting around 500 orders. The website offered a whole gamut of payment options from e-wallets and direct transfers to credit cards," says Liew.
He started selling the sachets after experiencing the first MCO in March last year and the stringent physical distancing restrictions, which continued to be a dampener on the business even after the rules were somewhat relaxed.
As most of Espressolab's outlets are located in business districts, and with most of their regulars confined to their houses, the outlets were barely breaking even. "We were down to 10 outlets from 15 by then."
"Prior to 2020, coffee consumption at home was actually quite a negligible market for most coffee companies, simply because most people who drink coffee actually go out to have it. Most coffee consumption is at the nearby café or at the office.
"When Covid-19 happened, we were hit badly. We never considered foodpanda or GrabFood simply because the delivery of hot beverages was not the most ideal solution. But I had to think of a way to get into people's homes since most were already working from home. That was how I came up with the idea of coffee sachets.
"Since we roast our own coffee beans, I began experimenting with the best roast for steeped coffee. We were selling what we could and depended on our reserves to keep the business afloat and maintain livelihoods. But when the second MCO was announced, things got critical. That was when I took to my personal profile to ask for help," says Liew.
Kravve.co, which is a software-as-a-service-enabled marketplace that allows home cooks and small food businesses to sell their handmade food products, was well suited for a business like Espressolab.
Teh, together with co-founders, Heah Wen Juin and Chong Hoong Wei, started Kravve.co in 2018 with the intention of empowering the lower-income group as well as helping scale-small businesses.
At the height of the coronavirus pandemic, many businesses had to go online to continue surviving, says Teh.
But despite the increase in demand, many food business operators, including home cooks, were not able to make a decent income, simply because their businesses were not visible.
"When I say meaningful income, I don't mean earning RM500 or RM1,000. In this day and age, you will need to make at least RM5,000 to support your family and run a business," he points out.
The first issue is visibility. "For example, say you watch a kimchi fried rice recipe online and want to make it yourself the next day. If you can find kimchi that is made locally online that could be delivered the next day, you wouldn't have to drive to the local grocery store to buy the ingredients. The lack of visibility is the reason many of our local home cooks, who are moms and pops, are losing business," says Teh.
The second problem is most of the businesses are managed and operated by a single person — who does the prep, cooking, packing, sales and delivery.
"This is the same problem Liew faced. If you want to reach a certain scale, it is very difficult to manage everything alone. How do you even manage all these different processes when you are selling manually online?
"Many small businesses still rely on direct banking, which means you will have to wait for the payment to be banked in and only then can you fulfil the order. Most of the time, you will have to remind them and then manually keep tabs on the payments that are coming. Then you have to deliver or post the product and send the tracking details over to the buyer so that they know you are not scamming them.
"And this is just for one sale, which involves about 16 steps. Now amplify this process for 100 customers and imagine how crazy it can get for a business run by one person," says Teh.
These businesses are also left out by the likes of on-demand food delivery giants such as GrabFood and foodpanda, he points out. And often, they don't make enough to cover the cost of commission, he adds.
"There was this hawker in one of the food courts in Taman Tun Dr Ismail that had to shut down during the MCO. The owners then tried to make dumplings to sell online. When they approached us to digitise the process, they managed to get RM30,000 in sales in just one month, because their staff could focus on production and let us worry about managing customer inquiries, sales and delivery."
Kravve aims to help business owners do what they do best — making their products. "We know that if they're able to make more sales, they will be able to make more income but they can't do that without solving the two issues," he says.
Malaysians are very supportive of local brands and the majority have shown an affinity for supporting handcrafted products, he observes. 
The marketplace also provides a comprehensive back-end microsite with the relevant tools to manage traffic, sales and deliveries.
"Typically, to gain access to these tools, [you] would have to pay between RM1,000 and RM10,000. But we aim to provide these services at a 95% lower cost. This is how they will be able to increase their sales — by automating these processes," he says.
Currently, it is still free to create a personal online store (POS) on Kravve and to list products on the marketplace. There are no commissions or hidden charges for sales made directly on a POS. However, there is a 15% commission for sales generated through the Kravve Marketplace.
While there are platforms like Wordpress and Shopify that make it convenient for anyone to build e-commerce sites with little hassle, these options are only suited for those who are digitally savvy, says Teh.
"Most of our local sellers, especially hawkers and stall operators, are still not savvy enough. Some are in their 60s and 70s and the idea of building something ground up is intimidating and enough to thwart efforts to digitalise their businesses," he explains. "Their focus should just be on making the best products and packing them. This is exactly what we have been able to do for Joshua." 
The platform has more than 1,000 home cooks selling everything from ready-to-eat food like cookies, nut spreads and preserved fruits to fresh produce like vegetables, fruits and marinated meats.
"Even after the pandemic, this trend is inevitable because this is the only way for a small business to achieve scale," says Teh.