This article first appeared in The Edge Financial Daily, on March 19, 2020.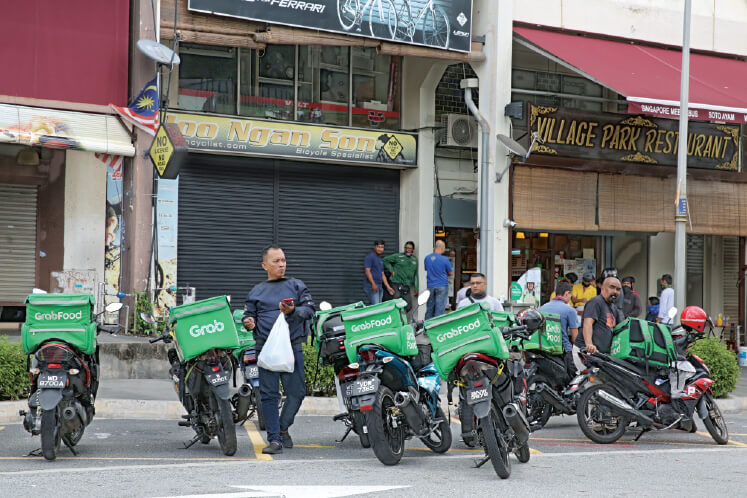 GrabFood delivery riders collecting food from an outlet for delivery as demand for their services has risen with the movement contol order in place.
Click / Tap image to enlarge
KUALA LUMPUR: E-commerce, hotels and accommodation have been added to the list of essential services that will continue to operate during a two-week nationwide movement restriction order aimed at containing the Covid-19 outbreak that was enforced yesterday.
The latest Prevention and Control of Infectious Diseases (Measures Within the Infected Local Areas) Regulations 2020 federal gazette, which was released yesterday, added the two new categories to the list, which now contains 22 services.
The inclusion of hotels and other forms of paid lodging comes after the Malaysian Association of Tour and Travel Agents urged the government to categorise them as such, for fear that foreign guests would be forced to vacate the premises immediately.
However, a separate statement by the National Security Council (NSC) clarified that guests must observe the 14-day quarantine period in their rooms and order food through room service.
Moreover, non-core operations — including pools, bars, spas, and restaurants — are not allowed to open during the period.
The council also allowed two non-essential services to continue operations — namely vehicle repair and towing services, as well as construction and renovation — each with different conditions.
Under the 22 essential services, more details were shared by the council, including:
 No prison visits allowed,
 Alternative health treatment services to halt operations,
 No patient visits at hospitals (except for critical cases),
 No over-the-counter operations for telecommunication services, and
 No night markets or farmers' markets allowed.
The government also reiterated that mass gatherings and interstate travels are prohibited to stop the spread of Covid-19, which has infected 790 people in Malaysia and claimed two lives so far.
The gazette has designated states and federal territories as local infected areas and said travels between these areas require written permission from the police.
In a report by a local daily, Inspector General of Police Tan Sri Abdul Hamid Bador clarified that the interstate travel prohibition remains in place, with exceptions for cases involving the death of a close family member, critical illness of a close relative, the requirement of medical treatment for themselves or a close family member, and other situations which will be evaluated by the police.
Meanwhile, the regulations also prohibit travelling except to perform official duties; purchase, supply or deliver food or daily necessities; or seek healthcare or medical services.
These include visiting premises providing essential services and food and other special purposes that may be permitted by the director-general of health.
The gazette also reinforced the ban on gatherings for any purposes, except for funerals, but the number of attendees must be kept to a minimum.
The NSC reiterated its advice for the public to stay at home at all times except when they need to fulfil basic needs.
"Apart from that, practise social distancing to avoid getting infected by Covid-19," the statement said.