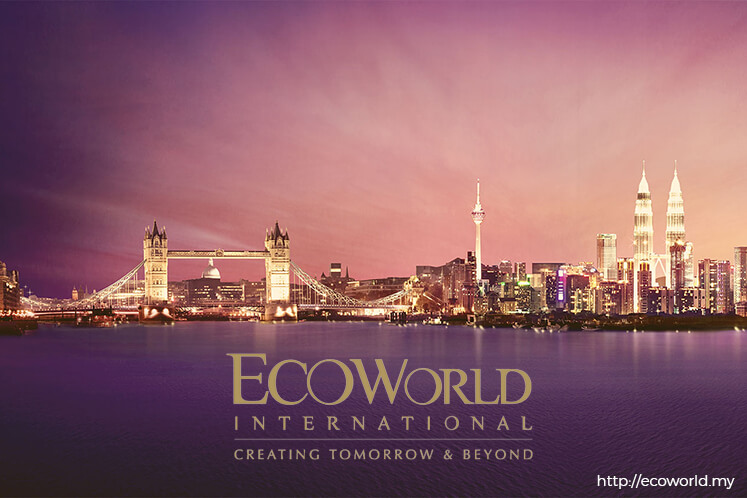 KUALA LUMPUR (June 15): Eco World International Bhd (EWI) today said it had achieved sales of RM1.05 billion during the first half of FY17.
In a statement today, EWI said that as at May 31, total sales secured in FY17 amounted to RM1.13 billion, bringing its total cumulative sales from its existing four projects to RM6.73 billion.
The group further said it had set a sales target of RM2.5 billion for FY17.
EWI president and CEO Datuk Teow Leong Seng attributed the sales to its well-balanced buyer profile and the fundamental attractiveness of its various projects in the United Kingdom and Australia.
"We are very fortunate to have cultivated a strong following for all our projects with a good mix of customers comprising both international and home country buyers.
"This is a key advantage we will deploy going forward to achieve our ambitions of becoming a significant global property player," he said.
Teow said that for its three projects in London, EWI's buyer profile is 54% UK-based with the balance 46% coming from Malaysia, Hong Kong, China, Singapore, the Middle East and other countries.
He said that in Sydney, the buyer mix was similarly well balanced with 48% from Australia and the balance 52% mainly from Malaysia, China, Hong Kong, Indonesia and Singapore.
He added that interest in the group's UK projects remains healthy, bolstered by good construction progress on site, unique selling points of each project and positive developments in the surrounding areas.
For the six months ended April 30, EWI recorded a loss before tax of RM29.32 million in the current financial period, which is 75.1% lower than RM117.6 million reported for the same corresponding period a year ago.
"We will see profit recognition beginning in FY18 as handover commences in phases starting with London City Island and Embassy Gardens.
"Our plans for the second half of 2017 include the completion of the proposed acquisition of 80% of the issued capital in Eco World-Salcon Y1 Pty Ltd and the launch of the Yarra One development in Melbourne," said Teow.
Teow said EWI will seek out well located development sites in its three main target cities of London, Sydney and Melbourne to replenish its landbank.
"We aim to build up a well-diversified property portfolio with a good spread of projects at various stages of development and price points to ensure both business sustainability and broad market appeal," he said.