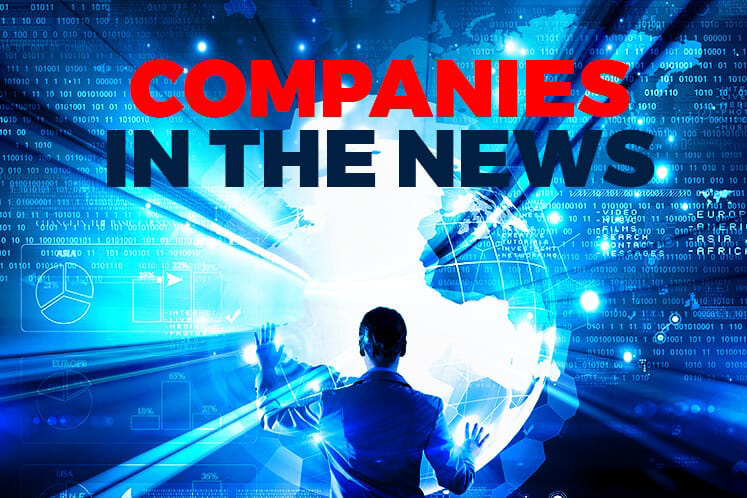 KUALA LUMPUR (Dec 15): Based on corporate announcements and news flow today, stocks in focus on Monday (Dec 18) may include: Eco World International Bhd, Eco World Development Group Bhd, Gamuda Bhd, REDtone International Bhd, Scientex Bhd, Carimin Petroleum Bhd, Metronic Global Bhd, Straits Inter Logistics Bhd, Ta Win Holdings Bhd, Hubline Bhd, LBS Bina Bhd, Sunway Bhd, Ire-Tex Corp Bhd, Uzma Bhd, Jaks Resources Bhd, Green Packet Bhd and Kinsteel Bhd.
Eco World International Bhd and UK-based Willmott Dixon Holdings Ltd's development arm Be Living Holdings Ltd will jointly develop 12 sites in Greater London and the South East of England under a proposed JV. 
Eco World International is acquiring a 70% stake in the JV. The group said the estimated gross development value of the 12 sites is at least £2.6 billion (RM14 billion). 
The JV also contemplates the acquisition of a development management company (DMco) with a full multi-disciplinary team of highly experienced personnel. 
Eco World International's net loss narrowed to RM32.56 million in 4QFY17, from a net loss of RM55.06 million a year earlier. 
Full-year net loss stood at RM87.63 million versus a net loss of RM220.09 million previously. 
Eco World Development Group Bhd's 4QFY17 net profit rose 15% to RM33.71 million, from RM29.35 million a year earlier, on higher revenue. 
Revenue climbed to RM899.02 million from RM740.99 million, due to a higher percentage and relatively more advanced stage of completion achieved by the above projects in the quarter. 
Full-year FY17 net profit rose to RM209.65 million, from RM129.28 million a year earlier. Revenue was higher at RM2.92 billion versus RM2.55 billion. 
Higher work progress by Gamuda Bhd's construction division lifted the group's net profit for 1QFY18 by 25.2% to RM203.02 million, from RM162.15 million a year ago. 
Quarterly revenue rose 52.9% to RM771.82 million from RM504.88 million in 1QFY17, mainly due to higher work progress from the group's various construction projects, coupled with stronger overseas property sales and several new property projects in Malaysia. 
The group declared a first interim dividend of 6 sen per share, payable on Jan 25. 
On prospects, Gamuda said the cumulative progress of its work portion under the Pan Borneo Highway project is on track at 11.7% as at November 2017.  
Its property arm is also poised to hit RM3.5 billion sales target in FY18, up from RM2.4 billion a year earlier. 
Gamuda anticipates a better performance this year as MRT2's progress picks up pace, alongside contributions from stronger property sales both overseas and in Malaysia; as well as from steady earnings contribution from the expressway division.  
REDtone International Bhd has aborted plans to jointly explore business opportunities with PT Sigma Cipta Caraka TelkomSigma to offer managed information and communication technology (ICT) value-added services and solutions for the Indonesian market. 
This follows the expiry of the memorandum of understanding between REDtone and TelkomSigma, which is part of PT Telekomunikasi Indonesia Tbk that was signed in April 2015. 
REDtone posted a profit for the third straight quarter in 2QFY18, registering a net profit of RM1.3 million, compared with a net loss of RM2.63 million a year ago. It attributed the improvement in quarterly earnings to higher gross margins. 
Quarterly revenue, however, fell 25.9% to RM29.09 million in 2QFY18, from RM39.26 million a year ago, on lower contribution from its continuing operations and managed telecommunication network services segment. 
Scientex Bhd is buying a 336-acre piece of freehold land in Pulai, Johor for RM284.19 million cash, which it hopes to develop into a mixed property development. 
The group's dormant wholly-owned subsidiary Amber Land Bhd has entered into a sale and purchase agreement with DKTMG Land Sdn Bhd for the proposed land acquisition. 
Scientex said the acquisition will enable it to expand on its existing landbank in Johor, besides providing the group adequate landbank to sustain its property development over the medium and longer term. 
However, it said it is currently too preliminary to ascertain the exact total gross development value, development cost, the expected commencement and completion dates of the development and the expected profits to be derived from the development of the land.  
Carimin Petroleum Bhd is buying a 21,130 sq metre land at Kawasan Perindustrian Teluk Kalung in Kemaman, Terengganu, from Noorfauziah Mat Fauzi and Mohd Fauzi Musa, for RM1.6 million cash. 
The proposed acquisition will enable it to develop the land and expand its fabricating facilities for its business operations.
Carimin said its wholly-owned subsidiary Carimin Engineering Services Sdn Bhd has executed a share sale agreement with the two individuals to acquire the currently dormant Fazu Resources (M) Sdn Bhd, which holds the rights to the land. 
Metronic Global Bhd, which is fresh from the completion of a special audit that found several corporate governance issues, is venturing into the development of a 50-acre halal industrial park in China's Sichuan province called Metronic Global Halal Industrial Hub.
This development — in collaboration with MB Longji Holdings Sdn Bhd (MBLH) — will enable Metronic to secure some engineering work, so it refocuses on its core business. 
Under the agreement, both companies will collaborate in bringing in investors to invest in and purchase land within the industrial park. 
The hub is situated within a development area measuring 1,800 acres in Suining, Sichuan Province, with MBLH as the master developer, as appointed by the provincial government there. 
Under the agreement, MBLH will be in charge of arranging local financing from Chinese banks for investors at a discounted rate, providing a liaison office with staff for Metronics to operate and conduct business, besides liaising with local government authorities for all regulatory approvals required to carry out development within the Halal hub. 
Contracts for integrated building management system, plus the mechanical and electrical system, are estimated at RM50 million for the entire initial development phase of 50 acres. 
Pre-tax profit is projected at RM12.5 million during the expected duration of 12 to 18 months. 
Straits Inter Logistics Bhd plans to place out new shares to third party investors to be identified later, to raise up to RM13.8 million for working capital and raw material expenses. 
The private placement entails an issuance of up to 55.19 million shares or 10% of its issued share capital, at an issue price to be determined later.
Assuming an indicative issue price of 25 sen per placement share, Straits said the exercise is expected to raise gross proceeds of up to RM13.8 million, out of which RM13.74 million will be utilised for working capital and expenditure for purchases of raw materials for its bunkering services, besides expenses arising from chartered vessels. 
Ta Win Holdings Bhd plans to undertake a rights issue to raise RM51.43 million to finance its working capital and debt repayment.  
The enameled copper wire and copper rod manufacturer said the exercise will involve the issuance of 192.86 million rights shares at 20 sen apiece.  
The group is also planning to issue 257.15 million redeemable convertible preference shares (RCPS) at five sen apiece, together with 128.57 million free detachable warrants.  
This is to be issued on the basis of three rights shares and four RCPS, together with two warrants attached, for every one existing Ta Win share held on the entitlement date.  
Out of the RM51.43 million gross proceeds expected to be raised from the rights issue, RM38.63 million will be earmarked for daily operations cost, as well as the purchase of raw materials and supplies.  
Hubline Bhd is raising fresh funds again to pare down debts. The loss-making shipping company has proposed a private placement of up to 10% of its issued capital to raise maximum gross proceeds of about RM23.02 million. 
The proposal comes on the heel of the company's issuance of redeemable convertible notes to raise RM80 million fresh capital. 
Proceeds from the proposed share placement would be used for partial repayment of borrowings, capital expenditure, partial payment of secured container shipping business creditors, working capital, as well as expenses related to the exercise. 
 
LBS Bina Bhd will set up a RM500 million Sukuk Murabahah programme to finance future acquisitions and development cost of the projects undertaken by the group to repay borrowings, as well as for working capital. 
The sukuk programme will provide the group with flexibility in its fundraising exercise, with varying amount and tenures for optimal asset-liability matching, LBS Bina said in a filing with the bourse today. 
The programme has a tenure of up to 20 years from the date of its first issue.
Sunway Bhd will set up a RM5 billion perpetual Islamic medium term note (IMTN) programme to finance its investment activities, capital expenditure and for working capital. 
The group has lodged the required information and relevant documents in relation to the sukuk programme, with Securities Commission Malaysia. 
The first issuance of the IMTNs is expected by 1Q of 2018. 
Ire-Tex Corp Bhd dropped its legal action against Datuk Tey Por Yee and 19 others today, saying the lawsuit is unsustainable. 
It said for cost reasons, the suit should not be maintained due to numerous applications to strike out filed by several defendants. 
The suit was filed at the High Court on June 21, after Ire-Tex's substantial shareholder Elite Cosmo Group Ltd appointed two directors of its choice into the company and removed four directors through an EGM on Aug 25.
Not wanting to have all eggs in one basket, Uzma Bhd is undertaking an internal reorganisation exercise, so that the group's core activities are not housed under one single subsidiary. The exercise also aims to streamline the group's structure and management. 
Uzma noted many of its core projects are undertaken by Uzma Engineering Sdn Bhd (UESB), since most of the Petronas licenses are housed under this wholly-owned unit.
In order to mitigate over concentration on contracting risk at UESB, it is crucial to transfer some of UESB's businesses to individual entity according to its nature of business, Uzma said.
Jaks Resources Bhd is aligning its business portfolio, after a loss-making property development venture which was hit hard by the slowdown.
Chief financial officer Steven Ang said after the group's EGM today that Jaks Resources will focus on construction and its power generation business in Vietnam.
However, he said the group did not set a timeline to cease its property development business.
At its EGM today, Jaks Resources shareholders gave the greenlight to dispose of four parcels of land measuring 5.99ha within the Sungai Penaga Industrial Park in Subang Jaya, for RM167.59 million cash. 
Green Packet Bhd is teaming up with Asia Television Digital Media (M) Sdn Bhd (ATVM) — whose ultimate holding company is Hong Kong-listed Co-Prosperity Holdings Ltd — to jointly operate television channels in Malaysia.
Green Packet said ATVM is desirous of collaborating with the group and will invest HK$50 million in the project.
Green Packet will also enter into a service agreement with MYTV Broadcasting Sdn Bhd for the leasing arrangement of the broadcasting channels' rights.
Kinsteel Bhd's external auditor Messrs Crowe Horwath has expressed a disclaimer of opinion in the company's audit report for FY17. 
The basis for the disclaimer of opinion was due to the ability of the steel manufacturer to continue as a going concern. 
The going concern for Kinsteel, which is undergoing a regularisation plan — including debt restructuring measures — is also dependent on support from its lenders and shareholders, combined with its ability to run a cashflow-healthy operation. 
The auditor said in the event that these are not forthcoming, the group may be unable to realise its assets and discharge its liabilities in the normal course of business. 
Kinsteel had booked a net loss of RM343 million in FY17. As at June 30, 2017, the group's current liabilities had exceeded its current assets by RM961.5 million. The figure has since climbed to RM696 million.