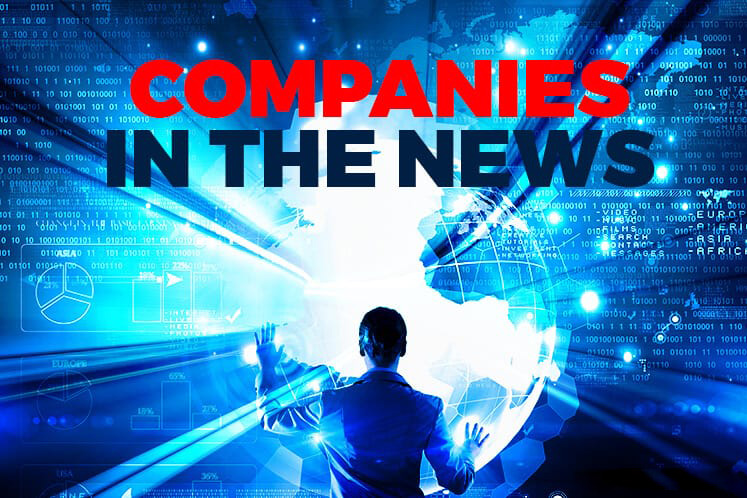 KUALA LUMPUR (March 29): Based on corporate announcements and news flow today, stocks in focus on Thursday (March 30) may include the following: Eco World Development Group Bhd, Eco World International Bhd, DRB-Hicom Bhd, Pos Malaysia Bhd, Yinson Holdings Bhd, OSK Holdings Bhd, Crescendo Corp Bhd, Berjaya Assets Bhd, Excel Force MSC Bhd, Hiap Teck Venture Bhd, Prestariang Bhd, Sapura Energy Bhd and Farlim Group Bhd.
Eco World Development Group Bhd's net profit for its first quarter ended Jan 31, 2018 (1QFY18) shrank 79% to RM24.09 million from RM116.17 million a year ago, largely because the previous year had benefited from a RM94.8 million disposal gain.
Excluding the impact of the disposal gain and lower interest expense in 1QFY17, the group recorded a 29.6% year-on-year rise in quarterly core earnings before interest and tax (EBIT) to RM62.6 million from RM48.3 million due to lower selling, marketing and administrative expenses, as well as higher profits from its Malaysian joint ventures.
 
The group's quarterly revenue, however, slipped 5% year-on-year to RM563.59 million from RM592.71 million due to progressively completed properties in several projects having been handed over, which reduced contributions from these projects.
Meanwhile, EcoWorld's 27%-owned Eco World International Bhd (EWI) incurred a wider net loss of RM16.21 million for the first financial quarter ended Jan 31, 2018 (1QFY18) compared with RM6.06 million a year ago, due to lower unrealised foreign exchange gains compared with the previous corresponding quarter.
Quarterly revenue shrank 94.5% to RM18,000 from RM327,000 in the previous corresponding quarter, as revenue for its property developments will only be recognised upon completion and delivery in the third to fourth quarter of this year.
In DRB-Hicom Bhd and its subsidiary Pos Malaysia Bhd, non-executive chairman Tan Sri Mohd Khamil Jamil is stepping down from his post with effect from April 1.
Both companies announced that Mohd Kamil, 62, is resigning to pursue personal interests.
Yinson Holdings Bhd's net profit grew 11.6% to RM57.14 million in the fourth financial quarter ended Jan 31, 2018 (4QFY18), from RM51.2 million a year ago, on higher contribution from its offshore & marine segment.
Quarterly revenue stood at RM257.39 million, up 38.8% from RM185.47 million recorded in 4QFY17.
OSK Holdings Bhd (OSKH) has submitted an application to the Hong Kong Stock Exchange to list its cable business unit OCC Cables Ltd on the main board.
The proposed listing, if it materialises, would constitute a deemed disposal by OSKH, arising from the dilution of no more than 30% of its equity interest in OCC Cables. Upon completion, OSKH would hold not more than 75% of the enlarged issued share capital of OCC Cables.
Property developer Crescendo Corp Bhd's net profit fell 79.33% to RM2.37 million for the fourth quarter ended Jan 31, 2018 (4QFY18) from RM11.44 million, no thanks to softer property sales.
Quarterly revenue slipped 15.6% to RM71.26 million from RM84.4 million in 4QFY17.
Despite the lower earnings, the board proposed a final single tier dividend of four sen, bringing the total payout to six sen for the financial year ended Jan 31, 2018 (FY18).
Berjaya Assets Bhd (BAssets) has proposed a bonus issue of 1.28 billion warrants on the basis of one warrant for every two shares held.
The warrants, which will be issued at no cost to the entitled shareholders, have an exercise price of 35 sen apiece.
Excel Force MSC Bhd has proposed to dispose of its office premises in Plaza33 to the owner of the building for RM15.67 million, which will help it repay outstanding banking facilities of RM3.99 million.
The group has entered into a conditional sale and purchase agreement with Plaza 33 Sdn Bhd today for the 18,988 square foot property.
Prestariang Bhd has been awarded an RM38.23 million contract by the Inland Revenue Board to provide Microsoft software licences, products and services under an extended master licensing agreement (MLA).
The MLA, which was awarded via Prestariang's wholly-owned subsidiary Prestarian Systems Sdn Bhd, will last for three years.
Steelmaker Hiap Teck Venture Bhd's second quarter net profit multiplied by almost eight times, thanks to lower finance costs and higher contribution from a joint venture (JV), with the latter boosted by a substantial unrealised foreign exchange gain due to a stronger ringgit.
Quarterly earnings for the three months ended Jan 31, 2018 (2QFY18) jumped to RM30.55 million from RM3.9 million a year ago due to better selling prices in both its trading and manufacturing divisions, which have offset a lower year-on-year sales volume.
Sapura Energy Bhd has confirmed that a consortium in which it holds a 30% stake via wholly-owned Sapura Exploration and Production Sdn Bhd's (Sapura E&P) has outbid six other bidders for an offshore oil block in Mexico.
The consortium, which includes DEA Deutsche Erdoel Mexico (40%) and Premier Oil Plc (30%) has been awarded Block 30 in Sureste Basin, a proven and prolific hydrocarbon province in the Gulf of Mexico.
Farlim Group (Malaysia) Bhd has proposed an issuance of one bonus share for every five existing shares, or a total of 28.07 million bonus shares in order to reward its existing shareholders for their support of the company.