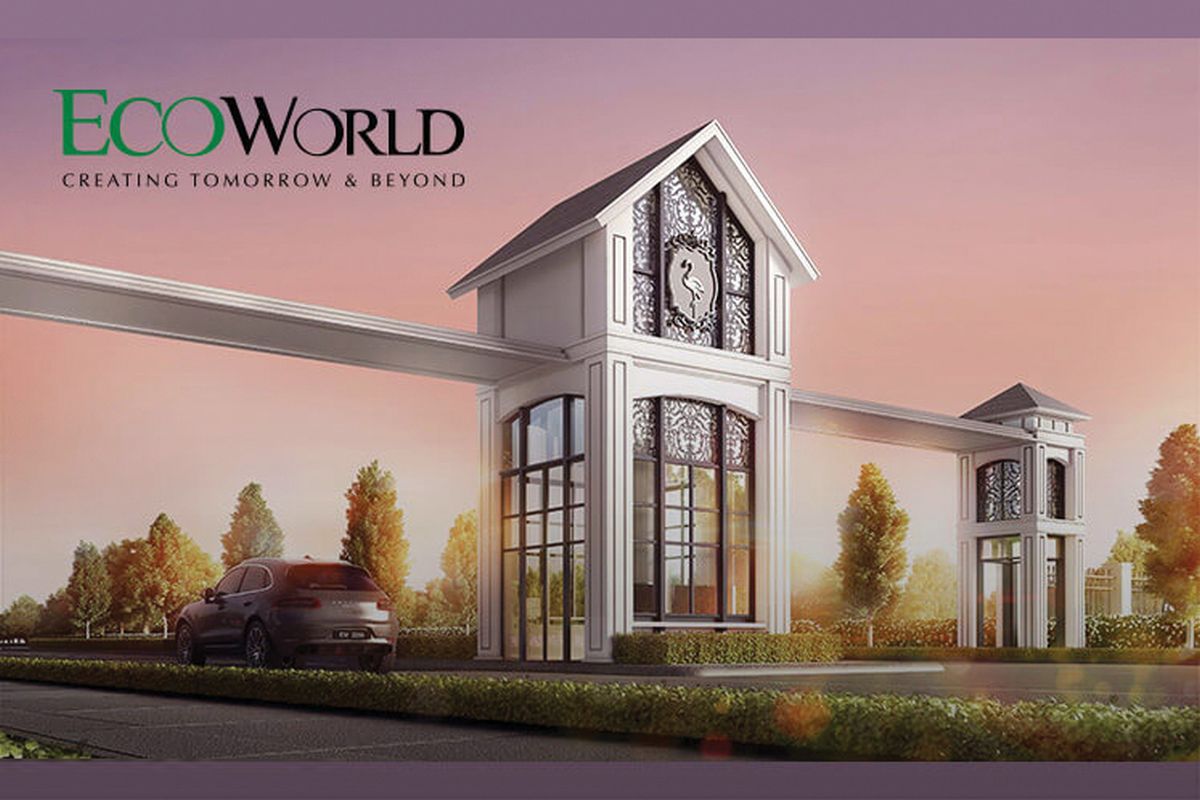 KUALA LUMPUR (June 16): Eco World Development Group Bhd (Eco World) posted a 7.92% increase in its net profit for the second quarter ended April 30, 2022 (2QFY22) to RM45.67 million, from RM42.32 million a year earlier, thanks to improved earnings contribution from its Malaysian operations.
The property developer said its Malaysian operations' profit after tax (PAT) contribution rose 86.7% to RM61.2 million from RM32.8 million, offsetting the share of loss from its international arm, Eco World International's (EWI).
"The substantially higher PAT in 2QFY22 recorded by the group's Malaysian operations was mainly due to the improved performance of its Malaysian subsidiaries and lower finance costs incurred as borrowings continued to be pared down," it said in its bourse filing.
Eco World also noted that the group's profit margin improved to 23.1% versus 18% previously on the back of various measures implemented over the past two years to increase efficiency and control costs.
The higher net profit was also supported by quarterly revenue rising 20.56% to RM506.89 million from RM420.46 million.
"This was mainly due to higher sales (qualifying for revenue and profit recognition) secured and higher percentage of completion achieved on-site," it added.
Eco World said the main projects which contributed to its revenue in 2QFY22 were Eco Majestic, Eco Forest and Eco Sanctuary in the Klang Valley; Eco Botanic, Eco Botanic 2, Eco Spring, Eco Summer, Eco Business Park I, Eco Business Park II, Eco Business Park III and Eco Tropics in Iskandar Malaysia; and Eco Terraces in Penang.
The group declared a first interim dividend of two sen per share, payable on July 21.
Meanwhile, the group noted that its share of the results of its Malaysian joint-ventures was 57.7% lower year-on-year.
The lower contributions of its JVs were attributed to the higher proportion of sales of newly launched products this year compared to the sales of near-completed products last year — which enabled a higher percentage of revenue and profit to be recognised in 2QFY21.
The group added that this was also due to cost savings realised in 2QFY21 on several matured phases at Eco Ardence and Eco Grandeur.
"Collectively, the Malaysian JVs recorded a total of RM300.2 million in revenue in 2QFY22 of which the group's effective share, based on its equity stakes in the respective JVs amounted to RM149.1 million," it said.
On its prospects, Eco World said it recorded RM2.17 billion in sales in the seven-month period in FY22, which it noted places it well on track to achieve its full-year sales target of RM3.5 billion.
"Sales performance continued to progress steadily with the Klang Valley making up 57% of total sales achieved to date whilst projects in Iskandar Malaysia and Penang accounted for 28% and 15% respectively," it said.
The group said the opening of the country's borders, particularly between Malaysia and Singapore boosted demand in Iskandar Malaysia.
Elsewhere, Eco World noted that EWI is also on track to attain its sales target of RM2 billion for FY22 with total sales of RM1.14 billion in seven months — which together with reserves of RM391 million added up to RM1.533 billion as at May 31, 2022.
Overall, Eco World said it is cognizant of the ongoing macroeconomic and sectoral concerns induced by rising inflation, supply chain disruptions and interest rate hikes.
Notwithstanding this, the group said it remains optimistic that it is strongly positioned to weather the headwinds ahead.
Shares in Eco World finished unchanged at 67.5 sen, giving the group a market capitalisation of RM1.99 billion.