This article first appeared in The Edge Financial Daily, on March 27, 2020.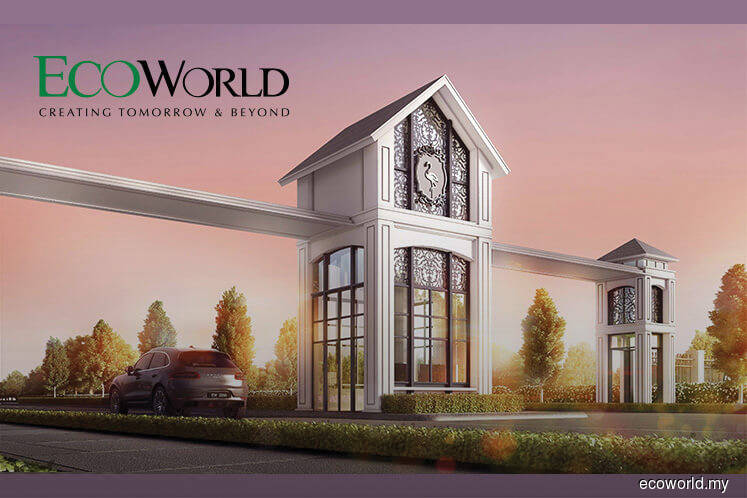 KUALA LUMPUR (March 26): Eco World Development Bhd (EWD) recorded a 11% year-on-year (y-o-y) rise in profit in the first quarter ended Jan 31 (1QFY20) on the back of a greater number of houses sold, but it was the reverse for its overseas unit, Eco World International Bhd (EWI), whose earnings slumped 95.6% in the absence of higher sales registered a year prior.
Separately, the group also announced that non-executive chairman Tan Sri Liew Kee Sin will be redesignated its executive chairman.
EWD's net profit for 1QFY20 amounted to RM33.52 million while EWI's fell to RM5.91 million.
It said in a bourse filing that the share of results from its Malaysian joint ventures (JVs) increased by 26% y-o-y in the quarter, mainly on the back of its Eco Grandeur, Eco Business Park V, Eco Horizon, Eco Ardence and Bukit Bintang City Centre projects.
In total, its Malaysian JVs recoded a revenue of RM329 million in 1QFY20, of which its effective share amounted to RM173 million.
Incentives offered as part of the government's National Home Ownership Campaign had reduced its gross profit margin to 17.2% in 1QFY20, from 18.6% in the corresponding quarter a year ago.
Revenue increased by 9.5% y-o-y to RM537.95 million, an improvement despite the seasonally slow Chinese New Year quarter, EWD president and chief executive officer Datuk Chang Khim Wah observed in a statement. "We recorded RM305 million in sales in 1Q 2020 which is an improvement over the RM230 million sales achieved in the first four months of FY2019."
But he said that the conversion of its strong bookings pipeline will be delayed due to the implementation of the movement control order which has been extended until mid-April. Its workforce will work from home and follow up with customers, end-financiers and solicitors during this period to achieve the group's interim full-year sales target for FY20 of RM2 billion.
"We are fortunate in that our future revenue position remains high at RM4.69 billion as at Jan 31, 2020, which will help sustain our cash flow and earnings pipeline during this period. The sales target will be revisited as soon as the Covid-19 outbreak is contained and business activities normalise.
"This is with a view towards increasing the target to ensure that the group's future revenue position going forward remains consistently strong."
EWI recorded a revenue of RM492.69 million from its JV projects in 1QFY20, versus RM852.28 million in the corresponding quarter last year. Its effective share of revenue from the JV projects amounted to RM358.72 million against RM629.95 million in 1QFY19.
Earnings per share for the quarter dropped to 0.22 sen, from 0.95 sen previously.
The group said it netted RM314 million in property sales in 1QFY20 against RM120 million in 1QFY19 due to a recovery in demand for higher-end products in London such as EcoWorld-Ballymore, which recorded RM246 million worth of sales during the quarter.
Its "build-to-rent" projects in London also saw greater interest from institutional investors and more enquiries were received from homebuyers for its Australian projects.
EWI said it had completed the last residential block at its London City Island development in November 2019, which was a key driver for 1QFY20.
As at Jan 31, it had delivered more than 1,200 private units to the development's purchasers since its maiden completion in 2018.