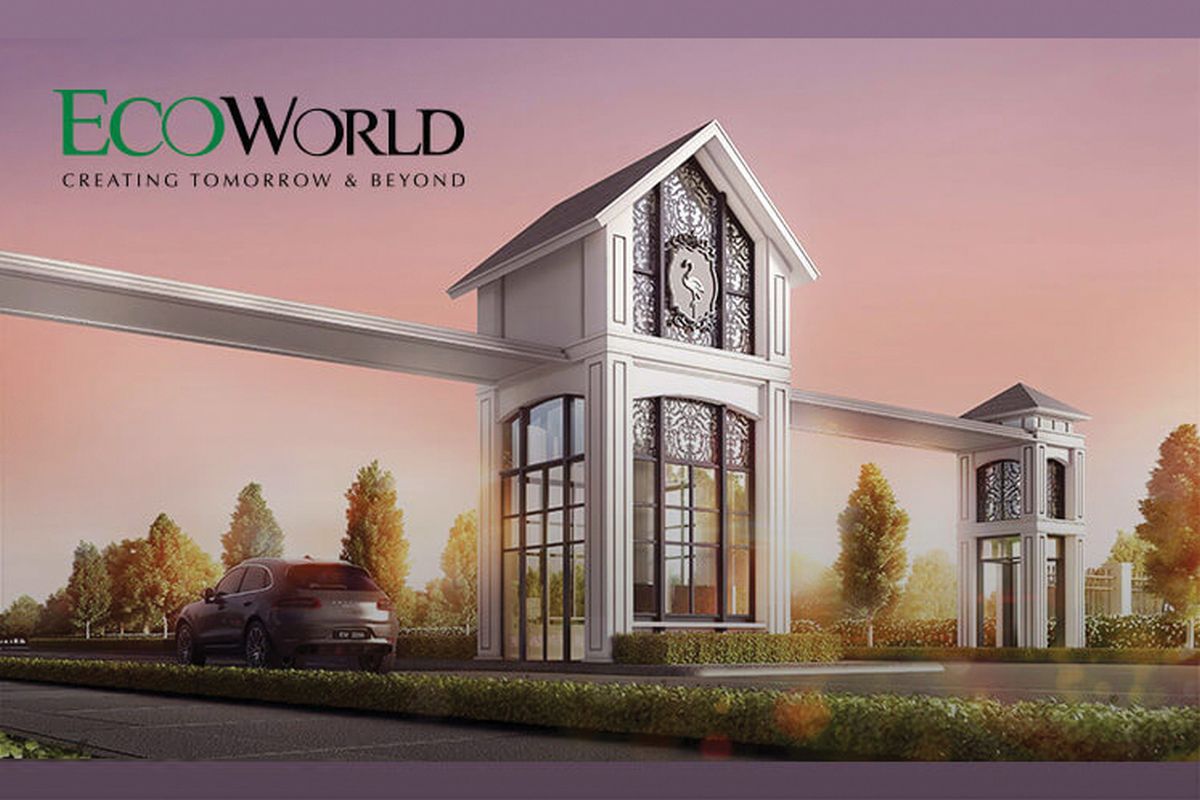 KUALA LUMPUR (June 24): Eco World Development Group Bhd's net profit surged 172% to RM42.32 million for the second financial quarter ended April 30, 2021  from RM15.55 million in the previous year's corresponding quarter.
The group announced an interim single-tier dividend of two sen per share. Its shares will trade ex on July 8, with the dividend payable on July 23.
Revenue for the quarter increased 22% to RM420.46 million from RM345.4 million a year earlier.
In a statement, the group said it recorded sales of RM1.32 billion during the quarter, almost double the RM706 million sales achieved in the preceding quarter.
"The continued strong sales momentum we have been experiencing since the middle of last year is very heartening indeed.
"We are particularly encouraged by the fact that recovery has been broad-based with our projects in every single region performing well," said Eco World president and chief executive officer Datuk Chang Khim Wah.
The group saw strong take-ups for all of its new projects and products launched during the quarter, namely Eco Botanic 2 in Iskandar Malaysia, Co-Home at Eco Horizon and Eco Grandeur, as well as the second phase of ErgoHomes & Garden Homes at Eco Forest.
For the six months ended April 30, Eco World's net profit doubled to RM104.76 million from RM52.05 million in the previous year while cumulative revenue rose 5% to RM927.81 million from RM883.35 million.
For the year to May 31, Eco World recorded total sales of RM2.53 billion, exceeding the RM2.3 billion sales achieved in FY20.
The total sales to-date accounts for 88% of its full-year sales target of RM2.875 billion.
Even though there will be some unavoidable delays in earnings recognition in the coming quarters due to the Full Movement Control Order (FMCO) in force, Chang said it should not be a cause of concern for the group.
"Thanks to the high level of sales already locked in, our future revenue position as at May 31, 2021 is very healthy at RM4.21 billion which provides us with both near-term cashflow as well as earnings visibility," he said.
EWI posts 44% drop in net profit on higher finance cost
Meanwhile, Eco World International Bhd (EWI) posted a 44% decline in net profit for the second quarter to RM11.3 million, from RM20.06 million a year earlier.
EWI attributed the decline in performance to higher finance cost following the cessation of capitalisation of finance cost on general borrowings in tandem with the completion and handover of units in Yarra One and West Village, and higher administrative and general expenses arising from hedge of net investment reclassified to profit or loss upon unwinding of cross currency swaps.
It was also affected by higher marketing expenses in tandem with the completion and handover of Yarra One projects and lower share of results in joint ventures.
EWI's quarterly revenue surged to RM107.56 million from RM113,000 in the previous year's corresponding quarter.
EWI announced a special dividend of five sen per share, payable on July 23.
For the cumulative six-month period, the group's net profit stood at RM67.34 million, up 167% from RM25.25 million a year earlier while revenue shot up to RM410.83 million from RM164,000.
EWI president and chief executive officer Datuk Teow Leong Seng said the group saw a recovery in local demand across the UK and Australia property markets during the quarter.
"Sales of EcoWorld London, our joint-venture that focuses on the outer zones of London, has seen a substantial increase in sales (from £9 million to £24 million) in the second quarter of FY21 compared to the same quarter in FY20. In Australia, our West Village project has also seen a marked increase in sales (from A$1 million to A$15 million) over the same period," he said.
Teow attributed the improvement to the reopening of economic sectors following mass vaccinations in the UK and effective containment of the pandemic in Australia, which has boosted confidence among consumers and homebuyers.
He believes that sales performance will improve in the coming quarters as the rollout of vaccination programmes continues in many of the group's global customer markets.
Eco World's share price fell 1.5 sen or 2.2% to 66 sen, giving it a market capitalisation of RM1.94 billion. EWI dropped 0.5 sen or 0.8% to 64.5 sen, valuing the group at RM1.55 billion.