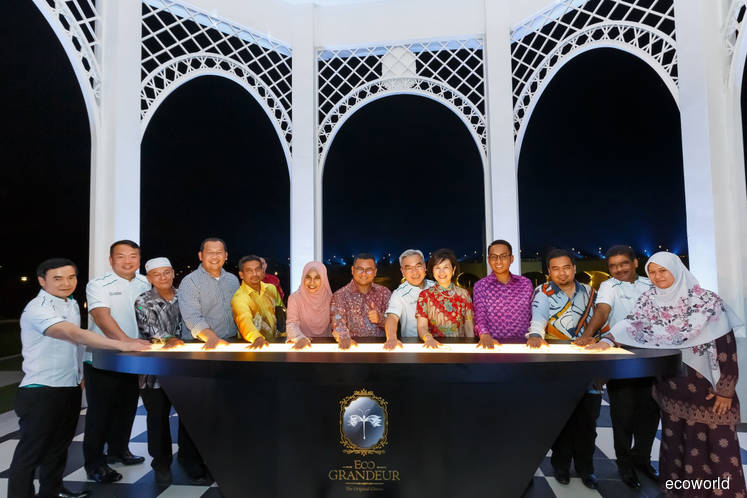 PUNCAK ALAM (July 9): The Bridge of Dreams at Eco World Development Group Bhd's (EcoWorld) township Eco Grandeur in Puncak Alam, Selangor is now ready to welcome the township's first residents.
An event to mark the opening on June 28 was officiated by Menteri Besar of Selangor Amirudin Shari. Also present was EcoWorld chairman Tan Sri Liew Kee Sin.
"This marks the beginning of a new chapter for Eco Grandeur as the township prepares itself to welcome its first residents when Phase 1 of its terraced and garden homes are ready," said EcoWorld in a press release recently.
Known as Graham Garden and Avenham Garden respectively, a total of 1,824 units will be handed over beginning October 2019.
"Eco Grandeur's Bridge of Dreams is symbolic in that it represents a grand welcome home for residents. The iconic towers in the middle of the bridge, standing at 16m [about 5-storeys high] will be difficult to miss.
"This will truly be a landmark for the northwest corridor as it looks like a lantern lighting up the night sky to warmly welcome residents and visitors alike.
"We are excited to move into the next phase of Eco Grandeur's growth as a township and look forward to receiving our first residents here soon," said President & CEO of EcoWorld Datuk Chang Khim Wah.
The 1,400-acre Eco Grandeur is EcoWorld's largest township to date.
With a length of 200m and width of 28m, the bridge is an ideal vantage point to take in the scenic garden views of the 62-acre town park, also known as the Dragonfly Park.
The Dragonfly Park also serves as the new home of many transplanted trees from the site when land clearing first began. The park will be one of the focal points of the development as it offers an outdoor amphitheatre can accommodate thousands of people for a variety of events.
Since its launch over three years ago, the development landscape at Eco Grandeur has become more vibrant and now includes a commercial hub known as Grandeur Labs.
"On the commercial front, we are proud to showcase Grandeur Labs, which has been up and running since June 2018. This has definitely increased foot traffic to Eco Grandeur.
"Designed as retail in the park, Grandeur Labs offers a retro modern concept where the retail lots were designed to fit into the landscape masterplan," Chang shares.
The developer is now working on Phase 2 of Grandeur Labs which will include a 15,000 sq ft grocer and more F&B offerings which will be operational by 2020.
The development also includes communal elements such as children's playground, seating areas and artworks. There is also a bicycle lane stretching over from the neighbouring bike park called Trex that covers 3.7 acres along the green spine of Eco Grandeur. It opened last November.
"It is indeed heartening to see how Eco Grandeur is growing organically even before our residents have moved in. We are delighted to have the surrounding communities enjoy the amenities and hope our residents will enjoy them too.
"Our commitment to add value to Eco Grandeur will continue with plans for schools opening by 2021," Chang added.
Connectivity to the township is expected to improve with the completion of the Damansara-Shah Alam Expressway (DASH) and the West Coast Expressway (WCE) by mid-2020.
Meanwhile, Eco Grandeur will be introducing a new phase of garden homes called Regent Garden next.
Instead of a regular park, Regent Garden boasts camping grounds, allowing residents to get even closer to nature.
The 24ft by 55ft Regent Garden units are now open for registration.