This article first appeared in City & Country, The Edge Malaysia Weekly, on December 16, 2019 - December 22, 2019.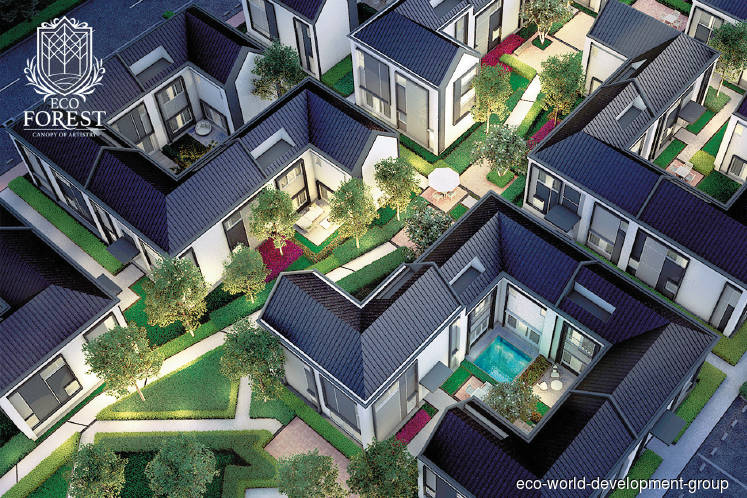 An artist's impression of the exterior of ErgoHomes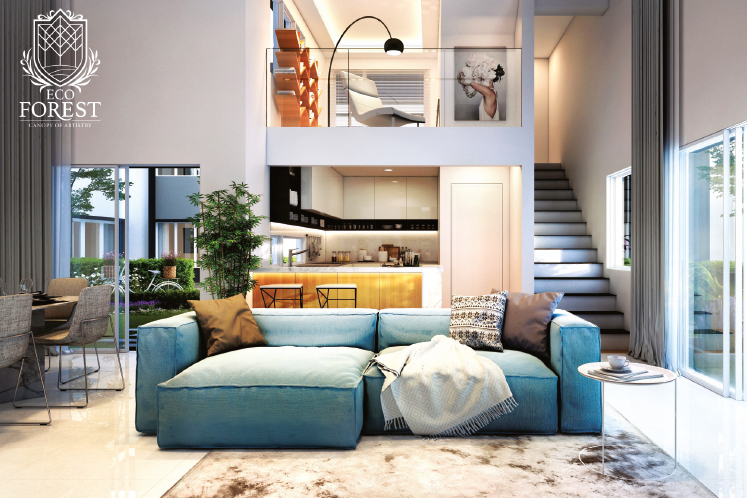 An artist's impression of the interior of ErgoHomes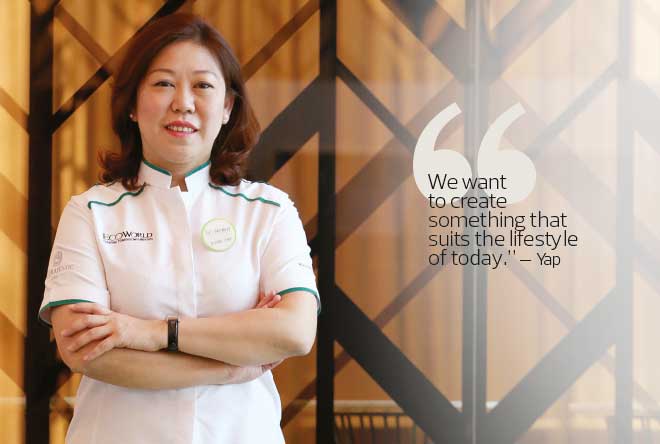 The road leading to Eco Forest — a project by Eco World Development Group Bhd (EcoWorld Malaysia) in Semenyih, Selangor — is lined with trees and the temperature in the area is fairly low. Instead of the normal traffic noises, one can hear birds chirping.
"Due to the many trees and forest in this area, the temperature is 2°C lower than in the cities and towns. This is why we often have the air conditioner switched off in here," says divisional general manager Evon Yap as we settle down comfortably in the Eco Forest sales gallery.
Yap is in high spirits as she is excited about the upcoming development, ErgoHomes, in Eco Forest's second precinct, Hazelton. She says the first-of-its-kind development in the country has a concept — which the team at EcoWorld Malaysia brainstormed and created together — that changes terraced living.
Apart from ErgoHomes, the gated-and-guarded freehold Hazelton will offer Garden Homes (30ft by 65ft terraced houses) and Artisan Homes (20ft by 65ft and 20ft by 70ft terraced houses) on a 50.26-acre tract.
ErgoHomes is a 2-storey cluster terraced house development of 123 units. Set to launch this month is Hazelton's first phase, comprising 57 units of ErgoHomes and 53 units of Garden Homes.
The units at ErgoHomes will have built-ups of 1,883 and 2,290 sq ft each and the selling price starts at RM500,000. As it is a landed strata-titled development, there will be a maintenance fee of RM200 monthly.
The "Ergo" in the project's name comes from the word ergonomics. Yap explains that the development is inspired by the science of ergonomics, which involves understanding the interaction between humans and other elements of a system. "We want to create something that suits the lifestyle of today," she says.
Prior to designing ErgoHomes, EcoWorld Malaysia conducted a survey to find out the buyer profiles. The developer found that most of the potential buyers were Gen Y who wanted a house that was affordable yet spacious enough to pursue their passion and dreams, with most of them preferring landed properties, Yap reveals.
Thus, all units at ErgoHomes will be shaped like an "L" and each cluster will have four units, allowing each house to be a corner unit with a 15ft by 15ft private garden.
"You can do anything with the 15ft by 15ft space. It could be an edible garden, plunge pool, barbecue area and so on," says Yap. The L-shaped design will allow natural light into the unit from all sides, with many windows around the house, she adds.
The common area, which is the living, dining and kitchen areas, will be 30ft wide. A substantial amount of space in conventional terraced houses is taken up by the staircase but "for ErgoHomes, we will place the staircase in one corner to free up the space for people to create what they want. Thus, the layout becomes efficient and flexible", says Yap.
Each unit will have a 30ft by 15ft master bedroom, including a bathroom, which will be separated into wet and dry areas. The space will be big enough to accommodate a king-sized bed and a walk-in wardrobe.
A unique feature of ErgoHomes will be the two passion areas — on the ground and first floor. They can be converted into anything the residents want, such as a home office, another kitchen, a music area or a space to take videos for YouTube.
The communal and passion areas will have full views of the private garden.
In the basic layout of each ErgoHomes, there is only one bedroom. But the passion areas and part of the master bedroom can easily be converted into more bedrooms by putting in partitions, says Yap.
The houses will have A-frame façades, which are best suited for Malaysia's tropical weather, she adds.
The development will have a village formation, that is the houses will be surrounded by a communal garden. "When you open your door, you will be able to see your neighbours and can walk around while having a chat," Yap points out.
Vehicles will be prohibited from the roads between the houses. "Everything will be clustered together and it will be walkable and traffic-free," she explains.
Outside the housing clusters will be the parking bays for residents — each unit will be allocated two lots — and visitors. There will be covered walkways leading to the car park.
The village formation also enhances the security of the neighbourhood and interaction between neighbours, Yap points out.
EcoWorld Malaysia is targeting singles, young couples and small families with one or two children for the development. But Yap says it is suitable for all generations. "We have young buyers who want to buy units side by side and bring their parents to live here with them. There are retirees who have come to enquire as well."
According to her, the developer decided to build ErgoHomes in Eco Forest because there is a ready group of customers in the area. "A market survey was done and the results show that customers here are either very young or more elderly. Also, they prioritise health and are looking for more space to plant their own edible garden."
Eco Forest
The 515-acre freehold Eco Forest is located next to Broga Hill. Launched at end-2017, the township has a gross development value of RM2.5 billion and will have eight precincts, with landed homes, high-rise residences and shoplots.
Precinct 1, Ebonylane, comprises 684 units of Garden Homes and Artisan Homes. To date, it is 98% sold and EcoWorld Malaysia will be handing over the units in March next year. The selling price starts at RM600,000.
Hazelton will have 530 landed homes. The unique feature of the second precinct will be the pocket gardens.
"There will be seven pocket gardens, around 50ft wide each. We will have different sculptures in each garden. Besides that, there will be two central gardens, on the east and west of the precinct respectively," says Yap.
The developer is looking to construct an access road near Hazelton that will link to the east gate of Eco Majestic, another EcoWorld Malaysia township in Semenyih.
"This will shorten the travel distance between the two townships to 5.5km. We have a lot of amenities in Eco Majestic and we want the residents of Eco Forest to be able to enjoy them," Yap adds.
Eco Forest is accessible via the Kajang-Seremban Highway, Kajang Dispersal Link Expressway and Cheras-Kajang Expressway, and will be linked to the upcoming East Klang Valley Expressway, which is slated to be completed in 2021.