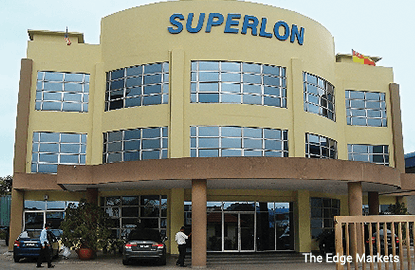 This article first appeared in The Edge Financial Daily, on March 14, 2016.
Superlon Holdings Bhd
(March 11, RM2.01)
Not rated with a fair value of RM2.16: Superlon Holdings Bhd's core earnings before interest and tax (Ebit) margin doubled from 7.8% in financial year 2013 (FY13) to 15.65% in FY15. The significant improvement was mainly due to increased efficiency leveraging on better machinery and higher volumes. Note that our core Ebit margin calculation excludes foreign-exchange (forex) and other gains and losses. In FY16, we expect further improvement in its Ebit margin to the tune of 18.6% as the company continues its efforts in enhancing efficiency.
We gather that its current storage and production division shares the same facility, which leads to a bottleneck. A new warehouse (about 70,000 sq ft) will be built next to its existing factory. We expect the core Ebit margin to be enhanced further as it improves its work process with optimisation of the factory layout. The construction of the building is slated for completion by FY17, and earnings impact should start in FY18. Management expects to spend RM12 million to RM14 million through a combination of internally generated funds and bank loans. Funding should not be an issue as Superlon sits on a net cash of RM18.4 million.
Management targets to enter into two new countries each year, and has set sales targets for its distributors. Currently, bright spots include Vietnam, India and other Southeast Asian countries. The sales target is lower than the 20% achieved last year, as management set a more conservative sales target of 10% amid the subdued business environment.
The company has a net positive exposure to the US dollar as 55% of its costs are US dollar-denominated, while more than 90% of its exports are transacted in the currency. Despite the recent weakening of the US dollar against the ringgit, we would like to highlight that the company had achieved a 15.65% core Ebit margin without the forex gains in FY15. We also expect the core Ebit margin expansion to continue as the company stays focused on efficiency enhancement. As a result, we expect sustainable earnings improvement for Superlon. 
We derive a fair value of RM2.16 based on 12 times FY17 forecast price-earnings ratio (PER), premised on its four-year average PER. As for dividends, we expect the company to reward shareholders with 8.5 sen, assuming a payout ratio of 50% (similar to the FY15 level of 51%). Note that the company's payout ratio improved to 51% in FY15 against FY14's 44% and FY13's 20%. — MIDF Research, March 11