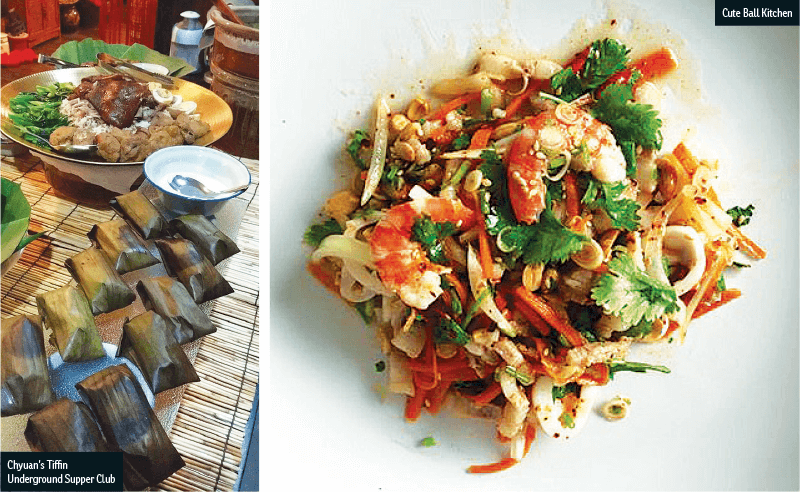 This article first appeared in The Edge Financial Daily, on December 2, 2015.
Supper clubs (sometimes referred to as private or underground dining) entered the local food scene sometime back and today names such as Huck's Café, Jen's Underground Supper Club, Bavita's Kitchen, Pittolo Private Kitchen and Transparent Apron are not new to the underground dining scene. A few common denominators shared by most supper clubs is the element of surprise as some only disclose the dinner venue closer to the date or have an ever-changing menu.
Supper clubs in the early years were originally about rebellion — think speakeasies and Cuban paladares that were an underground nature. The revival of this concept in current years has seen a variety of dishes being served — be it home-cooked food for the soul or authentic cuisine from the host's country of origin.
Over the years, supper clubs have become more well known than before, the element of elusiveness has been reduced tremendously. Bavita Dhillon of Bavita's Kitchen told us in a telephone interview that "there is less mystery surrounding this form of dining in comparison to when the concept was first introduced." Locations are no longer a secret and menus are available for all to see on social media, so you can pick your poison accordingly.
But if you thought that removing the element of mystery would translate into a dwindling number of supper clubs, the present situation in the Klang Valley proves to be quite the contrary. Instead, the focus of supper clubs has been altered from placing emphasis on secret locations and ad hoc menus to include a cultural touch and social interaction. Some even provide the option of dining at a location other than the home of the host but maintains the element of home-cooked goodness.
While all these establishments allow patrons to book and dine as a couple or a group, there are a segment of patrons who come to dine alone or with the intention of mingling and making new friends. Dining in a supper club gives tourists and other people who are new to the city a chance to mingle and meet new people. The inclusive nature of the sharing economy has much to do with this evolution, which has much more appeal — more people in this day and age are more likely to participate in something new if they know what exactly they were signing up for.
In fact, an online platform called PlateCulture has developed a compilation of such private dining venues in four Southeast Asian countries — Thailand, Malaysia, Vietnam and Singapore — allowing locals and tourists alike to connect with a preferred supper club based on their location, type of food or budget. The website allows patrons to go for the type of experience that suits them best, with reviews and pictures helping them to decide. One of the more successful Malaysian PlateCulture host is a native of Sri Lanka, and presents her guests with delicious meals from her home country along with generous servings of her motherly charm and affection.
Supper clubs and social dining establishments may be growing in popularity but they are not without their challenges, and its hard work to run. However, Dhillon tells us that one thing that keeps her motivated to continue with this passion project is "the appreciation — the look on their faces when they take a first bite or when they say they are too full to walk!" Few things are better than food cooked from the heart and with a dash of fun interaction added, it makes the perfect recipe to come for the food and stay for the friends.
Social dining options to try in Kuala Lumpur
Wanderlust
www.facebook.com/wanderlust.kl
While most supper clubs operate from homes of their respective hosts, this one operates from a commercial lot in Solaris Mont Kiara. Wanderlust offers its take on the supper club concept with promotions like food and wine or cocktail pairing and is also available for booking for private dining functions.
Chyuan's Tiffin Underground Supper Club
www.facebook.com/Chyuans-Tiffin-Underground-Supper-Club-
Drop by this establishment if you would like to try Asian food with a twist of Western flavours. The ever-changing menu includes Thai and Nyonya food, and the venue accommodates a maximum of six guests at once.
Cute Ball Kitchen
www.facebook.com/CuteBallKitchen
This supper club serves an authentic Vietnamese dinner, prepared with passion and premium ingredients and served from their home. The husband and wife duo serve up dishes like fresh spring rolls, braised beef brisket and Vietnamese chicken salad, serving a maximum of 12 guests at any one time.
PlateCulture
www.plateculture.com
Find a supper club that you prefer on this global site, which features supper clubs and private dining options across the region.