This article first appeared in The Edge Financial Daily, on August 6, 2018.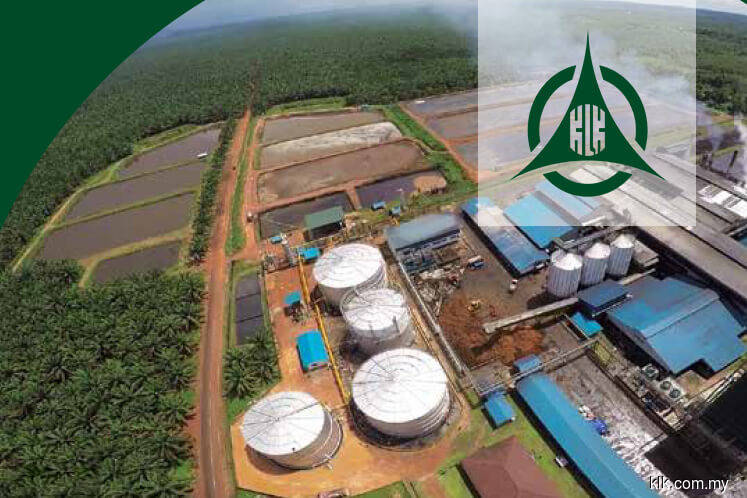 Kuala Lumpur Kepong Bhd
(Aug 3, RM24.68)
Maintain market perform with an unchanged target price (TP) RM25.20: We came away from a meeting with Kuala Lumpur Kepong Bhd (KLK), feeling unenthused about the group's immediate-term prospects. Its third quarter of financial year 2018 (3QFY18) earnings could be soft amid crude oil price (CPO) weakness and extended Hari Raya Aidilfitri holidays. An earnings comeback is expected in 4QFY18 on a production pickup. There are no changes in our FY18 to FY19 estimated core net profits of RM1.15 billion to RM1.22 billion as the revision of our FY18 fresh fruit bunch (FFB) growth poses minimal impact on earnings (about 1%).
We maintain our "market perform" call with an unchanged TP of RM25.20 based on a forward price-earnings ratio of 22.4 times.
The average CPO price of RM2,374 per tonne (-3.8% quarter-on-quarter [q-o-q]; -13.6% year-on-year [y-o-y]) and KLK's FFB output of 926,000 tonnes (-3.4% q-o-q; +0.5% y-o-y) portend soft earnings in 3QFY18. The weak production came as estate workers were away for extended Hari Raya Aidilfitri holidays. Notwithstanding, 3QFY18 results are likely to be broadly within our expectations as we expect FFB production to pick up in 4QFY18 when the workers return for harvesting.
Management has revised their FY18 FFB growth guidance from 5%-6% to 3%, below our forecast of 10% and the peer average of 5%, attributable to dry weather in Kalimantan and Sumatra last year, which has adversely affected production yield. We have trimmed our FY18 FFB growth forecast to 3% from 10% accordingly. Nevertheless, the impact on our earnings forecast is negligible (about 1%) thanks to a higher earnings contribution from its oleochemical business on lower CPO prices.
Management expects CPO prices to be uneventful in the immediate term as buyers take a wait-and-see approach amid multiple concerns such as further weakness in US soybean oil prices in the aftermath of China's 25% tariff on US soybeans and a stronger-than-expected production pickup in the second half of FY18 (2HFY18). Other feedback includes that some buyers are either holding back purchases or seeking lower prices in anticipation of further CPO price weakness. On the other hand, we believe the current CPO price of RM2,155 is supported by the Brent crude oil price of about RM2,200 per tonne and smallholders' production cost of RM1,800 to RM2,000 per tonne.
Oleochemical demand has been encouraging as crude oil prices trend up (Brent crude oil is up 13% year to date), which improves competitiveness of the group's methyl rster-based products (such as detergents). In addition, management said, the Roundtable on Sustainable Palm Oil certification status of KLK's palm oil (about 72% certified) and palm kernel (about 76%) products had helped sustain demand from Europe.
But the segment's profit before tax (PBT) margin is expected to normalise to 3% to 4% in 2HFY18 from 1HFY18's 5% as the margin boost from cheaper palm kernel oil input fizzles out. We expect the segment's FY18 PBT to surge 154% y-o-y, although likely down by 5% on a half year-on-half year basis in 2HFY18.
While KLK is going to see tepid FFB growth in the second half, it benefits from the cushioning effect of its oleochemical segment. KLK's long-term prospects remain positive as management continues its hunt for merger and acquisition targets and its plan to establish a joint-venture refinery in Indonesia. — Kenanga Research, Aug 3