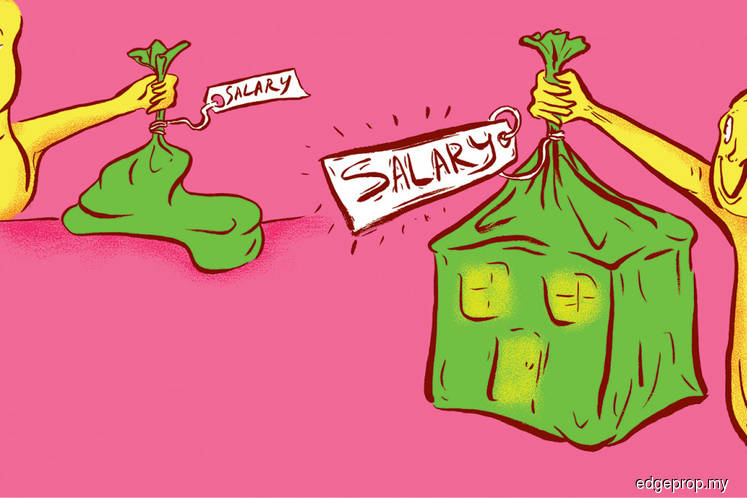 IT is many people's dream to own a home of their own and this has driven them to work diligently and save up their hard-earned money to one day make their dream come true.
However, for many Malaysians, things are not turning out the way they wish as house prices in major cities including Kuala Lumpur, Johor Bahru and Penang have been rising ahead of the growth in wages thus making it increasingly difficult to own a home in the country.
According to data from the Department of Statistics Malaysia and National Property Information Centre (Napic), the median monthly salaries and wages in Malaysia grew at a compound annual growth rate (CAGR) of 6.17% from RM1,700 in 2013 to RM2,160 in 2017 while the Malaysian House Price Index (HPI) recorded a CAGR of 7.56% from 140 points to 187.4 points over the same period.
This indicates housing unaffordability in the country and the gap between house prices to monthly salaries in urban centres could be even more sizeable, especially in the mid- and high-end housing segment.
This problem is most pronounced in Selangor, Penang, Johor and Kuala Lumpur. Data shows the gap is most severe in Kuala Lumpur with a five-year CAGR of 3.66% and 7.88% in monthly salaries and house price growth respectively, resulting in a gap of 3.22 percentage points.
CBRE|WTW managing director Foo Gee Jen notes that there is also a gap between the mean and median monthly salaries in KL, of which the five-year CAGR for the former is at 9.94% while the latter only stood at 3.66%.
"The difference in the median and mean [monthly salary] highlights the income disparity among the KL working population. Urban migration could be a reason for this as more people such as fresh graduates and young adults are moving into cities to seek better economic opportunities while the scarcity of land in city centres such as KL as well as their status as prime locations is pushing up home prices.
"This is a reflection of the reality whereby young income earners who are presumably starting at low salaries in their careers will find it difficult to own homes in KL," he says.
In fact, against the backdrop of a prudent lending environment combined with weakening financial profiles — especially of the young adults — the ability to secure a home loan and to pay the down payment has become more difficult, thus making the homeownership dream harder to attain.
"In the case of Penang, land scarcity will continue to underpin price growth, especially for landed residential property.
"In Selangor, landed properties located further away from the city such as Kajang, Semenyih and Cyberjaya may still offer good value for money but growing demand in these areas may drive prices up fast.
"Down south in Johor, housing prices may be further pushed up by foreign buyers from Singapore and also mainland China who are able to afford units costing more than RM1 million," Foo elaborates.
What caused the gap?
Why is salary growth lagging behind house price growth? According to Professor of Economics at Sunway University Business School Dr Yeah Kim Leng, house prices have skyrocketed in the last housing boom.
"There were elements of speculative buying as well as strong demand triggered in part by exemptions from the real property gains tax and tax exemptions on interest payments, low interest rates, easy access to loans pushed by financial institutions, limited supply in selected high-density locations and the expectation that prices will rise further to provide healthy returns to property investments.
"The price level has remained high and it will take many years for the average income level to catch up to the present average house price," Yeah opines.
Foo points out that the rising cost of living and the unequal distribution of income as indicated by the difference between the median and mean monthly income has also contributed to the problem.
"Wealth continues to be accumulated and concentrated on a small number of individuals, so the income of most households is lower than the statistical average.
"If the general inflation is taken into consideration, the rising cost of living will add further pressure on income. The real gap between income and house price may actually be greater than what the numbers indicate," he adds.
Catching up with house prices
Going forward, would the pace of monthly salary growth be able to catch up with the growth of the HPI?
Foo foresees the gap between salary and house price to widen further if the shortage of affordable housing supply in the market continues as demand will push prices up.
"Household incomes can be increased by raising the minimum wage and through economic progression, but if there continues to be inadequate housing supply, house prices will simply rise faster, as demand exceeds supply.
"To homebuyers, this will mean it will take a longer time to repay their housing loan and their houses will be smaller, further from the city centre and even building quality may be compromised," Foo warns.
But Yeah begs to differ. He says the gap is narrowing gradually as the growth rate of the HPI has been slowing down while the mean annual salary income is charting a steady growth of 5% to 6% per annum.
"However, the house price level remains high and it will take many years for the average income level to catch up to the present average house price," he adds.
The housing affordability issue, he says, will continue to persist given the high house price levels in the mid- and high-end housing segments and the fact that the majority of the low income earners are hard pressed to purchase homes that are priced above RM250,000, which made up the bulk of new housing supply in the past two years, he says.
"According to Napic's 4Q 2017 data, only 39% of new housing launches in 2016 to 2017 were for homes priced up to RM300,000.
"This is insufficient to cater to the demand by 50% of households in Malaysia earning up to the median income," he adds.
How do we solve this problem?
Establish a single agency to monitor the housing market
A single agency will enhance affordability and bring on a more sustainable price growth. Foo believes a single agency permits better coordination and efficiency in resource management for the delivery of affordable housing. The fact that most states are now politically aligned with the federal government should help in policy streamlining and implementation as land use is a state matter, says Foo.
Centralised data
Centralised data is needed to facilitate informed decision-making, thus reducing the discrepancy between the expectations of homebuyers with developers. "The fundamental flaw in the residential market is the mismatches in price, product and location — information inequality is a contributing factor to this," says Foo. A reliable and accurate data system provides developers the information to identify the supply gap in terms of product and location. Hence, the price shall then reflect the market demand.
Cost reduction
Indirect cost of doing business incurred by lengthy bureaucratic procedures can be reduced, while approval processes can be simplified with greater clarity, suggests Foo. Delays in the approval process lengthen development time, translating to extra cost.
With reference to direct cost, developers in Malaysia are responsible for the provision of infrastructure. However, Foo says the cost of infrastructure provisions should be shared with utility providers as the infrastructure is complementary to their business. All in all, any cost incurred would be transferred to buyers.
Gazette all structural and local plans
This creates certainty in policy direction and transparency, says Foo, adding that this is part and parcel of removing red tape and simplifying development approval processes.
Release more state-owned lands for affordable housing
Land is an important cost component of property development. If the government has the political will, more state-owned lands should be released for developments of affordable houses, says Foo. The government has to recognise that affordable housing is to be supplied in locations with the right demand. Therefore, state-owned lands which are presumably in strategic locations would be ideal, provided that they are supported by adequate accessibility, facilities and amenities.
Get the private sector to build more affordable homes
Open tenders or requests for proposals can be called to draw private sector participation in developing affordable housing on state land, opines Foo. "We need to recognise that the ultimate priority of affordable housing is the rakyat. While the highest purchase price offered for the land will be desirable, the number of affordable houses proposed and the price of these houses should carry more weight when selecting the successful bidder. The emphasis should lean towards the socio-economic benefits for the rakyat more than monetary gains."
Improve construction efficiency
Industrialised Building Systems (IBS) can save construction cost and time. Shorter development time raises supply which in turn minimises price escalation caused by buyers' anxiety over perceived shortage. The new government promised to introduce incentives for developers who adopt IBS — this initiative should be expedited.
Need for release mechanism of bumiputra units
Bumiputra quota on property development has been considered one of the factors that distorts market supply and demand. As a result, we have location or development-specific overhang of properties. A well-articulated and deliberate procedure for the release of unsold bumiputra units should be in place to clear off the stock.
Continue to improve public transport infrastructure
Foo urges the government to continue investing in public transport infrastructure projects and improve the end-point reachability which would essentially reduce commuting costs and time, thereby increasing productivity. The focus should be placed on rail systems as this method of transportation is more efficient and cheaper for the people than by road. This is evident in major metropolitan cities around the world such as London, Hong Kong, Singapore and Tokyo — where they have reliable, extensive and comprehensive rail networks.
Accept change   
Yeah says homebuyers will need to adapt to changing trends such as transit-oriented housing developments and integrated townships that are farther away or of high density in urban centres but with a rather low absolute price.

This story first appeared in the EdgeProp.my pullout on July 27, 2018. Download EdgeProp.my pullout here for free.