This article first appeared in Personal Wealth, The Edge Malaysia Weekly, on December 31, 2018 - January 06, 2019.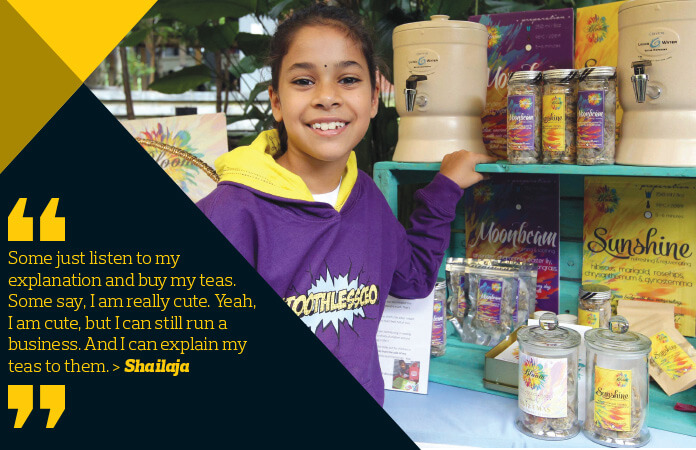 Shailaja Grace Guillory is the nine-year-old CEO of Bloom Teas. She started the company when she was just seven. Unlike many people five times her age, she knows about the running of companies, manages her own personal wealth.
"When I was two years old, my mum would make me this special tea whenever I fell sick and it always made me feel so much better. I wanted to share that joy of drinking tea with everyone so they could feel good too," she tells Personal Wealth in an interview.
When she was seven, the opportunity arrived. "There was a bazaar at my school and I really wanted to sell something. My mum thought she was going to be baking all week, but I said, 'No, I want to sell tea.' So, we made 100 jars for the bazaar and sold out in four hours."
Her mother, Komi Sambasivam, thought that was the end of the story. "Shailaja came home with RM1,000 and we fully expected her to split it into her three jars. But she did not," she says.
"I felt really happy and I wanted to continue selling this. That was how I started my company," explains Shailaja.
Some context on the three jars. When Shailaja was very little, her parents sent her to a "Grow the Goose" camp, which teaches children about financial management. The children were supposed to go home, get three jars and label them the Goose Jar (for savings) , the Help Jar (for contributing to good causes) and the Play Jar (for spending). Any money they received would be divided equally and placed in the jars.
Her father suggested that they go on a shopping spree to spend her profit but Shailaja refused. "She said, 'Daddy, no! This is seed money.' I don't know where she picked up the term. She must have heard us use it when we talked about our business [Busy Beez Sdn Bhd, which sells craft kits to children]."
Shailaja then ran to their pantry and pulled out Komi's teabags, saying that she wanted to make these.
During her first bazaar, Shailaja sold loose tea. But many of her customers did not have teapots to brew the tea. Making teabags would involve a more substantial investment, so she was taking this idea to a whole new level.
"Teabags are costly stuff. You can't just make 100 of them. The minimum you have to make is 5,000," Komi points out.
So, where was the money going to come from? Her RM1,000 from the bazaar was not enough.
Komi and her mother, Lachumy Attiken, decided to give Shailaja RM10,000 from their company, Busy Beez, to start Bloom Teas. She decided on two teas — Sunshine (for when you wake up) and Moonbeam (to help you sleep).
Shailaja helped her mother design the packaging. "Basically, I chose my favourite fonts and kind of did the background. Yellow for Sunshine, the morning tea, and purple for Moonbeam because it is for night time and is calming," she says.
She also wanted the tea to help her teachers sleep. "That is what I created Moonbeam for. Because my friends and I can sometimes be very noisy in class and by the end of the day, our teachers tend to be really tired. So, I created Moonbeam to help them with that."
How did she come up with the combination of herbs that would help people sleep? "Before we started the company, my mum and I did a lot of research. That was how we found the herbs that were suitable for this," says Shailaja.
"I mean we cannot put Easter lilies, which is basically the thing that makes you sleep, in Sunshine because that would not be a morning tea. Chamomile and lavender are very relaxing. That is why we mixed these with specific ingredients to help people sleep."
What happened after the school bazaar? "We kept doing bazaars and we did the new packaging and improved the company. We upgraded it and bought stuff for the company," says Shailaja.
"In the beginning, we did not have samples. But some people asked me if they could try the tea before they bought it. So, I took the suggestion and made samples."
Last year, she went to the Slush start-up conference in Finland to talk about Bloom Teas. At the end of her presentation, she was given a standing ovation. "We had to do a presentation, so we wrote a script and we practised and practised and practised and practised and finally, I was ready to go up there," she says.
But being nine, Shailaja has a very full life with a plethora of activities. She plays the drums, studies and performs the Bharatanatyam and is a straight-A student.
"Bharatanatyam (an Indian classical dance) is something she loves doing very much. And the pride that comes from performing and doing other things makes her feel whole and allows her to discover her personality," says Komi.
Shailaja also understands the importance of giving back. Coming from a fairly well-to-do family, she did not understand how what she did could impact another person. "To her, RM10 is just RM10. But for a poor child, RM10 means a lot," says Komi.
"Over time, we have taken her to various homes to meet people who are in need. Then, she began to grasp the income disparity and the value of money to different people."
When told about someone in need, Shailaja usually responds generously. "You can tell her that there is this child in need, or an organisation that needs funds, or there was an earthquake and we are collecting money and without hesitation she will pull out money from her Help Jar to give," says Komi.
Because giving back is so important to Shailaja, she has started her own charity. "Last year, I was inspired by my grandmother to start a charity. This year, we are expanding it and getting my friends to donate RM5 or RM10 a month so that we can help children all over the world with education," she says.
"We have contributed to the Malaysian Association for the Blind and we have given to a Tamil school in Subang. We packed stationery for them because they are very poor and need help and support.
"We also gave to this blind boy, who has finished his SPM and is in Form Six now. His mum is teaching him how to use the computer."
But Shailaja does not only give to the less fortunate. Recently, she came up with another business idea and used part of the funds to buy her mother a birthday present.
Komi explains, "She understood that tea is not something you sell to schoolchildren, so she came up with a whole new product line. She said all her friends are into unicorns, so she wanted to do something related to that."
At first, Shailaja wanted to do unicorn-themed cupcakes. But her mother and grandmother said, "Why not do something different?" So, she looked it up on the internet and came up with the idea of a unicorn mug cake. It is a cake you can make in a mug in less than two minutes. She made a whole batch of that and took it to school to sell.
Shailaja did several variations of this cake over the course of five weeks. "She started with seed money of RM200, which she borrowed from the two of us, and rushed to the store to buy the ingredients. Each week, after the sale, she calculated the profit, paid back the cost and reinvested the rest. By the end of five weeks, she had accumulated RM1,380 in profit," says Komi.
Shailaja asked if she could use RM200 from the profit. "I told her she could not take anything out until she split it up and put it in her three jars. Later, I found out that she had told her father she wanted to go to Swarovski to buy Amma a necklace. My birthday is in October," Komi laughs.
Considering all the things she is involved in, one would expect Bloom Teas to take a backseat. But it does not. Although she put it on hold while she was studying for her end-of-year examinations, for the most part, she is actively going out and canvassing restaurants and supermarkets to carry the tea. She even made a cold call to the CEO of Inside Scoop.
She made a successful call to a restaurant, Gajaa at 8 (which serves royal Indian cuisine), and is trying to organise a date to see the kitchen director to let her evaluate the teas.
At the end of the day, she is only nine years old. How does she get business people to take her seriously? "Some just listen to my explanation and buy my tea. Some say, I am really cute. Yeah, I am cute, but I can still run a business."
Right now, Bloom Teas are sold in three restaurants — one in Bali, Rata in Subang Jaya and Two Hands in Damansara Perdana. Shailaja plans to get her teas into 10 restaurants. Right now, she plans to approach six restaurants.
Shailaja has a directors' meeting with her mother and grandmother every  Tuesday afternoon. This brainstorming session is known as the "Bloom Hour". "We discuss celebrations (any victories they may have had that week) and improvements," she says.
Shailaja admits that she looks forward to these meetings as it is not just a directors' meeting to her but family time. They do not only discuss the business but also other aspects of her life, like her dance and drum classes as well as her schoolwork.
"Shailaja is actually starting to chair these meetings. I used to lead the way, with the three of us sitting down to talk about what had happened over the course of the week and what is coming up," says Komi.
"I am moving her towards being able to run this on her own. That is the end game. It is not always going to be the three of us. Eventually, she will have to hire people and she will need to run the business like a proper CEO."