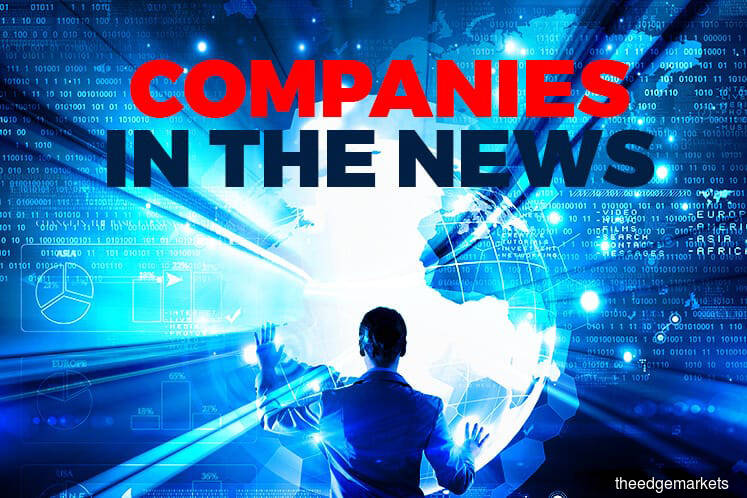 KUALA LUMPUR (July 2): Based on corporate announcements and news flow today, stocks in focus for Wednesday (July 3) may include the following: EA Technique (M) Bhd, Malaysia Airports Holdings Bhd (MAHB), Mieco Chipboard Bhd, Kumpulan Perangsang Selangor Bhd (KPS), Cypark Resources Bhd, Atrium Real Estate Investment Trust (Atrium REIT), Sumatec Resources Bhd and Damansara Realty Bhd. 
EA Technique (M) Bhd is issuing 121.62 million new shares at an issue price of 47 sen apiece to settle a debt of RM57.16 million that it owes its major shareholder, Sindora Bhd.
The firm also said it is planning a private placement of up to 106.36 million new shares or about 17% of its enlarged total number of issued shares. It also proposed to issue up to 365.99 million free warrants, on the basis of one warrant for every two existing shares. 
EA Technique said based on the issue price of 47 sen, the private placement is expected to raise gross proceeds of about RM50 million. 
Malaysia Airports Holdings Bhd (MAHB) said today hat it has received a nod from the Ministry of Finance (MoF) to immediately proceed with expansion plans in phases for the Penang International Airport (PIA).
"The plans are ready to be submitted by end-July, in order to obtain the planning permission from the Penang Island City Council (MBPP), after the project has received the necessary clearance on the plans from the transport ministry, the Malaysian Aviation Commission (Mavcom) and the Department of Lands and Mines as the landowner," MAHB group chief executive officer Raja Azmi Raja Nazuddin said. 
"MAHB is now in discussion with various parties on the options for investment and funding models," he added. Once the necessary plans are approved by MBPP, construction is expected to start in the first quarter of 2020. 
A minor fire has occurred at one of Mieco Chipboard Bhd's manufacturing plant in Kuala Lipis, Pahang, in the early hours of this morning.
Mieco said the financial impact from the incident has yet to be fully ascertained, though any financial loss arising from the incident is expected to be fully covered, as adequate insurance policies have been taken up. The fire was put out in less than an hour. 
Kumpulan Perangsang Selangor Bhd (KPS) has given the green light to the government's proposed acquisition of all securities of Sistem Penyuraian Trafik KL Barat Holdings Sdn Bhd (Sprint Holdings) in Sprint. KPS owns a 20% stake in Sprint Holdings, which wholly owns highway operator Sprint. 
Last week, KPS said the Ministry of Finance Inc (MOF Inc) has made an offer to buy Sprint for RM1.98 billion, less debts. 
Cypark Resources Bhd's wholly-owned unit Cypark Ref Sdn Bhd intends to raise up to RM550 million fresh capital through issuance of Islamic Medium Term Notes programme, to finance 3x30MWAC solar photovoltaic power plant projects. The Islamic Sukuk programme will have a tenure of 22 years, commencing from the date of the first issuance.
Atrium REIT Managers Sdn Bhd, which is the manager of Atrium Real Estate Investment Trust (Atrium REIT), is looking to buy a parcel of land in Shah Alam from Permodalan Nasional Bhd (PNB) for RM45 million cash. 
Atrium REIT said following the acceptance of the letter of offer from PNB, it will conduct a due diligence exercise, including an independent valuation, within a period of one month. 
Sumatec Resources Bhd announced today that it has received a letter from CaspiOilGas LLP (COG), owned by its executive vice chairman Tan Sri Halim Saad, stating COG has successfully defended against its creditors' claims at the Supreme Court of the Republic of Kazakhstan.  
"With this favourable court decision, COG, now that it has no more unproductive distraction, has proceeded on the oil production front with its 2019 well workovers programme, involving a total of eight wells," Sumatec said.
Damansara Realty Bhd's indirect wholly-owned unit Metro Parking Management (Philippines) Inc (MPP) has received a lease contract to construct and manage a parking lot in Muntinlupa City, Philippines. 
Damansara Realty said it has received a contract of lease entered by MPP with Madrigal Business Park Commercial Estate Association Inc (MBPCEA), to build a two-level steel deck parking facility comprising approximately 208 parking slots at Madrigal Business Park, Ayala-Alabang, Muntinlupa City, Philippines. 
With the new contract, MPP and MBPCEA will also renew the existing car park contracts for 702 parking slots under the new terms and conditions. 
The term of the contract is for a period of 20 years, commencing July 1, and renewable for another 10 years.