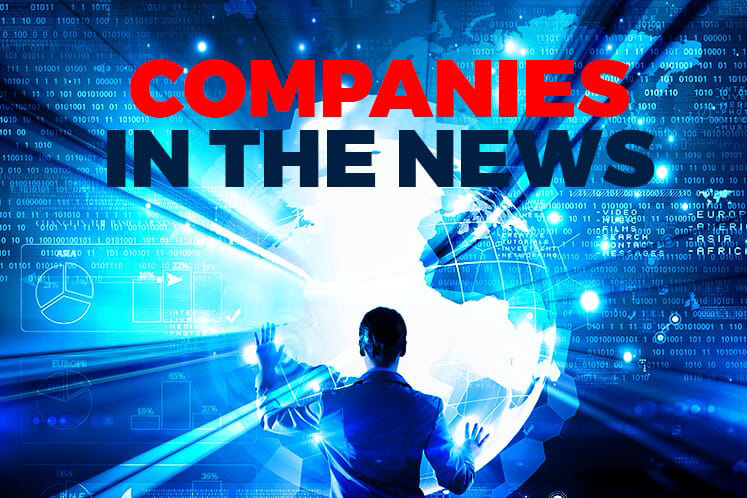 KUALA LUMPUR (Sept 6): Based on corporate announcements and news flow today, stocks in focus for Tuesday (Sept 10) may include the following: DWL Resources Bhd, Bumi Armada Bhd, Sapura Energy Bhd, Chin Hin Group Bhd, Axiata Group Bhd, Digi.Com Bhd and Supermax Corp Bhd.
DWL Resources Bhd, formerly known as Spring Gallery Bhd, is partnering Sri Lanka's mobile provider Mobitel (Private) Ltd to secure government-related projects there.
Its wholly-owned subsidiary DWL Technologies Sdn Bhd (DTSB) will form a joint venture (JV) company with Mobitel, seeking to provide the Sri Lanka Integrated Placement Solution (SLiFPS) to the Bureau of Foreign Employment of the Government of Sri Lanka.
The JV company, to be incorporated in Sri Lanka, will have an initial paid-up capital of LKR100,000 (approximately RM2,300). DTSB will initially hold a 51% stake, with Mobitel the rest.
Bumi Armada Bhd has managed to find a buyer for its Armada Perdana FPSO in Century Energy Services Ltd for US$40 million (approximately RM167.17 million).
However, the Armada Perdana FPSO was previously estimated to have a book value of up to RM300 million.
Bumi Armada said its wholly-owned subsidiary Armada Oyo Ltd (AOL) has entered into an agreement with Century Energy Services Ltd (CESL) for the sale of Armada Perdana FPSO.
The buyer, CESL,  plans to redeploy the vessel to another field in Nigeria.
Sapura Energy Bhd's oil & gas field — SK408 production sharing contract (PSC) development project located offshore Sarawak — will start generating earnings soon. Sapura Energy announced that it has signed a gas sales agreement with Petroliam Nasional Bhd (Petronas) today.
The SK408 PSC is expected to produce first gas by the end of this year with some 400 million cu ft of natural gas per day. By 2023, the block is expected to produce up to 1,000 million cu ft of natural gas per day.
Chin Hin Property Development, the property arm of Chin Hin Group Bhd, has partnered with early childhood education service provider Melody Kindyland to bring in the latter's kindergarten and daycare centre to its 8th & Stellar development in Sri Petaling, Kuala lumpur and possibly to another project in Seri Kembangan, Selangor.
The partnership will see a Melody Kindyland kindergarten and daycare centre set up in three double-storey retail units at 8th & Stellar, which is expected to take up 6,000 sq ft of space and accommodate 160 children.
Axiata Group Bhd and Telenor ASA have mutually agreed to end discussions on the planned non-cash combination of their telecommunication and infrastructure assets in Asia, due to complexities involved in the transaction.
Telenor ASA is the parent company of Digi.Com Bhd's largest shareholder Telenor Asia Pte Ltd. Axiata and Digi said that Axiata and Telenor ASA have been conducting due diligence on the corporate exercise over the last four months.
Axiata said: "Over the last four months, both parties have been working on due diligence and finalising transaction agreements to be completed within the third quarter of 2019. Due to some complexities involved in the proposed transaction, the parties have mutually agreed to end the discussions.
"Both parties still acknowledge the strong strategic rationale of the proposed transaction. The parties do not rule out that a future transaction could be possible. The parties do not intend to provide further comments," Axiata said.
Supermax Corp Bhd has earmarked RM1.13 billion in capital expenditure (capex) to double its production capacity by mid-2024.
The glove maker aims to raise its production to 44.06 billion pieces per year from 21.75 billion pieces as at end Dec 31, 2018.
The capex will be used to upgrade, rebuild and replace old lines and fund the construction of new plants.