This article first appeared in The Edge Malaysia Weekly, on November 12, 2018 - November 18, 2018.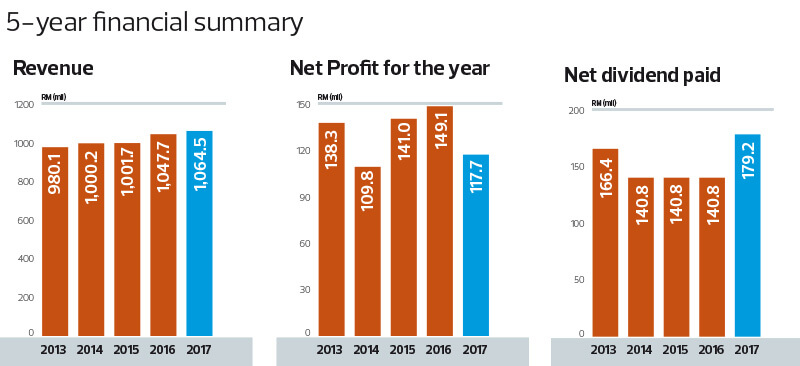 TARANG Gupta, the new managing director of Dutch Lady Milk Industries Bhd, expects the group to close the financial year ending Dec 31 (FY2018), on a better footing — on a combination of higher volumes with more-affordable products and the twin tailwinds of a stronger ringgit and stabilised global dairy prices.
It posted a 1.2% gain in net profit for the first half ended June 30 to RM64.93 million on revenue of RM520.36 million, which was up 1.3% year on year.
"This year, global dairy prices have not dropped but they have stabilised at 4QFY2017 levels. However, there is definitely the benefit from a recovery in the ringgit against the US dollar this year. We have also kept driving our (cost) efficiencies," says the 41-year-old Indian national in his first interview with The Edge since he took over in January this year.
Dutch Lady's net profit dropped 21% year on year to RM117.72 million in FY2017, no thanks to higher raw material prices such as milk powder and the weak ringgit. Revenue for FY2017 rose by a marginal 1.6% to RM1.06 billion.
"The overall buying sentiment among consumers is good this year. As such, my outlook for this year is positive. At this stage, what is important is how we increase the consumption of milk in the country. In the long term, we need to increase the volume, and affordability and accessibility play an important role here. And within affordability, we have to manage the profit and loss of the business," he adds.
For Gupta, getting Malaysia to reach self-sufficiency in milk production is a much bigger challenge to Dutch Lady than competition.
"The degree of milk self-sufficiency in Malaysia is low. But we were the first company in the country to start a dairy development programme. We have been doing it for a decade, and in the last four years, we have significantly stepped up our programme. Our experts come and spend time in the country, work with the Department of Veterinary Services (DVS) and the local farmers to improve the quality and increase the quantity of milk production.
"Today, we are the biggest purchaser of local milk through DVS. Next year, we hope to at least grow our local milk purchase by another 20% to 30% from what we have been taking this year," Gupta says, adding that the company also works directly with about 300 out of the 2,000-odd local farmers.
Still, local milk constitutes less than 5% of Dutch Lady's raw material supply.
Another major challenge is to persuade young Malaysians between 12 and 30 years of age to drink milk.
"We find that when a child reaches 10 to 11 years old, there is a drop in milk consumption because a whole lot of options open up to them. But when they touch 30, they start drinking milk again. So, our biggest challenge is how do we keep this group of youths aged 12 to 30 interested in consuming milk?" says Gupta.
"This group is important for us because Malaysia is a young country. While fitness trends have helped to keep milk consumption going, the impact is still small. What you see is probably in Selangor and Kuala Lumpur. But we will continue to invest in this (milk education and awareness), whether in partnership with the Ministry of Education or as a business."
On capacity expansion, Gupta says the company has just commissioned a new line to produce 1-litre UHT milk at its Petaling Jaya plant in Selangor and has no plans to further expand capacity for now. On new product launches each year, Gupta says there is no particular number per se as much depends on the need.
"This year, we have only relaunched products in our core categories, such as growing-up milk, and we brought in a limited edition flavoured milk — chocolate caramel.
"Going forward, all innovations that we come up with will be [designed for] each age segment and different occasions. We want to make every occasion a healthy one and, thus, our innovations will follow that guideline," he says.
While competition has grown intense and has led to Dutch Lady losing market share marginally in the ready-to-drink and powdered milk for children categories in the last few years, it continues to hold the lead. Currently, the company has a share over 40% by value of the ready-to-drink market and 25% of the powdered milk for children category.
Gupta remains unfazed by the competition and welcomes it because it keeps "us on our toes".
"Yes, there has been a marginal drop in our market share but, more importantly, it has helped to grow our products in all the core categories," he says. Today, the company is in most milk-­related categories, from powdered to liquid milk and yoghurt.
"The only product that we are not in is cheese because cheese consumption in this country is very low," he says.
Gupta says surveys have shown that Malaysians still consume low volumes of dairy products, suggesting there is significant growth potential for the domestic dairy industry.
"Consumption of milk in Malaysia remains low at only 20 litres per capita per year, compared with that of developed countries like the Netherlands, which consumes about 350kg of dairy products per year," he says.
"While Malaysia is doing slightly better than some peer countries, taking into consideration the country's development status, there is a huge opportunity to increase that consumption. It is growing, but is it fast enough? I don't think so.
"So, while we keep pushing for a strong start to the day, we also drive consumption occasions beyond breakfast to include the afternoon and evening to grow milk penetration here," he says.
"Also, findings have indicated that one in two Malaysian children is overweight or obese. Ironically, 1 in 10 children is also stunted or malnourished." Gupta believes that the solution to this dual burden is milk. And if he has his way, every child should drink two glasses of milk and get at least one hour of physical activity a day.
"Five years ago, a study of Malaysian children up to 10 years old found that half of them had a vitamin D deficiency. Children were not getting enough physical activity. They are starting to play with their fingers and not enough with their feet," he says.
On Dutch Lady's part, Gupta says the company has improved its products in the last few years to increase vitamin D levels. In 2014, it started a programme with the MoE aimed at making Malaysian children healthier with the right nutrition and more physical activity, reaching half a million children to date.
In fact, Dutch Lady will be scaling up its investments in Malaysia next year. "For the past three years, we have invested about RM100 million, mostly in marketing, and this will be increased next year," says Gupta.
Dutch Lady is a 50.96%-owned subsidiary of FrieslandCampina BV and employs 600 people.
Before his posting to Malaysia, Gupta served in a number of senior management roles, including four years in Nigeria as FrieslandCampina's head of marketing for West Africa.
"That experience is helping me in Malaysia ... [dealing with] adverse economic, political or social situations and running a business. Because if you look at the last six months as a country and as a business, we have seen a new government and changes in some policies," says Gupta.
He is of the view that measures proposed in Budget 2019, such as the RM2.9 billion allocation to help students from the lower-income groups in terms of food, text books and cash assistance are aligned with Dutch Lady's purpose.
"Measures to support B40 households will increase their disposable income. We have (flavoured milk) that comes in 125ml packs that will ensure the affordability of our products," he says.
On dividend payouts, Gupta says the company has consistently been paying dividends every year although it has no fixed dividend policy. For FY2017, Dutch Lady Malaysia declared RM179.2 million or RM2.80 per share in dividends to shareholders. This works out to a yield of 4.53% based on Thursday's closing of RM63.96. So far, for FY2018, Dutch Lady Malaysia has declared dividends of RM1.10 per share totalling RM70.4 million. However, Gupta is quick to say that the payment of dividends is also dependent on future investments.
Shares of Dutch Lady Malaysia have risen 7% over the past year. At Thursday's closing price, the stock was trading at a price-earnings ratio of 29.01 times 2018 forecast earnings — higher than the broader market. In comparison, the FBM KLCI was trading at 16.7 times 2018 estimates.
Save by subscribing to us for your print and/or digital copy.
P/S: The Edge is also available on Apple's AppStore and Androids' Google Play.