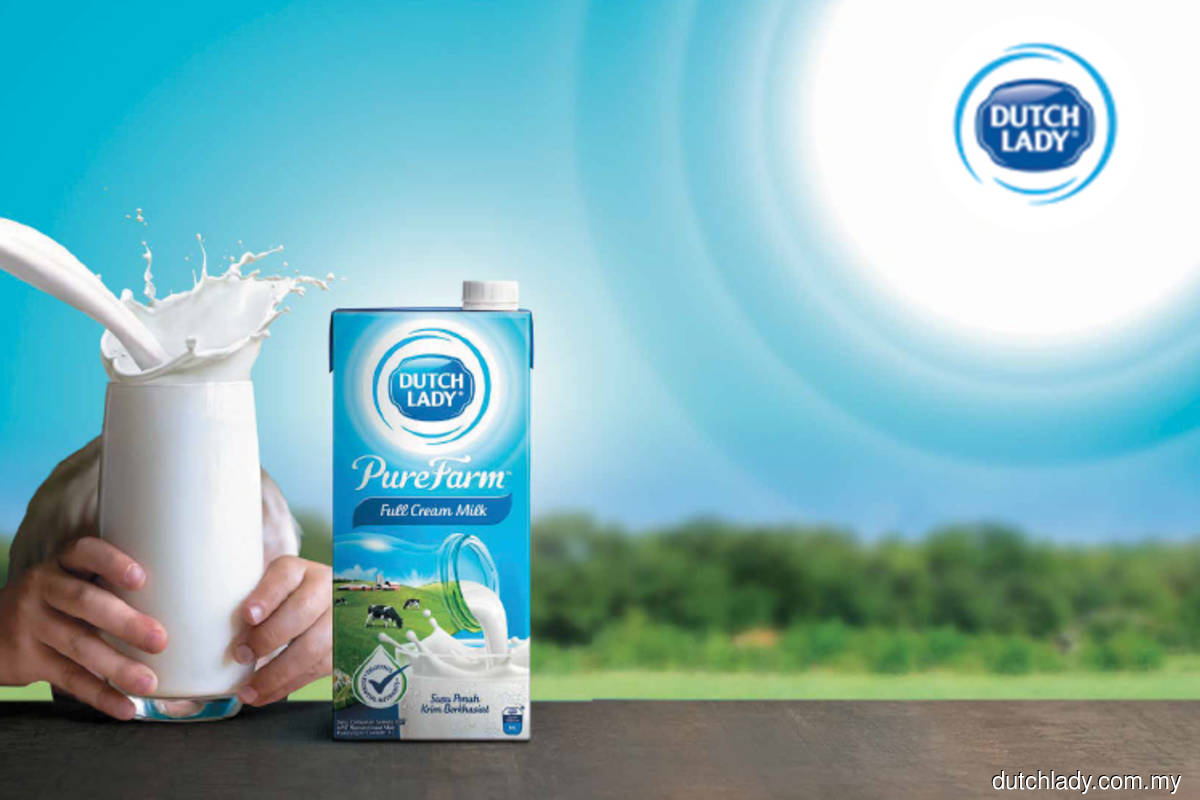 KUALA LUMPUR (Feb 23): Dutch Lady Milk Industries Bhd's net profit for the fourth quarter ended Dec 31, 2021 (4QFY21) surged more than nine-fold to RM183.46 million from RM20.16 million a year ago, boosted by the sale of land and related manufacturing facilities in Petaling Jaya.
Earnings per share for 4QFY21 were 286.7 sen compared with 31.5 sen in 4QFY20.
This incidental profit was partially offset by the accelerated depreciation of existing assets that would not be transitioned to the new site in Bandar Baru Enstek, according to the group's filing with Bursa Malaysia on Wednesday (Feb 23).
To recap, Dutch Lady sold its factory land in Petaling Jaya for RM200 million to UEM Sunrise Bhd last year, as part of its move to relocate to a new manufacturing facility site in Negeri Sembilan.
Stripping off the land and building sale proceeds and accelerated depreciation of fixed assets, its operating profit rose 72% year-on-year (y-o-y) in 4QFY21.
It added that unprecedented cost headwinds were more than offset by positive mix performance (channel and portfolio), effective commercial spend and strict cost management.
Revenue was up marginally by 3.89% y-o-y to RM300.4 million in 4QFY21 from RM289.15 million, underpinned by continued strong retail performance in combination with the opening up of the Malaysian economy boosting sales for the quarter under review.
"Despite the continued Covid challenges the company has been able to operate at full capacity and drive the penetration of milk consumption with occasions and affordability," it added.
For full FY21, the group's net profit surged 238.13% to RM248 million from RM73.36 million. Revenue inched up 3% to RM1.13 billion from RM1.1 billion in the previous year.
On its prospects, the group warned that unprecedented inflationary headwinds are making the outlook for 2022 uncertain and volatile.
"Due to global supply chain challenges and strong demand for milk as an essential product, prices of global dairy raw materials are affected and are at an all-time high. Global uncertainties can continue to impact the economic situation and foreign exchange developments," it added.
Against this backdrop, Dutch Lady said it will continue to focus on optimising its cash flow to battle the inflationary headwinds and secure sufficient funding of the new manufacturing facilities.
Over the long term, the outlook for the group remains positive due to the strength of its brand, and the increasing need and recognition of the goodness and nutritional value of milk amongst Malaysians.
Shares of Dutch Lady rose two sen or 0.06% to RM32.22 apiece, bringing it a market capitalisation of RM2.06 billion.