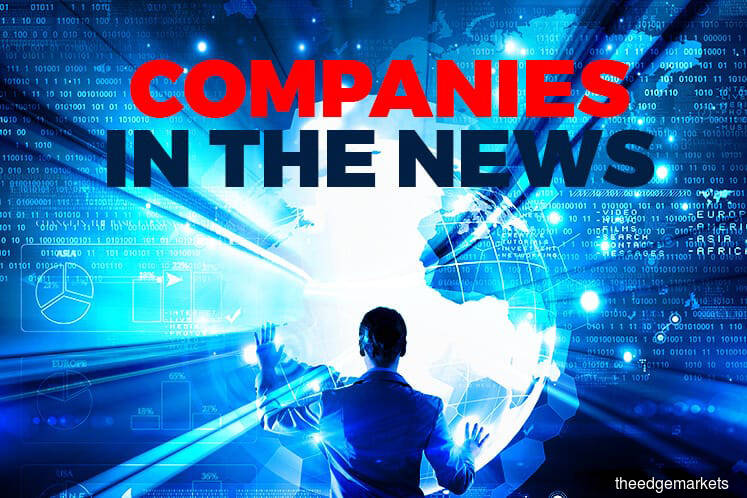 KUALA LUMPUR (April 25): Based on corporate announcements and news flow today, companies that may be in focus tomorrow (April 26) may include the following: Dutch Lady Milk Industries Bhd, CIMB Group Holdings Bhd, Axis Real Estate Investment Trust, Kuala Lumpur Kepong Bhd, Hap Seng Consolidated Bhd, Caring Pharmacy Group Bhd, Protasco Bhd, Priceworth International Bhd, LB Aluminium Bhd, Vertice Bhd, PRG Holdings Bhd, AmFirst Real Estate Investment Trust, Maxwell International Holdings Bhd and China Ouhua Winery Holdings Ltd.
 
Dutch Lady Milk Industries Bhd's net profit rose 7.2% to RM34.23 million or 53.5 sen per share in the first quarter ended March 31, 2018 (1QFY18), from RM31.92 million or 49.9 sen per share a year ago, driven by higher revenue and lower input costs. 
Quarterly revenue grew 6.4% to RM266.11 million, from RM250.1 million. 
CIMB Group Holdings Bhd's subsidiary PT CIMB Niaga Tbk reported a 37% year-on-year increase in its net profit to IDR877 billion (RM246.8 million) for the first quarter ended March 30, 2018 (1QFY18), on the back of higher non-interest income. 
Non-interest income for the quarter increased 38.5% to IDR992 billion, while provision expenses fell 21.2% year-on-year. 
Operating income rose 5.6% to IDR4 trillion, while operating costs were 4.4% higher at IDR2 trillion. 
CIMB Niaga said progressive improvement in asset quality management has brought about a 21.2% reduction in provisions. 
Axis Real Estate Investment Trust's (Axis REIT) net property income grew 6.1% to RM38.15 million in the first quarter ended March 31, 2018 (1QFY18), from RM35.97 million a year ago. 
Net income grew 38.8% to RM31.43 million, from RM22.65 million in 1QFY17. Quarterly revenue also rose 5.6% to RM45.09 million, from RM42.69 million previously.
Axis REIT declared a first interim distribution per unit of 1.94 sen, totalling RM23.91 million, payable on May 31. 
Kuala Lumpur Kepong Bhd (KLK) has proposed to acquire a 95% stake in Indonesia's PT Putra Bongan Jaya (PBJ) or 139,308 shares of nominal value RP500,000 per share from PT REA Kaltim Plantations for RM296.4 million, subject to adjustments. 
The purchase amount is equivalent to 95% of the total valuation of PBJ's land and plantation, amounting to RM312 million. The consideration for the proposed acquisition shall be adjusted on completion, based on, among others, PBJ's working capital and other balance sheet items. 
PBJ's principal activities are the establishment of palm oil plantations and operations. It is also involved in the crude vegetable oil industry. 
Hap Seng Consolidated Bhd is acquiring from Mercedes-Benz Malaysia Sdn Bhd (MBM), its commercial vehicle general distributorship business, paving the way for Hap Seng to become the sole general distributor of Mercedes-Benz and FUSO commercial vehicles in Malaysia.
Hap Seng and MBM will jointly undertake a stock take in respect of the fixed assets and current assets, to determine the final purchase consideration.
The group is of the view that the proposed acquisition will enable it to participate in the wholesale distribution of the Mercedes-Benz and Fuso commercial vehicles in the growing domestic market. 
Caring Pharmacy Group Bhd saw its net profit for the third quarter ended Feb 28, 2018 (3QFY18) decline 2.27% to RM5.16 million or 2.37 sen per share, from RM5.28 million or 2.43 sen per share in the previous year, due to higher tax. 
Quarterly revenue, however, rose 12.82% to RM130.48 million, from RM115.66 million a year ago, on the back of higher generated sales from existing outlets. 
For the cumulative nine-month period, Caring reported a 44.74% increase in net profit to RM12.69 million, from RM8.77 million previously, as revenue climbed 11.37% to RM379.78 million, from RM340.46 million. 
Protasco Bhd's associate company will develop a 6.8 MWac large scale solar photovoltaic plant in Alor Gajah, Melaka. 
I2 Solarpark One Sdn Bhd, in which Protasco has a 44% stake through its wholly-owned subsidiary Ikram Greentech Sdn Bhd, received the letter of award for the project which is valued at approximately RM92 million, from the Energy Commission of Malaysia. 
Consequent to the award of the project, I2 Solarpark has signed a 21-year power purchase agreement with Tenaga Nasional Bhd. 
Priceworth International Bhd's log production hit a new high of 24,846.49 cubic metres in March, up 71% from a year ago, due mainly to rising contribution from operations in Forest Management Unit 5 in Sabah.
This is the highest production volume that the group has seen since 2011. 
The improved supply of logs has also boosted Priceworth's plywood production to about 7,000 cubic metres in March 2018, from about 5,000 cubic metres in October 2017. 
LB Aluminium Bhd is acquiring a piece of industrial land together with an industrial complex in Sungai Penaga Industrial Park, Subang Jaya, Selangor, from Facade Treatment Engineering Sdn Bhd for RM25 million cash.
The industrial complex comprises a 2-storey office building, a 2-storey detached factory, two 1-storey detached factories and a guard house. 
Vertice Bhd has lost a RM59.13 million contract to provide engineering, procurement, construction and commissioning (EPCC) for an interconnecting road in Pengerang, Kota Tinggi, Johor, from Tulane Sdn Bhd. 
Vertice was withdrawing its letter of award effective immediately, as Tulane had been terminated as the main contractor of the project by Petronas Refinery Petrochemical Corp Sdn Bhd, due to its failure to provide the bank guarantee necessary for the performance bond.
PRG Holdings Bhd is set to venture into the luxury fashion apparel business through its 75%-owned subsidiary Furniweb Holdings Ltd, which is listed on the Hong Kong stock exchange. 
Furniweb has signed a letter of intent with Philipp Plein International AG and Plein Sport AG to record their intention to start a business collaboration, initially in Singapore, Malaysia and Thailand. 
AmFirst Real Estate Investment Trust's (AmFirst REIT) chief executive officer Wong Khim Chon will be stepping down from his post on July 27, to pursue his personal interest. 
Maxwell International Holdings Bhd is unable to release its annual report for the financial year ended Dec 31, 2017 (FY17) before the April 30 deadline, and would endeavour to release the report no later than two months from the date. 
Maxwell explained that its external auditors Messrs Baker Tilly Monteiro Heng require additional time to complete the annual report, and that it is working closely with auditors to expedite its completion. 
China Ouhua Winery Holdings Ltd's external auditor Messrs UHY Lee Seng Chan & Co has expressed a qualified opinion on the group's financial statements for the financial year ended Dec 31, 2017 (FY17), saying it was unable to obtain sufficient appropriate audit evidence on the extend of recoverability of the RMB118.8 million deposits that were used for a contract to purchase land and property in China.
The deposit is about 90% of the total cash consideration of RMB132 million, which was made to Huangwu Subdistrict Office, Zhifu District, Yantai City in China, when the group entered into a contract to purchase land, buildings and ancillary facilities, including 320 KVA power distribution equipment, water supply systems, roads surrounding the factory and the enclosing wall.