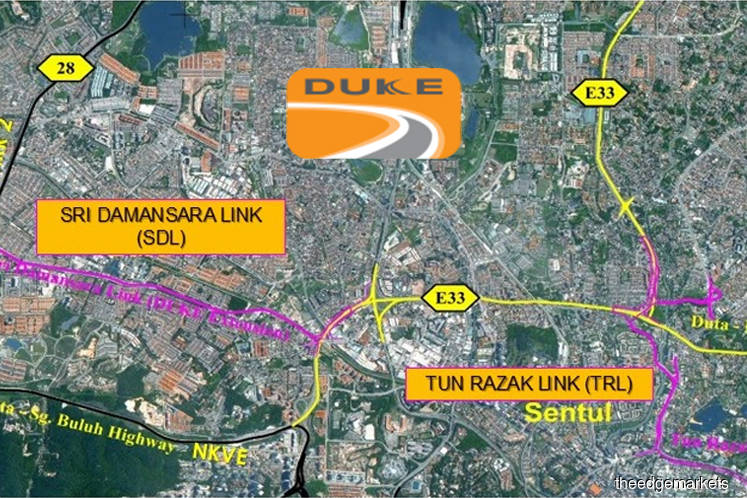 KUALA LUMPUR (Sept 28): The second alignment of the Tun Razak Link (TR Link) at Duta-Ulu Kelang Expressway (DUKE) Phase 2 is now open for traffic effective 5pm today, which could benefit about 25,000 motorists per day, said Works Minister Datuk Seri Fadillah Yusof.
The minister said the TR Link is expected to help solve and ease traffic congestion in the area of Jalan Tun Razak, Jalan Pahang roundabout and Jalan Duta interchange. 
"We expect that 25,000 (motorists) will be able to use this highway, but for sure, people who use this DUKE highway is more than that," he said after launching the TR Link here today.  
TR Link acts as an additional dispersal link between DUKE and the Middle Ring Road 1 (MRR1), which provides an additional dispersal option for the congested Jalan Tun Razak.
Costing about RM1.18 billion, the 16.4km DUKE Phase 2 project, is mostly elevated and comprises of the TR Link and the 7.4km Sri Damansara Link (SDL), which will be connected to the existing DUKE 1. 
"SDL alignment is in the final work process and is expected to be completed by the end of this year," Fadillah said. 
With a total length of 9km, TR Link stretch of roads, including Jalan Tun Razak near KL Hospital and Institut Jantung Negara, as well as traverses northwards along Jalan Pahang and Jalan 9/48A, will connect to the existing Jalan Gombak after crossing existing DUKE 1 at Sentul Pasar Interchange.
Previously, the first alignment of the TR Link was opened on May 23 this year to traffic, as part of the traffic management plan scheme and it provided an alternative route from Jalan Tun Razak to the existing DUKE highway to help traffic diversions during the month of Ramadhan.
Commenting on plans to implement a gateless gantry toll, the minister said a multi-lane free-flow (MLFF) will be launched by 2020 for the electronic toll collection (ETC). 
At the moment, the Radio Frequency Identification (RFID) based system is undergoing a pilot test at the Ampang-Kuala Lumpur Elevated Highway (AKLEH), Elite Expressway and New Klang Valley Expressway (NKVE), over an extended period.
"For the pilot project, we have opened (RFID lane) for certain toll booths and issued a card to about 8,000 enforcement vehicles such as police and ambulance, especially in Kuala Lumpur," he said ahead of public operations commencing by next year.
The phase 2 of the DUKE project is managed by Konsortium Lebuhraya Utara-Timur (KL) Sdn Bhd (KESTURI) in collaboration with Ekovest Bhd and Employees Provident Fund (EPF).
Meanwhile, Ekovest's concession for Setiawangsa-Pantai Expressway (SPE), a 29.8km highway which was previously known as DUKE Phase 3, is now under construction at a cost of RM3.74 billion. 
Upon completion, it will traverse north to south of Kuala Lumpur and will serve areas such as University Tunku Abdul Rahman, Wangsa Maju, Setiawangsa, Ampang, the Tun Razak Exchage & Bandar Malaysia development corridor and Kerinchi.
Opened in early 2009, DUKE highway has provided an effective and efficient traffic dispersal system, together with a seamless connectivity to northern Kuala Lumpur.
At 11.10am, Ekovest shares were unchanged at RM1.09, with 158,400 shares done, for a market capitalisation of RM2.31 billion.