This article first appeared in Digital Edge, The Edge Malaysia Weekly, on December 28, 2020 - January 10, 2021.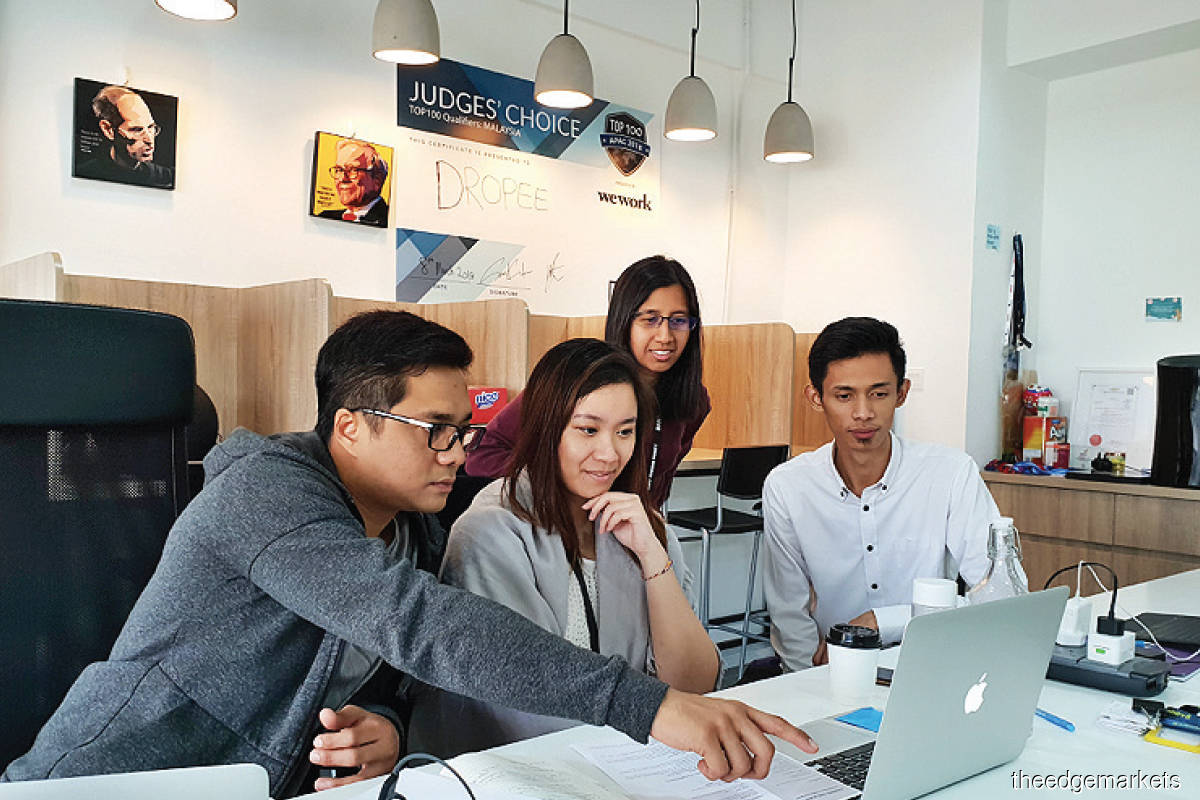 Early this year, the co-founders of business-to-business (B2B) wholesale marketplace Dropee were in the mood to celebrate. CEO Lennise Ng and chief operating officer Aizat Rahim got the news that the company had been accepted into prominent Silicon Valley seed accelerator Y Combinator and was also on the cusp of closing an over US$2 million (RM8.1 million) funding round.
While they were there, however, they realised that something was amiss. Instead of talking about growth and scale, a lot of the Silicon Valley-based start-up founders were talking about contingency planning and business sustainability. "I remember the founders of tourism and hospitality start-ups, especially, telling us they were worried about the effect of the Covid-19 pandemic. It really got us thinking about how we were going to be affected back home. Because of that, Aizat and I started figuring out how to maximise our bottom line," says Ng.
The Dropee team began thinking about its existing customers and what the company could do to help them prepare for the impact of the pandemic. After a brainstorming session, the Dropee team quickly launched Dropee Direct, a software-as-a-solution closed-loop platform that automates procurement and trading processes customised to internal business workflows.
The platform drives more frequent, larger orders with an intuitive user experience, helping to increase the customer's entire product line. It also assists them to reduce up to 75% of their expenses associated with data entry, catalogue printing and distribution, as well as costs related to fixing errors and managing back orders.
"We offer the tool on a subscription basis to make it more affordable for our customers. Based on the feedback, we can safely conclude that it definitely helped them operate their businesses in these trying times. I guess we were quite lucky to have had that conversation early on. If we were to only start acting after the Movement Control Order (MCO) had been announced, we probably would not have had the time to properly execute our plans," says Ng.
The company also worked with the Ministry of Agriculture and Food Industries to ensure that the distribution of food (rice, meat, fish, vegetables and fruits) was adequate throughout the disruption caused by the pandemic. Early this year, Malaysia's agribusiness industry faced huge challenges following the outbreak, as business operations across the supply chain including production, distribution and retailing of agricultural products were affected.
Dropee's marketplace allows farmers and fishermen across the country to continue selling their produce to wholesalers, retailers and consumers during the Covid-19 period. This initiative provides an alternative sales channel for producers and suppliers to sell their products online in bulk, says Ng.
Established in 2017, Dropee aims to help businesses — especially those within the fast-moving consumer goods and retail space — to source supplies and deal with one another in a faster, more effective way. Today, the platform supports over 2,000 suppliers and serves more than 20,000 retailers.
Apart from allowing these businesses to connect for bulk purchasing and selling purposes, Dropee's enterprise solution enables businesses to streamline their operational processes. "Essentially, our goal is to help wholesale businesses go digital. The processes of the majority of the wholesale business today are still largely manual. Typically, companies send staff to each store in person to get orders placed. We are upgrading this system," says Ng.
She adds that the MCO acted as a catalyst, fast-tracking the need for many businesses to go digital. "During the MCO, especially in the early stages, many businesses could not operate unless they were providing essential goods and services. This meant that their sales team could not go to the ground to service their clients, who may have been operating grocery stores and F&B outlets.
"This is why we saw a surge in the adoption rate for our solutions. We have a customer relationship management tool that helps wholesalers manage their retail customers. In 2019, only a few of our customers subscribed to it but recently, we saw a huge uptake. It is encouraging to see these businesses starting to adopt such digital solutions," says Ng.
Recently, Dropee announced a partnership with UOB Malaysia to launch UOBxDropee, a package offering access to a range of financial solutions that cover cash management and trade finance as well as complimentary access to UOB Business Internet Banking Plus (UOB BIBPlus).
With these customisable cash management solutions, Dropee customers will be able to manage their receivables and payables in a more efficient manner. UOBxDropee offers fee waivers for real-time gross settlement systems via UOB BIBPlus, aside from providing preferred rates for fees and charges for UOB Malaysia's trade finance solutions.
Ng says the company is currently looking to expand its services to assist customers with cash flow-related problems by working with other banking partners. "We already have the data to understand the risk profile of these businesses, so we think it is a good idea to take on the role as an underwriter to help them secure some sort of payment upfront. This will give them more room to breathe and allow them to service more customers," she adds.
Next year, Dropee's focus will be on figuring out how to better help bricks-and-mortar businesses replenish their goods. Ng says while Dropee already has a solution that could help, it is not purely automated. "We have an inventory management solution but we understand that it could be hard for individuals or businesses to input their data. If we make this fully automated, they can have more time to focus on improving their businesses," says Ng.