This article first appeared in The Edge Financial Daily, on October 23, 2018.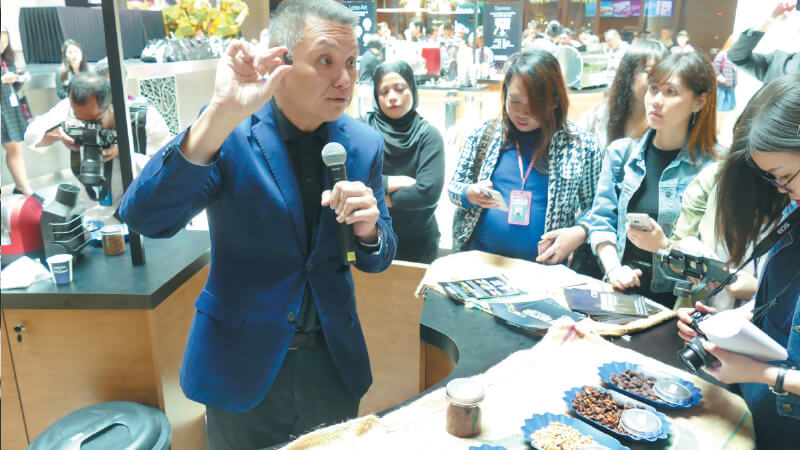 Liew during the Bean to Cup workshop at the Genting Coffee Festival.
There is nothing quite like a cup of coffee to appreciate the cool weather some 1.8km above sea level at Resorts World Genting. The resort last Friday dedicated three days to the art, science, and love of the coffee bean at the Genting Coffee Festival.
In partnership with Nescafé and the Barista Guild Asia (BGA), Times Square at SkyAvenue mall transformed into an exciting and enticing laboratory of java. The festival kicked off to great reception from coffee lovers visiting Resorts World Genting.
Coffee aficionados were able to participate in activities spanning the entire supply chain of the humble bean. These included coffee appreciation sessions, where expert Daniel Liew, academic director and co-founder of BGA, told the tale of how the bean went from a fruit found in the highlands of Ethiopia to travelling the globe as the world's favourite beverage — complete with samples of the brew from major production areas.
Clarence Tan, vice-president of loyalty and acquisition at Resorts World Genting, said: "We are extremely proud to host the very first Genting Coffee Festival, which is the first of its kind at the resort with our partners, Nescafé and the Barista Guild Asia."
Throughout the three days, various workshops and contests were conducted. This was the first-of-its-kind free workshop where visitors learnt everything about coffee.
At the Sensory Cupping class, participants sampled a variety of different coffee intensities. There was also a latte art class, where steady hands were required to form hearts, flowers or even spell out words through the simple combination of milk foam and careful gestures.
A brewing class explored the various and varied ways that coffee becomes a beverage, whether it is through simple stirring or utensils such as drippers, siphons or French Press.
Interspaced among these classes was the espresso tasting and sensory station, as well as a showcase of baristas in their latte art and crafting beverage recipes through mixology demonstrations and utilising the wide range of coffee products from Nescafé.
Nestle Products Sdn Bhd senior brand manager Ehsan Isa said: "Nescafé is collaborating with Resorts World Genting to celebrate coffee culture in Malaysia through the Genting Coffee Festival. To this end, we invited visitors of Resorts World Genting to engage in a world of coffee through a series of barista-hosted appreciation sessions, coffee-related contests, and barista competition throughout the three days."
Things kicked up a notch with the Barista Smackdown and Latte Art Throw Down competitions. In the Latte Art Throw Down, things got artistic as competitors showcased their wildly imaginative visions to create amazing free-pour latte art. Experienced baristas and amateur enthusiasts competed with each other to showcase their brewing skills in Barista Smackdown.
Enthusiasts were also able to visit "France" by ordering a cuppa at Cafés Richard in Resorts World Genting. Conjuring a Parisian vibe with black-and-white tiles and dark timber, Cafés Richard is dedicated to the fine French art of coffee. From cold drip to cocktails, coffee is presented here in a bewildering array of forms, including the French Genting, a cocktail unique to Cafés Richard that combines espresso, Grand Marnier, and Bentong ginger.