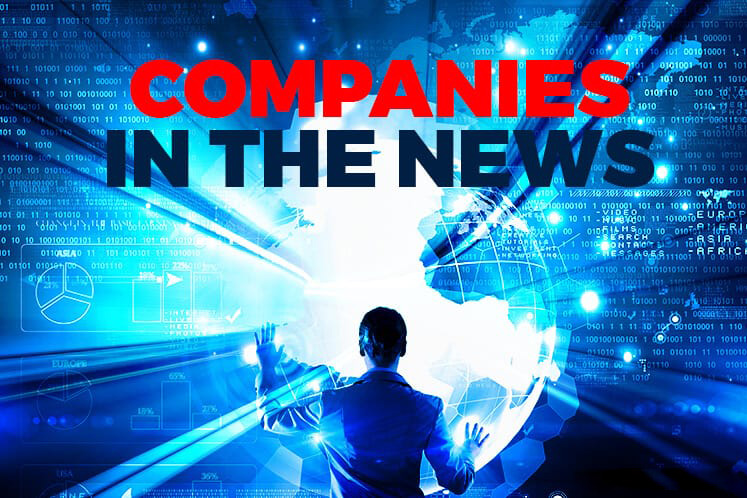 KUALA LUMPUR (March 8): Based on corporate announcements and newsflow today, stocks in focus on Friday (March 9) could include: DRB-Hicom Bhd, S P Setia Bhd, Dolphin International Bhd, KESM Industries Bhd, Star Media Group Bhd and NWP Holdings Bhd.
DRB-Hicom Bhd plans to swap its real estate including land and a golf resort in the Klang Valley for industrial land in Tebrau, Johor, and RM288.7 million cash with its controlling shareholder Tan Sri Syed Mokhtar Al-Bukhary.
DRB-Hicom is expected to realise a net gain on disposal of about RM849.4 million from the asset swap deal.
The list of real estate including 2,268.43 acres of land together with buildings erected on them located in Shah Alam, Klang, Puchong, Jalan Tun Razak in Kuala Lumpur, Batu Caves, Johor Baru and Terengganu, to be disposed of by the diversified conglomerate is collectively valued at RM1.93 billion, compared with the total market value of RM1.43 billion.
In return, DRB-Hicom will obtain 1,243.45 acres of freehold industrial land in Tebrau, Johor, according to a filing with Bursa Malaysia.
S P Setia Bhd today entered into a sale and purchase agreement (SPA) with Mekar Gemilang Sdn Bhd to acquire the remaining 50% stake in Setia Federal Hill for RM431.89 million cash.
Setia Federal Hill's core asset is the two parcels of leasehold land near Bangsar, Kuala Lumpur, totalling about 51.57 acres.
"The purchase consideration, is at a premium of 10.9% to the unaudited adjusted net asset value of Setia Federal Hill as at Dec 31, 2017 of RM778.64 million after taking into consideration the market value of land of RM2.35 billion or RM1,050 per sq ft, the potential estimated gross development value of up to RM20.19 billion based on preliminary management estimates; and the prime location of the parcel," said the property developer in the filing with Bursa Malaysia today.
The purchase consideration is expected to be funded through the cash proceeds from the issuance of Islamic Redeemable Convertible Preference Shares (RCPS-i A) by SP Setia, which was completed on Dec 6, 2016, and/or bank borrowings.
Setia Federal Hill is a joint venture company which was established to undertake a development project on the land, held equally by SP Setia and Mekar Gemilang.
Dolphin International Bhd has launched legal action against PT Himalaya Transmeka (PTHT), seeking 14.5 billion rupiah (RM4.11 million) in claims for additional expenses incurred due to delayed completion of mechanical and electrical work by PTHT.
In a filing with Bursa Malaysia today, Dolphin said its subsidiary PT Dolphin Indonesia had yesterday attended the court hearing for the writ of summons that was filed on Feb 1 at the District Court of Indonesia against PTHT.
Earlier, PTHT also failed to respond to a letter of demand served by PT Dolphin Indonesia on Aug 23, 2017.
To recap, PT Dolphin Indonesia and PTHT had Jan 3, 2013 entered into an agreement, awarding the latter a mechanical and electrical supply job. However, due to the delay in completion of the work, PT Dolphin Indonesia was compelled to take over and complete the project.
Chip testing company KESM Industries Bhd said strong demand for its services pushed up its net profit by 12% to RM11.18 million for the second financial quarter ended Jan 31, 2018 (2QFY18) from RM9.98 million a year ago.
Quarterly revenue grew 10% year-on-year (y-o-y) to RM91.47 million, from RM83.12 million.
For the first half of FY18 (1HFY18), KESM's net profit rose 13% y-o-y to RM22.55 million from RM19.99 million, while revenue grew 12% y-o-y to RM182.18 million from RM163.23 million.
KESM executive chairman and chief executive officer Sam Lim said changes in the car industry have created strong demand for automative semiconductors, and this benefited KESM, having its focus on this market.
Star Media Group Bhd has dismissed a letter from JAKS Resources Bhd as being a notice of arbitration.
The publisher said it had on March 6 received a purported notice of arbitration from JAKS's solicitors to resolve the dispute between the two parties by way of arbitration.
The dispute arose over the completion and delivery of Tower A of the Pacific Star project in Petaling Jaya, Selangor.
On March 6, JAKS said its 51%-owned unit JAKS Island Circle Sdn Bhd (JIC) is seeking arbitration to resolve its dispute with Star.
Star today said its solicitors had responded to JAKS's solicitors disagreeing with JAKS's contentions as to "disputes or differences which have therefore arisen between Star and JAKS in connection with the SPA", when at all material times, JAKS had never raised such alleged disputes or differences during the performance of their obligations under the SPA.
NWP Holdings Bhd said today it is currently facing challenges in its existing wood-based business and thus it intends to diversify its business direction.
"We found a reputable partner LBS Bina Group Bhd, which owns a project in Zhuhai (China) which is located in a mature area and with a promising development plan. Hence, we proposed to participate in the development jointly with LBS to enhance the income stream and shareholders' value of NWP," it said in a filing with Bursa Malaysia today.
NWP was replying to queries by Bursa in relation to its recent announcement that it would jointly undertake redevelopment of the Zhuhai International Circuit in China with LBS.