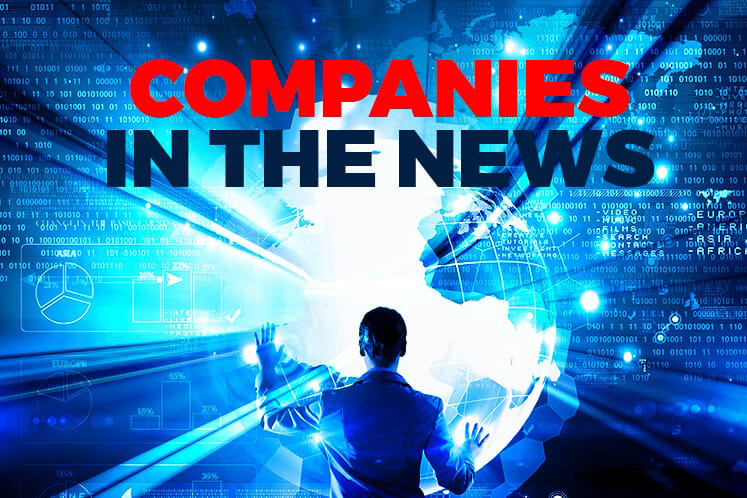 KUALA LUMPUR (April 11): Based on news flows and corporate announcements, stocks in focus for tomorrow (April 12) may be the following: DRB-Hicom Bhd, Malakoff Corp Bhd, Eco World International Bhd, Salcon Bhd, Eastern & Oriental Bhd (E&O), Malayan Banking Bhd (Maybank), MyNews Holdings Bhd, Ta Win Holdings Bhd and Vizione Holdings Bhd.
DRB-Hicom Bhd is expected to complete the RM944.61 million divestment of Alam Flora Sdn Bhd to Malakoff Corp Bhd by the end of the year, as the exercise has not obtained all required authority approvals.
Managing director Datuk Seri Syed Faisal Albar said the group remains committed to complete the disposal as the proceeds raised will be used for debt repayment and to fund the capital expenditure required for the turnaround of its 50.1%-owned Proton Holdings Bhd. The transaction is expected to give rise to an estimated net gain on disposal of RM735.4 million.
Eco World International Bhd bought out the remaining 20% it does not own in its Australian JV Eco World- Salcon Y1 Pty Ltd, from Salcon Bhd for A$452 million (RM13.25 million).
The JV is the owner of the land being developed into the residential lead mixed-use Yarra One development in Melbourne. The disposal will result in an RM934,560 gain for Salcon which intends to use the gain for future investments and working capital. The Yarra One project has seen 60% of its units taken up in February, securing A$132.6 million in sales.
Eastern & Oriental Bhd (E&O) is looking to raise at least RM123 million from its private placement, which will be destined for the second phase of its Seri Tanjung Pinang development (STP2A) within Penang's northeastern enclave.
Reclamation works for the STP2A are almost completed, and the project is expected to have a gross domestic value of RM17 billion, and be developed over 15 years.
The property developer also announced that the first bridge between the development's second phase on reclaimed land and Penang Island proper is under construction, with completion targeted in the first quarter of 2019. The bridge will allow for road traffic as well as having paths for pedestrians and cyclists.
Malayan Banking Bhd (Maybank) is aiming to disburse RM50 billion in mortgages and RM35 billion in small and medium enterprise loans over the next three years.
Maybank president and CEO Datuk Abdul Farid Alias said the bank disbursed RM12.2 billion in mortgages during 2018, bringing total disburse mortgages to RM87.5 billion. Maybank's current SME loan size stood at RM41.1 billion, of which RM24 billion is for business banking and RM17.1 billion for retail SMEs.
MyNews Holdings Bhd is facing a suit from two artists alleging copyright infringement. Shamsaimun Ezil and Amir Hamzah Hashim are claiming the convenience store operator stole their drawings and used them on bags that it sold.
They are seeking an injunction barring the group from producing and selling the artwork and bags, a discovery application detailing the production, distribution and sale of the bags, and an inquiry as to the losses suffered by their own studio Homework.
Ta Win Holdings Bhd is teaming up with Justin Wong Chee Feeng, Wong Ah Piaw and Latitude Technology Sdn Bhd to set up a new cable manufacturing business using electron beam technology in Malaysia.
The new business is concerned with producing and commercialising irradiation cross-linked wire and cable products, which are seen to support local automotive and home appliance sector original equipment manufacturers.
It has also with its other JV partners set up a firm that will invest in, set up and operate the new business. Ta Win said it will maintain an 80% stake in the new firm, with Justin and Ah Piaw holding 10% interest and Latitude Technology, the balance 10%.
Vizione Holdings Bhd's non-executive chairman Datuk Dr Raman Ismail has resigned to pursue other interests. Raman, 59, was appointed to his current position on Oct 1, 2015. He was previously the Barisan Nasional MP for Gombak from 2004 to 2008, before losing his seat to Economic Affairs Minister Datuk Sri Mohamed Azmin Ali. During the period, Raman was appointed as chairman of Sabaco Sdn Bhd, a subsidiary of TH Plantations Bhd, director of Puncak Niaga Sdn Bhd and executive chairman of Merchantrade Sdn Bhd.