This article first appeared in The Edge Financial Daily, on April 12, 2019.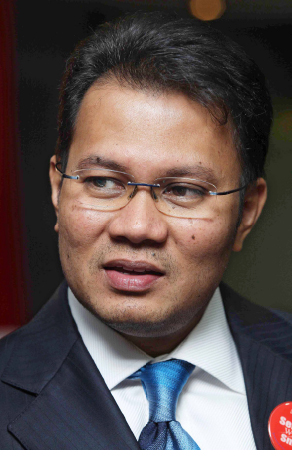 Syed Faisal: Proton is showing signs of turning around, so as long as that is being maintained, we will see more improvements.The Edge file photo
KUALA LUMPUR: DRB-Hicom Bhd is shaping up as far as its managing director (MD) Datuk Seri Syed Faisal Albar is concerned.
His confidence mainly hinges on the turnaround of its biggest loss-maker, namely the 50.1%-owned subsidiary Proton Holdings Bhd, although some analysts remain cautious about the carmaker.
"Obviously, we have the numbers already, but we are bound by listing requirements. It (the fourth financial quarter ended March 31, 2019) [4QFY19] is better than (the) December (quarter) numbers, that's all I can say," Syed Faisal told the press during the media trip to the group's Composites Technology Research Malaysia Sdn Bhd manufacturing plant in Melaka.
For current financial year ending March 31, 2020 (FY20), as long as Proton's financial health remains sound, Syed Faisal said he expects more financial improvement moving forward.
Since the launch of Proton's sport utility vehicle (SUV) X70 on Dec 12 last year, DRB-Hicom's share price has gained 13.2% to close at RM2.14 yesterday, valuing the group at RM4.14 billion. Within the first 100 days after the launch of the X70, Proton Holdings has already sold and delivered 8,500 units.
"The numbers are getting better, because of Proton's health, which is getting healthier, and we are going to launch the new facelift for the Iriz and Persona models very soon.
"It has been (in) choppy (waters) previously, a lot of it rests on Proton. And Proton is showing signs of turning around, so as long as that is being maintained, we will see more improvements," he said.
DRB-Hicom reported a net profit of RM73.02 million for 3QFY19 against a net loss of RM70.03 million a year ago while revenue grew 9.3% to RM3.17 billion versus RM2.9 billion a year ago, due to higher sales from Proton and other automotive brands, and higher contribution from 70%-owned Bank Muamalat and Alam Flora Sdn Bhd, but partially offset by lower contribution from the property division. However, for the cumulative nine months ended Dec 31, 2018 (9MFY19), the group posted a net loss of RM5 million against a net profit of RM489.77 million the year before.
As Proton's financial health improves, Syed Faisal said banks will be more confident in DRB-Hicom.
Struggles in Pos Malaysia
Nonetheless, as Proton's performance improved, DRB-Hicom's nother core subsidiary — Pos Malaysia Bhd, in which it holds a 53.5% stake — is facing a tough time. The postal group incurred a net loss of RM24.62 million over 9MFY19, on revenue of RM1.76 billion, which was 3.2% lower than RM1.82 billion a year ago.
Syed Faisal said the struggle in Pos Malaysia is mainly due to the cap on postal tariff, which is dictated by the government.
"Pos Malaysia is all about the tariff increases," said Syed Faisal. There was only one hike in postal tariff since 1992. The hike was granted in 2010 when Syed Faisal was the chief executive officer of Pos Malaysia.
"It has been almost 10 years now, (and) there has not been any increase," said Syed Faisal, noting that it is due for a hike on postal tariff.
Other than fixed costs, Syed Faisal also said operating costs are high for Pos Malaysia, especially to provide rural air courier to fulfil social obligations. "We know there are costs, and the government also understands, so we are waiting for the government to make a decision [on reviewing postal tariff]," he said, but declined to elaborate on the quantum of increase that DRB-Hicom is expecting.
Alam Flora divestment intact despite hiccups
DRB-Hicom's plan to dispose of Alam Flora Sdn Bhd to Malakoff Bhd remains intact despite more time being required to fulfil the regulatory requirements.
In March, the group told Bursa Malaysia that both parties had mutually agreed to extend the period to fulfil certain conditions for the disposal by another six months to Sept 8, which originally expired six months from Aug 1, 2018, when the share sales agreement was signed.
The divestment is crucial as the sale proceeds of RM944.61 million raised will be utilised for debt repayment and the capital expenditure requirement for Proton Holdings. DRB-Hicom is expected to make an estimated disposal gain of RM735.4 million.
"(Regarding) Alam Flora, we are still in discussions with the government, because they want to see details, to get their approval ... but this has gone through shareholders, (and) they approved, (so) we are targeting to complete by the end of the year," he said. Syed Faisal said it is also a good time to divest Alam Flora given that the business is growing.