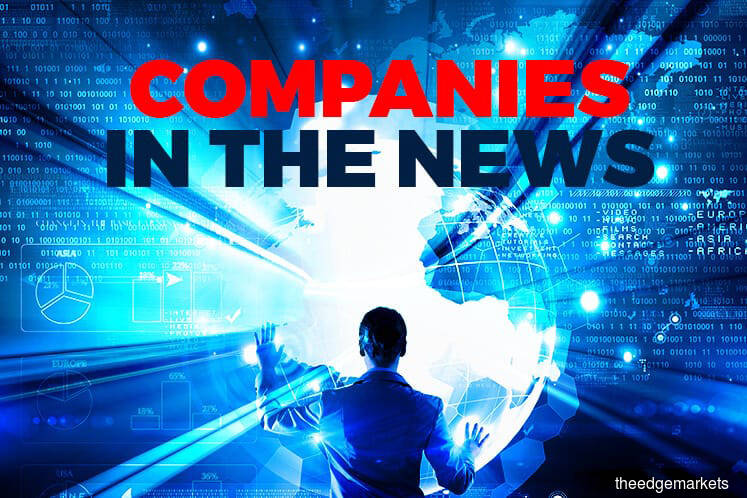 KUALA LUMPUR (June 12): Based on corporate announcements and newsflow seen today, stocks in focus for tomorrow (June 13) might be as follows: DRB-Hicom Bhd, Daya Materials Bhd, UEM Group Bhd, Wegmans Holdings Bhd, Bermaz Auto Bhd (BAuto), Seacera Group Bhd, Crest Builder Bhd and HPMT Holdings Bhd.
DRB-Hicom Bhd's 50.1%-owned unit Proton Holdings Bhd entered a new joint venture (JV) with Altel Communications and ECarX (Hubei) Technology Co Ltd, China to set up a company to develop more indigenous digital technology and car connectivity systems.
Chinese Industry and Information Technology Minister Miao Wei witnessed the JV's signing ceremony. Separately Proton announced that its RM1.2 billion assembly plant's commissioning is drawing near and production trial runs have begun for the X70.
Daya Materials Bhd shareholders approved Baker Tilly Monteiro Heng PLT as its external auditor at its annual general meeting (AGM) today. The firm replaces Deloitte PLT and will serve for the current financial year ended Dec 31, 2019 (FY19).
The group said an earlier pledged fixed deposit worth RM76,826 would be used to partially settle an overdue amount of RM1.07 million to United Overseas Bank (Malaysia) Bhd. As of May 31, the group owes the bank RM2.21 million — with an interest rate of 3.5% per annum above the base lending rate, which is pegged at 6.82%.
ACE Market-listed furniture maker Wegmans Holdings Bhd is applying to transfer to Bursa Malaysia's Main Market. The group said it has met the bourse's criteria such as profit track record, public shareholding spread, healthy financial position and liquidity.
The transfer is subject to approvals from the Securities Commission Malaysia, Bursa Malaysia and any other relevant authorities, with the exercise expected to be completed in the fourth quarter of 2019.
UEM Group Bhd denied allegedly transferring  US$741,440 (RM3.1 million) to a Cabinet Minister and senior PKR leader — with the group lodging a police report and stating its willingness to cooperate with the relevant authorities. This follows pictures on social media alleging that the group had transferred the money to Economic Affairs Minister Datuk Seri Azmin Ali's alleged Deustche Bank account in December 2017. MACC Chief Latheefa Koya said following reports made to the anti-graft body her deputy will investigate the matter.
Bermaz Auto Bhd (BAuto) saw its 4QFY19 net profit rise to RM60.06 million from RM57.19 million last year on the back of lower operating overheads. Quarterly revenue dipped 5.66% to RM538.28 million from RM570.59 million following lower vehicle sale volume in Malaysia and the Philippines. The group's full-year net profit jumped 89.51% to RM265.27 million from RM139.98 million in FY18, while revenue rose 25.05% to RM2.49 billion from RM1.99 billion.
The group declared a fourth interim dividend of 3.5 sen and a special dividend of seven sen – payable on July 25. For FY19 total dividends amounted to 21.25 sen, from 10.4 sen last year – the highest level seen since listing.
The Inland Revenue Board (LHDN) has accepted a voluntary declaration by Seacera Group Bhd's unit to settle overdue tax for the tax years 2009 and 2012 amounting to RM22.18 million. The unit, Duta Skyline Sdn Bhd had received a letter dated May 31 from the LHDN stating the declaration was made without the written approvals of Duta Skyline and Duta Nilai Holdings Sdn Bhd. According to the group, the tax bill is the result of Seacera's acquisition of Duta Nilai Holdings on Nov 16, 2016. The latter owns Duta Skyline.
Crest Builder Holdings Bhd expects its FY19 earnings to be close to the level seen in FY18, when  the group benefitted from Shah Alam properties launched. The group told reporters that it is aiming to push for more construction jobs given that its Shah Alam development "The Greens" is almost fully taken up. To date, its un-billed construction order book amounted to RM1 billion — with the group securing approximately RM100 million in new construction works in 1H19 while targeting another RM500 million worth of jobs during the year. Its tender book is up to RM2.2 billion — with a success rate of 15% to 20%.
HPMT Holdings Bhd made its debut on Bursa Malaysia's Main Market at 58 sen — a two sen premium over its offer price of 56 sen. Speaking to reporters, the management said it was cautiously optimistic on the outlook of the cutting tools manufacturing and distribution industry amid challenges such as Brexit and the US-China trade war — with the group planning to stay competitive by growing its customer base and working with local industry partners.