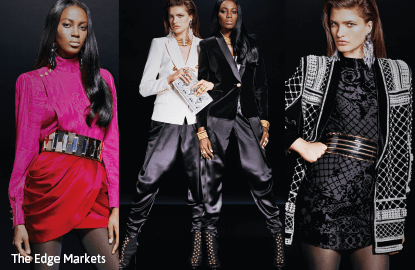 This article first appeared in The Edge Financial Daily, on October 27, 2015.
If you have been lusting for the couture pieces from Balmain, you will be glad to learn that its latest collaboration with H&M means that the French fashion house is now a lot more accessible. Quite akin to the hashtag #HMBalmaination which has been trending on social media since the runway show that revealed the collection, this partnership is an attempt to widen the reach of the brand to a more diverse range of consumers.
The Balmain x H&M collection that debuted at New York last week is all about bold designs and detailed embellishments on a daring palette. The H&M showroom at Lot 10, Kuala Lumpur — where the media preview took place — was a burst of vivid colours and statement pieces. Glamourous, powerful and intricate are the buzzwords that come to mind when viewing the collection designed by Balmain creative director Olivier Rousteing.
Both the women's and men's collections exude a touch of Parisian flair with urban street edge. The women's collection is made up of flirty and fierce pieces — from silk satin blouses with baroque jacquard and quintessential Balmain bodycon dresses to structured and padded jackets that take on a strong silhouette. Balmain redefines the concept of an LBD (little black dress) with the fully embroidered long black velvet blazer that can be styled as a dress. 
The men's collection balances luxury and effortless style — a combination of hip-hop, street wear and sporty elements. From rugged biker jeans and leather jackets to high-top sneakers and slouchy pants, the collection allows fans of the brand to channel their personality through the clothing and accessories. 
This latest collection stays true to the Balmain DNA in terms of colour, craftsmanship and design, catering for a market of men and women who are bold and loud in their fashion choices.The Balmain x H&M collection will be available at H&M Lot 10 and H&M Avenue K on Nov 5 from 8am.
Loud accessories 
Heavy, chunky jewellery set the tone for the collection of accessories this time around. Think drop earrings, crystal-embellished pochettes, gold coiled necklaces and matching bracelets. There is also a selection of wide, high-waisted belts that can truly transform an outfit, either when paired with a dress or to complete the look of a two-piece outfit.
Detailed embellishments
Intricate embroidery is not uncommon for Balmain and this collection showcases this facet of the brand through a long-sleeved, deep V-neck dress covered in green sequins, an embroidered black velvet blazer that can also be worn as a dress and all-over beaded mini dresses. Rope detailing features predominantly in the Balmain x H&M collection, spotted on both men's and women's wear.
Structured silhouette 
Emphasis is placed on the tailoring of the pieces in the collection, which exude glamour and power. Expect to see oversized blazers, jackets with dramatic shoulder pads and long double-breasted outerwear for women. The hand-embroidered patches and metallic threads seen on men's jackets are complemented by sharp tailoring for the discerning customer.
Military elements, street wear and sporty designs
Utilitarian elements feature throughout the collection with military-inspired jackets and combat boots-inspired footwear for men. This season, Balmain also focuses on high-fashion street wear for men with hip-hop accents. There are high-waisted harem pants with full volume at the thigh before tightening at the calf as well as dropped-crotch pants. Those who prefer sporty designs can opt for the black hoodie with quilted leather over the shoulders or the off-white linen long-sleeved jersey.